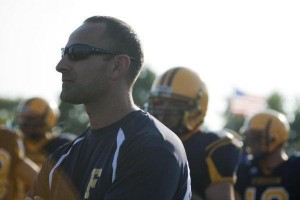 This is a guest post from Sami Elmansoury, who serves on the executive board of the Muslim Public Affairs Council (MPAC). The piece, which appeared first on Elmansoury's Facebook page, elicited an interesting thread of comments, which explored the influence of fame on the cast members' religious journey, and how the show is a good lesson in the constant religious self-questioning many Americans experience. Click here to read the comment thread.
Standing Up for "All-American Muslim"
I have watched both episodes of "All-American Muslim", and I sincerely applaud TLC for putting it on the air. Despite a handful of personal frustrations, I absolutely love the message that the show portrays. I have also heard two major criticisms from a few individuals within the Muslim community – namely that the show does not represent Islam well, and that the show does not promote or highlight the clear diversity within the Islamic faith. Both seem to be reasonable criticisms, on their surface.
On the first point, I do not believe that "All-American Muslim" is meant to represent Islam as a religion. Rather, it is meant to portray Muslims and their standard lives. It is meant to humanize them, and to help many people to understand the normalcy and diversity in their various views and practices. The show features both practicing people, and less-practicing ones – as is the reality of the American Muslim community, or of any community. To be clear, I believe that an approach that presents a flowery ideal is not only not believable, such an approach actually serves to dehumanize Muslims in a different way than they have been traditionally dehumanized today – but still in a dangerous one. Even if respect for a faith itself should be ideally left intact, followers of any religion should never be made to be seen as almost above-human, and therefore, less than approachable. And it is worth noting that the characters in the show, out of respect for their faith, frequently differentiate between what is common religious practice, and what is their own.
As for the frustration that "All-American Muslim" does not represent the diversity of Muslims, I frankly do not believe that it was ever supposed to.
For example, some criticize and state that the show should be called "All-American Arabs". I vehemently disagree. Among some other reasons:
a.) This is not about Arab-American Christians – who in fact make up two-thirds of the Arab-American community – it is exclusively about Arab-American Muslims and their practices/daily lives. 
b.) Its focus is about various religious practices, with far less weight on cultural practices. Being Muslim is the focus, not being Arab-American.
c.) It is not a documentary series. A "reality" show has to have a focus group/community. Had TLC put the entire focus on African-American Muslims or on the convert community, I would have said the same thing – that that should be its focus. That is how a "reality" show works – like Jersey Shore or Keeping Up with the Kardashians or 19 and Counting (sorry, I had to use three of the most "interesting" examples) – it has to be somewhat specific to be successful, based on "reality" trends.
Yet "All-American Muslim" could be the necessary spark for the increased involvement of American Muslims – of all communities – in media and entertainment. That is a truly positive step, and a blast against fanatics on all fronts. And that is desperately needed in order to help quell the dehumanization and bigotry that often, subtly or not, lace our national conversation. 
Ultimately, with roughly 1.6 billion Muslims, disagreement is bound to happen. But rather than become angered and assess whether "All-American Muslim" is helpful based on a lack of ethnic/racial diversity or some "incorrect" statements in the show, let the show encourage a community conversation. From my work with other faith-based communities, there is always a wide range of opinions – some viewed as right by some, and some viewed as wrong by others. They face the same need for consistent intra-faith dialogue as American Muslims do. But that growing pain is part of having an open and truthful community conversation – and in that regard, "All-American Muslim" is a strong step in the right direction, for all American Muslims – and for all Americans.
The most dangerous thing for the bigots opposed to this show – including (no surprises in this list, but they are all louder than many reasonable human beings,) Robert Spencer, Pamela Geller, ACT! For America, Claire Lopez, Debbie Schlussel, World Net Daily, Free Republic, BareNakedIslam, Florida Family Association, American Decency, and the new Official Boycott TLC Facebook page – is to see a show that portrays the reality and truth of American Muslims; that they are human, are prone to normalcy, and are working for the best interests of their respective communities. And that "danger" is the reasonable human being's victory.
The show itself has received significantly high viewership thus far – roughly 2.8 million in two episodes – and rave reviews from high-level sources such as the New York Times, Time Magazine, Hollywood Reporter, the Atlantic, and many others. "All-American Muslim"'s premiere received the second-highest number of viewers in key demographics for any TLC reality show (second only to Sarah Palin's Alaska.) This being on a channel (TLC) that has its highest viewership in traditionally conservative states in our country where American Muslim populations are often not as prevalent. That is why these people (Spencer, Geller, Schlussel, etc.) and their bigoted organizations/teams are deeply frightened by humanization "tactics" that could ultimately affect their fear-mongering industry.
The blunt truth is that if American Muslims are humanized, the bigoted "market" could be threatened – thereby reducing their book sales, the success of their speaking appearances, etc. In the end, their concern is in keeping their positions of dominion over people's fears, at the expense of dehumanizing a significant and patriotic minority in our country, that is as diverse as it is proud. And yet, many if not most people still do not see how these individuals are profiteering off of a continuous and misdirected fear. Ultimately, if the bigoted critics listed above are truly concerned about their commonly-repeated question "so, where is this so-called mainstream?" – then they should celebrate an effort like this, not condemn it. Yet their reactions leave no more proof necessary of their actual intentions. 
So, in your own capacities, work for the greater good. I have it from insiders that TLC executives were not too surprised to receive criticism from the bigots, but were indeed surprised to receive much of the same from mainstream American Muslims, who did not seem adequately informed about the purpose and scope of the show. I can say with confidence that their intentions with this show are positive for the health and future of relations in America. Whether you are Muslim or not, post about the show, get trustworthy friends on board, produce informed blog pieces, publish Facebook notes, write newspaper op-eds, submit letters to the editor, etc., in solidarity, that will all fight back against the bigoted criticism that TLC has received on the other side. Encourage friends to take a moment to watch the show, so that the advertisers do not find reason enough to pull their endorsements. And ultimately, work to get over your personal criticisms, and look at the bigger picture.
In the end, look at who the real enemies of "All-American Muslim" are. If these bigots can campaign against something so desperately-needed, then so too can level-headed citizens of our country, who still make up the overwhelming (if often less vocal) majority, campaign for it. It is unreal and unacceptable that fanatics of any sort make up the minority of any pot, but that they are always the loudest. So we need to bombard that dynamic with some positive change – it is possible – and I have personally seen the impact of that type of good work in action.
The question is – who will win over the dialogue in the end? And which side will each of us be on?
 Sami H. Elmansoury serves on the Executive Board of the Muslim Public Affairs Council of New York City, on the Immigrant Rights Task Force of the Office of the Borough President of Manhattan, on the Advisory Board of the New Leaders Council of New Jersey, and as a Muslim Leader of Tomorrow for the American Society for Muslim Advancement. In 2005, he was the first recipient of the People of the Book Award, presented by Rutgers University for his persistent work in bridge-building, for promoting a stronger appreciation for the strength in America's diversity, and for positively altering the campus climate. In 2010, Elmansoury was one of just 70 young people nationwide to be invited into the Department of State's Generation Change initiative.