Hark! These bells bring peace and joy – but something else as well. They call us to contemplate the Incarnation.
The "Carol of the Bells" is a song you definitely know, even though you might not know its name. Written by the Ukrainian composer Mykola Leontovych in 1914 and given lyrics by Peter J. Wilhousky, it is a remarkable composition. (It also has an extraordinary backstory, including a political assassination…)
Unlike most joyous songs of the season, it is in a minor key, giving it an intensity – even a darkness – that is perfect for Advent. Musically it is also interesting because, rather than just describing the sound of bells using its lyrics, its music actually imitates their sound: we can hear their insistent ringing in the repeated melodic snippet that persists through the piece.
Musician, scholar, and writer Junius Johnson has written a powerful reflection on this song. He explores the ways it leads us to a contemplation of Christ's Incarnation at Christmas.
This message is part of a unique new devotional resource, ADVENTUS CHRISTI, presented by Deus Ex Musica. For each week of Advent, Junius pairs a famous holiday song with a consideration of its theological themes.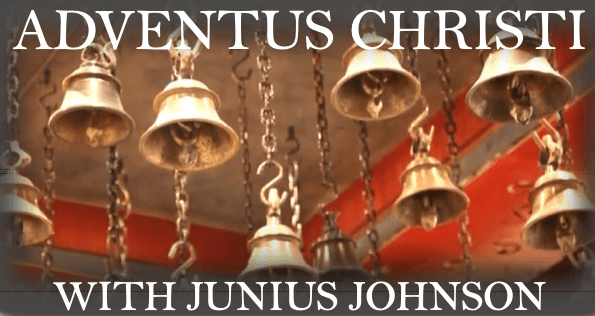 The Carol of the Bells is his choice for the fourth Sunday of Advent. He writes:
I love the idea of church bells: I love the acknowledgement that the mysteries that are transacted are not the elusive, secretive mysteries of Gnostic and pagan spiritualism; rather, they are public mysteries, 10 mysteries that hide, if they hide, in plain sight….

This is not a sacred song: its tones, so familiar and sweet, never rise higher than a "Merry Christmas," whose meaning it cannot know. Thus, it is able to offer no reflection or context to the cry of "Merry Christmas;" it can only repeat it, willing that which it doesn't understand to become true by force of repetition….

And yet the bells are the bells of the Church, they are the bells of mass, and they call God's people to worship the newborn king and they dismiss God's people into the world in peace. But they do one other thing as well: they signal the renewed presence in the community of the Incarnate Lord, present in his own proper body on the altar of the faithful as food for the little lambs.
To hear the rest of his message, visit the ADVENTUS CHRISTI page here.