In my former conservative circles, I heard the words "Woke," "Socialism," "Liberal," etc….thrown around like they were dirty words.   I summarized the definitions of these words in my own language from Webster's dictionary  1. woke–becoming aware of social issues and injustice, particularly in the areas of racism  2. socialism–total government control of private and public property and the operations of them 3. liberal–sharing a root in liberty, marked in generosity
As a Christian, I would say that numbers one and three are certainly a good reflection of the Christian faith.  For Micah 6:8 speaks of justice below in this meme.  There are also 2000 Bible verses and Catholic Social Teaching which speak about the poor, the marginalized, and the disenfranchised.  The Early Church Fathers prior to the canonization of the New Testament (33 AD-397 AD) spoke of the Redistribution of Wealth and Caring for the Poor at great length. Please see my blog post labeled "True Traditionalism" which details Catholic Social Teaching. As I stated before from experience in my disability profession, it is impossible for the Church alone or the State alone to meet the needs of The Common Good. It must be a combined effort.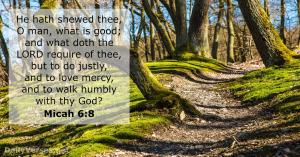 The true definition of Socialism suggests a more negative connotation because most Americans don't want the government to control everything.  However, according to the latest Gallup Poll, most Democrats at 59% support Democratic Socialism, where the government doesn't control everything but there are social safety net programs to help The Common Good.  Democratic Socialism is a combination of Socialism and Capitalism. That would seem to be more in-line with the Christian faith.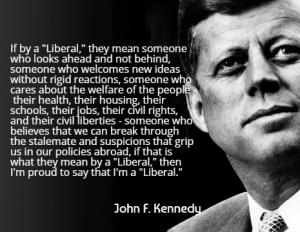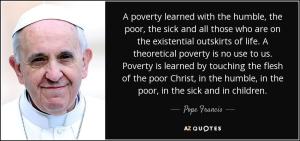 Many critics of Pope Francis claim that he is a Socialist.  After all, he took on the name "Francis" after "St Francis of Assisi" whose entire mission was to preach the Gospel by action of charity for the poor.  Other critics say that Pope Francis aligns with every item on the Democratic party ticket except "the right for women to choose abortion." Even then, Pope Francis claims that Joe Biden is a Good Catholic and still administered Communion to him in spite of the conflict within the US Conference of Catholic Bishops over his "worthiness to receive" since he is pro-choice. Many of the Early Church Fathers spoke of the Redistribution of Wealth and Caring for the Poor such as in the Didache, the first catechism of the Early Church between 70-100 AD.
Those who "hold heretical opinions about the grace of Jesus Christ" are those who—according to Ignatius—also "have no concern about love, nor about the widow, nor about the orphan, nor about the oppressed, nor about the prisoner or the one released, nor about the hungry or thirsty" (Didache 6:2).
Do not turn away someone who is in need; rather, share all things in common with your brother. Do not claim ownership, for if you are common partners in what is immortal, how much more so in what is mortal! (Didache 4.8)
Do not hate any human being; but some you are to rebuke, and some you are to pray for, yet some you are to love even more than your own life. (Didache 2.7).
The Gospel is full of teachings about the poor, especially in the Sermon on the Mount.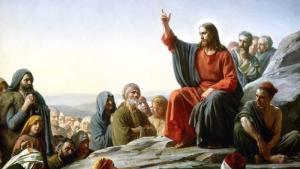 Matthew 25:35-45 (NIV, Bible Gateway)
37 "Then the righteous will answer him, 'Lord, when did we see you hungry and feed you, or thirsty and give you something to drink? 38 When did we see you a stranger and invite you in, or needing clothes and clothe you? 39 When did we see you sick or in prison and go to visit you?'
40 "The King will reply, 'Truly I tell you, whatever you did for one of the least of these brothers and sisters of mine, you did for me.'
41 "Then he will say to those on his left, 'Depart from me, you who are cursed, into the eternal fire prepared for the devil and his angels. 42 For I was hungry and you gave me nothing to eat, I was thirsty and you gave me nothing to drink, 43 I was a stranger and you did not invite me in, I needed clothes and you did not clothe me, I was sick and in prison and you did not look after me.'
44 "They also will answer, 'Lord, when did we see you hungry or thirsty or a stranger or needing clothes or sick or in prison, and did not help you?'
45 "He will reply, 'Truly I tell you, whatever you did not do for one of the least of these, you did not do for me.'
To end, this GOP Jesus video is hysterical in my opinion, but the truth in it shows the hypocrisy of right-winged politics.