I grew up loving Jesus and the Church, was raised traditional Episcopalian, and met my husband in college. I served as a female altar server for ten years of my traditional Episcopalian upbringing until I graduated from high school in 1990. Due to growing liberated gender and sexuality ethics in the Episcopal Church USA in the 1970s and 1980s and not fully understanding my Anglo-Catholic heritage or the LBGTQ+ spectrum, we started our family in the Baptist tradition due to their conservative teachings on sexuality. I appreciated the emphasis on Biblical teaching and sexual ethics but couldn't fully grasp the theology of the Baptist tradition due to my upbringing, so spiritually, being Baptist was much more difficult for me than it was for my husband Grant who was raised Presbyterian. We returned to Anglicanism with our children through the Anglican Church of Nigeria where I taught Church History and catechism. After a terrible Church split in 2017, my husband and I went to the Catholic Church, and I converted to Catholicism in 2016 through a staunch Catholic traditionalist parish similar to the Anglican Church of Nigeria.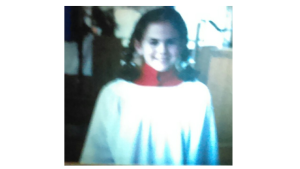 When COVID started in 2020, I noticed a sharp internal disagreement in our previous trad Catholic parish as to whether or not the Church should follow COVID guidelines. I didn't take long before the this Catholic Church totally stopped asking people to wear masks.  Social distancing was minimally attempted. I went to my Parkinson's neurologist who advised me not to attend Church unless the parish made a great attempt to follow COVID guidelines.  A Catholic deacon in the Ordinariate trad parish advised me that voting for Joe Biden and getting the vaccine were grave sins since both were connected to abortion.  This was going on in traditional Catholic parishes all over the country. I didn't vote for Joe Biden, but I had to get the COVID vaccine to protect myself and my patients.  This is when we found the beautiful historic San Fernando Cathedral where we still attend Mass today which fully followed COVID guidelines throughout the pandemic.
Opening my eyes to the greater Catholic world, I noticed that most people in my urban Cathedral are Hispanic which means most of them are Democrat, including the clergy.  So according to the deacon in the previous trad parish, most of the people and most of the clergy at the San Fernando Cathedral are going to hell because they are Democrats and got the vaccine. I then checked into the official stance from the Vatican which said Catholics can vote for life issues on the Democratic side according to our conscience as long as we don't personally support abortion.  Then, the Vatican was dispensing the vaccine.  I guess according to that deacon, the Vatican is going to hell too.  This deacon and much of the trad parish were more concerned with the rules than whether or not people lived or died, but the unborn to some mattered more than any other lives.
The same can be said about the sexuality doctrine when LBGQIA+ people and their families are dying daily at the hands of untrained and hateful laity and clergy which now I understand at a professional and familial level.   All of the current science and the worldwide medical consensus states that affirmation and reconciliation are life and death.  Overall, the church must move to reconcile with the LGBTQ community and provide safe and pastoral ministry which aligns with current science.  This doesn't mean Church teaching should change or be dismissed, but it cannot be applied to harm and kill people which has been happening for decades. "The Hogg Foundation for Mental Health states that every word and action of love, affirmation or acceptance (which has nothing to do with sexual activity), can be the difference life and death for LGBTQ+ people."  Anything else will continue to endanger and disrupt the lives of LGBTQ+ people and their families.