In July, 2022, Pope Francis traveled to Canada to apologize to Indigenous peoples for the Church's role in the atrocities committed in the residential school system back in the 1950s and 60s.  I do believe The Holy Father's penitential pilgrimage was a precursor to yesterday's event at the San Fernando Cathedral in San Antonio, TX on 12-11-2022.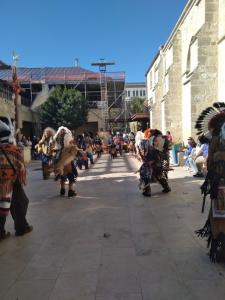 Yesterday my husband and I attended the San Fernando Cathedral together as we regularly do and arrived a little early for the 10:00 am Mass. Something was obviously different about the service.  There were not enough pews and seats, and security officers stood on-guard.   Before the service started, I took a trip to the lady's restroom located in the Church square on the West side of the Cathedral.   To my delightful surprise, Indigeouns people were dressed in full Native American attire with headdresses.  They were obviously preparing for a performance of some kind. Sadly, not everyone shared my joy because there were some ladies complaining inside the restroom about their presence on Catholic property and "pagan costumes."  That didn't even dent my joy of Native People on the Church grounds.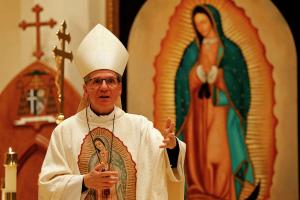 Returning to Mass, Archbishop Gustavo gave the sermonette/homily mid-way through the service. He spoke of the history of the Cathedral's construction which concluded in 1750. The San Fernando Cathedral is one of the oldest Catholic Cathedrals in the country.  Archbishop Gustavo then spoke further about the history of Indigenous People and how they were on US soil well before the Cathedral was ever built.  He further spoke of the authentic human need for "Joy in the Lord." As Archbishop Gustavo concluded his homily, he then invited the congregation to observe a dance from a Native American Catholic tribe.  As the service concluded, sounds of drums started to echo through the walls of the Cathedral. After the service on the West side of the Cathedral within the Church square, the beautiful Native American Catholic tribe danced in celebration of The Feast of Our Lady of Guadalupe.  This would not have happened on Catholic Property even two years ago.
Thank you Pope Francis and Archbishop Gustavo for bringing justice to a historically-oppressed population.  God bless you for allowing Native People to practice an intrinsic part of their human identity integrated with their Catholic faith.