No doubt, a series of events and God moving me to different places over the last six years were absolutely required to open my eyes to full reality, especially coming from my conservative religious background and service in religious education.  God had to first pull my family away from ultra-conservative religious circles by church splitting and COVID force. Serving children with developmental, learning, and cognitive disabilities as an Academic Language Therapist, first in religious education but then into secular society via COVID was crucial for me as a practitioner and mother.  Before that, I confess that my family and I lived in a bubble. The sparking moment of starting deconstruction and awakening happened when Trump mocked the disabled reporter. Working with special needs children, raising a son with Autism, and having Parkinson's Disease myself made it impossible for me to ignore this type of cruelty. A front-running presidential candidate for the President of the United States who mocked a disabled man was absolutely impossible for someone like me to ignore.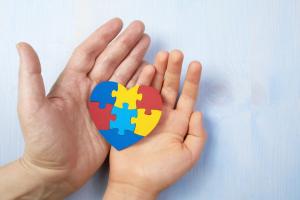 All of this over time opened my eyes to the life, death, and human dignity issues of the LGBTQ+ youth population which is much higher in the disability community, one I've served for many years. My eyes were closed because many of these kids and their families sadly steered clear from religious education due to rejection from weaponized theology through political turmoil.  Moving to secular employment during COVID finally opened my eyes thankfully.
I wrote a letter to those who attack me for my work. It's a plea for peace.  Here is most (not all) of it.
Since it took a great deal to open my eyes to the life and death issues for LGBTQ+ youth, I can't expect others to fully understand the journey I've had with this.  Every major medical association in the world came to a fully-affirming position between the years of 2017-2019 and states that affirmation, acceptance, and inclusion are life and death.  Even the medical community had to issue an apology to the LGBTQ+ community for prescribing gay conversion and reparative therapy which have now been widely discredited. The Church must deal with this properly, or it will continue to endanger the lives of LGBTQIA+ people and their families, both inside and outside the Church, especially since parts of the Church are married to the government.
With this understanding, I just ask that you allow me to continue writing and advocating for LGBTQIA+ children's lives and their families in addition to my work as an Academic Language Therapist. The advocacy portion is an extension to the advocacy work I've always done for disabled and neurodiverse youth populations.  I don't expect you to agree with my work, change your party affiliation, or vote anything but red.
All I ask is that I am treated with decency and not attacked for advocating for the most marginalized and oppressed population, the LGBTQIA+ youth and young adult population.  Sadly, there is an enormous political component to this which I now understand makes it very difficult. Most of the transgender children and young adults I've met either have Autism or ADHD although this isn't always the case. It makes sense because science says that this is the case.
There are very few practitioners with my current credentialing and experience in the disability community and even fewer who are also LGBTQ+ certified Inclusion in Healthcare who are also in lay ministry training certification/seminary.  The combination of these credentials and my experience are essential in reaching those who've had their eyes closed like I did, mainly the Church. I just ask for peace, not necessarily support, just peace, and not being attacked. If silence is the only way you are able to respect me, then silence will work for me although I think willful silence is complicit.  There are parents and grandparents who appreciate my work because it's making a life-changing difference for their LGBTQ+ children and grandchildren. My advocacy has even saved a small number of lives from suicide, marginalization, and oppression. Someone's life and human dignity are not up for debate, regardless of who they are.
All I want is peace.  Thank you