Here are some good recipes for EID day.
These came from Cooking Fanatic Nyela G. in Mississauga, Canada. She can be reached via email at maplemasala16@gmail.com
Sheer Korma ("Milk with Dates" in Urdu – it is a popular sweet dish eaten on the Morning of Eid)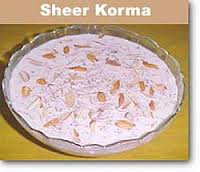 Ingredients:
5 cups milk
1/2 packet vermicelli noodles
1 cup sugar
1/2 cup blanched almonds
1/2 cup pistachios
4 small cardamom pods
1/4 cup raisins
1/2 cup oil
Directions:
In a pot, boil milk.
Add sugar and cardamom, and simmer on low heat.
In another pan, sauté the vermicelli in 1/4 cup oil until golden brown.
Add the vermicelli to milk and simmer for about half an hour.
In a food processor, coursely chop the almonds and pistachios and stir into the milk. Simmer for about 10 mins.
Take the raisins and fry them in the oil until golden brown, then spread over the vermicelli.
It's ready to eat, warm or cold.
Tomato Fish (A unique dish to have for either lunch or dinner on Eid day)
Ingredients:
2 pounds fish filets (any white fish of your choice)
2 tomatoes (cut into chunks)
1 onion (chopped)
1 green bell pepper (sliced thinly)
3 gloves garlic (minced)
2 tablespoons chilli sauce
1 tsp paprika
Salt to taste
2 tablespoons oil
Directions:
In a pan, heat oil on medium heat.
Once hot, add onions and sauté for about 5 mins.
Add the garlic and sauté until garlic is cooked.
Add salt and paprika to the onions and garlic.
Add the fish filets and cook Until golden brown on each side.
Spread the tomatoes on top of fish and cover and cook until tomatoes are cooked.
Take off cover and add the chilli sauce and bell peppers.
Cook until sauce thickens.
It's ready to serve with boiled rice.
For Questions, please email: maplemasala16@gmail.com