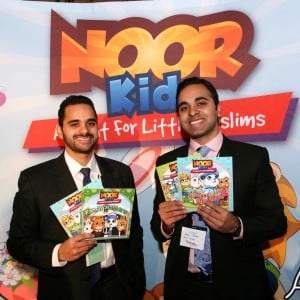 Recently I interviewed Amin Aaser, 24 and Mohammed Aaser, 27 – the Business school graduates and founders of "Noor Kids" books for Muslim children. They talk about how their passion, desire and hobby for creating an alternative educational book for their own children has turned into a full time job.
1. Why did you start "Noor Kids"
My brother and I felt compelled to. Like it was something of a duty, given that nothing like it exists currently. Growing up as a Muslim-American in Minnesota, it was challenging to maintain confidence in my religious identity after September 11th. Friends would make fun of my fasting during Ramadan, tease my mother's Hijab during baseball games, and continually associate me with terrorism. I hated it and began to question myself and who I was. It would have been so much easier if I didn't have the faith that was in my heart.
It forced me to be introspective, and decide to be Muslim, rather than just being born into it. As college progressed, I had the opportunity to learn more about Islam, finally concluding that it is a beautiful faith that I am blessed to have in my heart. However, as I looked at my Muslim peers, I found that I was a minority in that many of my peers had not been afforded the same experience I had – they, in many ways, rejected their Islamic roots.
So when my sister, last year, had a child, I immediately reminisced on the experience that I have had as a Muslim in North America. I wanted to use the resources at my disposal to ensure that we can counter this issue such that Aasiya (my sister's child), and the thousands of other little Muslims growing up in North America like her, have tools to help them build confidence in their religious identities. Our belief is that tools, like Noor Kids, can achieve this.
2. What is your background (education and profession wise)?
I have a Bachelor's of Science Degree in Business, with majors in Finance, Marketing, and Supply Chain Management from the University of Minnesota. I currently work in the Corporate Strategy group for General Mills. Prior to this, I served as an Internet Marketing Manager for Cargill, and a Marketing Strategy Consultant.
My brother, who is our business strategist, also graduated from Minnesota with a triple major. However, he has since supplemented his educational experience with an MBA from Harvard Business School. He is currently a Management Consultant for a top-tier global consulting firm.
3. What age range are these books made for?
Noor Kids is targeted for 3 to 8 year old children. For younger children (3-5) that do not yet know how to read, this would be a 'read along' in which parents would need to read the stories to their children. For older children (6-8), Noor Kids can be read individually. However, given that this content is religious in nature, we recommend that parents read this content with children such that they can provide additional context and connect with their children around religion.
5. Who comes up with the stories – do you have a team of writers/concept people?
While Mohammed, my brother handles our operations, I am primarily responsible for the creative elements of Noor Kids, including the writing. However, it hasn't come easy and has been with the assistance of many.
When we started Noor Kids, I spent every weekend for almost three months in the library reading children's books. Through doing so, I was able to help understand key features of children's books and adopt best practices into Noor Kids. Additionally, I read a host of books on the subject of children's book writing, and practiced a great deal. With every subsequent book, we receive feedback from our readers such that we can continuously improve.
One of our greatest assets is our group of parent ambassadors. This group of about 50 moms and teachers provide feedback on our stories and concepts. Through them, we are able to ensure that the stories are relevant and appropriate for our age group.
6. I see you have a section at the beginning for Parents with useful tips and links to other people and organizations. That seems to be a good idea – what has been the feedback by parents and others on that?
Actually, the initial idea came from one of our parents. The response has been enthusiastic. Each of the books that we publish are related to a specific theme, for example gratitude or honesty. The Parent's Page allows us to expand on the theme and ensure that parents have the appropriate grounding on the subject such that they can support our stories with the appropriate dialogue.
Furthermore, while our target audience is children, I believe that parents too can benefit from a 'refresh' on the material. The concepts that we address are life-long teachings that have been provided by Allah (SWT) through the Prophet and Qu'ran; as such, a relevancy for these topics always exist.
7. Some of the life lessons (or maybe all) can be applied to older kids and adults as well – have you thought about expanding to an older audience ("pre-tweens" and young adults, etc.)
At the moment, we haven't. Insha'llah as time progresses, we would love to expand our offerings; however, we are currently focused on perfecting our current product offering.
8. What has influenced you guys in how to create the style and look of these books (other children's books? which ones?)
Just like our stories, our initial graphics were influenced by our Ambassadors group. We created a focus group of about 50 moms and educators who provided feedback on the character, logo, and style of the books.
Barenstain Bears and Arthur have been the two sets of books that have played the most meaningful roles in developing Noor Kids.
Learn More about Noor Kids at www.NoorKids.com