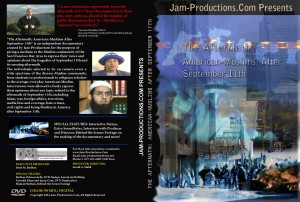 12 years ago, my friend Javaid Malik and I started on this documentary video called, "The Aftermath: American-Muslims After September 11th." It took us 14 months to complete as we did all the pre-production, research, script writing, shooting, editing, post-production, marketing, and promotion ourselves (although we did get help from a few people along the way).
At the time it was a somewhat controversial video since it was rare for American Muslim leaders and activists to come on camera and give their opinions on world affairs, terrorism, war, racial profiling, civil rights, foreign policy and the direct aftermath of Sept. 11th from the American-Muslim perspective.
The documentary was screened in university classrooms from Michigan to Santa Clara as well as Stanford. It was screened at the ISNA Film Festival in 2003 and was also broadcast on local community television in San Jose, Campbell and Oakland, CA.
The full documentary is available for viewing on YouTube (click on the screen below):
For those interested to purchase a copy on DVD, please email us at jam1productions@gmail.com
Peace
Irfan