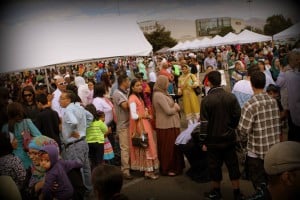 Recently, I conducted an interview with ILLUME Magazine about the Halal Fest event, which was held one month ago on August 17th. Although a lot of the "noise" online was negative, most people who attended the event, even if they did not get to eat any of the food, thought the event itself was a big success. With over 10 articles about the event (some of which are featured here on the HalalFest website), and approximately 10,000 people in attendance, HalalFest was one of the largest and most successful American Muslim events in California's History! See below for a preview of my interview with ILLUME. The full interview will be posted on the ILLUME website soon.
ILLUME: Was Halal Fest a Success or Failure in your view as the event organizer?
Irfan: Yes because we achieved many of our goals, which included hosting a large community event that showcased the diversity and importance of Halal food as well as attracting all members of the American Muslim community, whether they are practicing or not and also included many people of other faiths in attendance. And in terms of turn-out, the event was an overwhelming success! We would have hoped that all the attendees would have been able to enjoy some of the amazing varieties of food that was offered as well as the entertainment and children's rides/activities that were offered, but there was just no way to accommodate all the 10,000 people who showed up to Halal Fest. As someone who has been involved in many different Muslim Community programs and events myself, from the first Muslim Film Festival in the Bay Area to Muslim Unity Day at Great America – Halal Fest by far exceeded all expectations in the interest and support of the American Muslim community.
ILLUME: There was a lot of negative comments on facebook about the lack of organization and planning for the festival. How do you respond to those criticisms?
Irfan: First off, according to our online feedback survey, over 90% of the people had very positive comments and feedback. For those people who had a bad experience, we apologize and are looking at all the ways which we can improve for next time. There were definitely problems in terms of very long lines for both tokens and food as well as some vendors quickly running of out of food. A few points that we wish to offer to the public for consideration:
A. The event was planned one year in advance (starting in August 2012) with a lot of preparation going into bringing all the necessary infrastructure to an open parking lot – such as generators for electricity, porta-potties and hand washing stations for the public, renting chairs, tables, canopies, stage, sound system, renting and setting up barricades, caution tape, fire extinguishers as well as navigating the dozen meetings to obtain the necessary permits from
Alameda County Health Dept
City of Newark Police Department
City of Newark Fire Department
City of Newark Planning Department
NewPark Mall Management & Security
This was no small undertaking and we wanted to put on an event that was not only appealing and fun but also safe for all attendees.
B. No other public Muslim event (outside of the day of Eid itself) had an attendance of more than 3,600 in the past 8 years. From the organizing team's past experience in working on large Muslim community events, we had planned for 2,000 – 3,000 people max (which was double the number that RSVPd on our Facebook page). All food vendors had also prepared for this many people to attend. Because there are so many other events which happen right after Ramadan and Eid, the organizers were not expecting almost 5 times as many people to attend our event.
HalalFest was and still is an experiment. There was no way to predict, one month in advance when our main deadline for food vendors was, that there would be 10,000 people in attendance (based on our Facebook RSVPs and online pre-sales). Our halal food vendors operate on tight budgets and initially planned on serving and preparing food at a rate of 300-400 people per hour split amongst 18 food & snack booths & trucks. That equates to an average of approximately 22 people per hour per food vendor (which measured by lines at similar food festivals does occur). That still means that if each person's order takes 2-3 minutes to prepare, there could still be a one hour wait for food even if there were only 2 dozen people in one line. Instead of 100-200 customers per booth during the course of the entire 7 hour event, at the peak there were times when 100 people were all standing in a single food line! Many other similar food & street festivals with similar large turnouts (i.e. Greek Festival, Lebanese Festival, etc.) also have long lines where people wait up to an hour for a single gyro sandwich.
C. Most festivals charge an admission fee (which also is used as a crowd control method). Our event was free and since it was in a parking lot, anyone could just walk in, try some free samples, watch the free entertainment, check out the bazaar and then leave. The organizers did not make money off all the 10,000 people who attended Halal Fest as some people are assuming we did on Facebook. In fact there are many word-of-mouth reports that many local Halal restaurants were completely packed on the day of HalalFest as our attendees upon seeing the long lines chose to eat elsewhere. That was not our intent and we hope to be able to accommodate our supporters in a better fashion in the future.
NOTE: The Full Interview will be posted on ILLUME's website shortly.