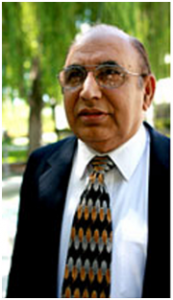 Dear Friends and Family,
My family and I recently initiated a scholarship through the Islamic Scholarship Fund (ISF) in memory of my late father, Abdul Sattar Rydhan, who passed away 8 years ago this month. We named it the ISF-Abdul Sattar Rydhan Media Scholarship.
He loved his community and had a passion for media activism, so our family believes this will be a great way to honor his legacy and support those young American Muslims who want to study a field of the media such as journalism, television or filmmaking.
The Islamic Scholarship Fund (ISF) is a non-profit 501(c)3 entity founded in 2009 whose mission is to address the under representation of American Muslims in the fields and occupations that influence public opinion and make public policy.
Their belief is that fostering education and improving Muslim representation in all walks of life including media and politics will lead to full integration and better understanding of Islam and Muslims. ISF's mission was close to my father's heart.
I would like to invite you to join this initiative:
Please consider making a one time or recurring donation and help me fund this award and many more. My long term goal is to establish an endowment fund in memory of my father. Please use this link and select the ISF-Abdul Sattar Rydhan Media Scholarship from the drop down menu.
Spread the word about ISF and encourage students to apply for my father's scholarship and many other awards offered by ISF. Please share the announcement below.
Consider starting a similar award for your loved ones. You can contact me or ISF for more information.
Scholarship Announcement:
ISF is accepting scholarship applications through April 4, 2016 and support majors in the humanities, social sciences, liberal arts, architecture and law. Apply TODAY!
Requirements:
Muslim or active member of the Muslim community;
Enrollment at an accredited university in the U.S. by August 2016;
Majoring in an ISF supported major;
Maintaining a minimum 3.0 Grade Point Average;
A Citizen or Permanent Resident of the U.S.;
An undergraduate (sophomore/junior/senior) or of graduate standing (includes PhD) by August 2016.
Please visit website for more information at: www.IslamicScholarshipFund.org
Please feel free to forward this to anyone you think will be interested.
JazakAllah Khair