One of the largest sporting events in the country, SuperBowl50 will be coming to the San Francisco Bay Area on Sunday February 7th, 2016.
Thousands of people around the world will be visiting the Bay Area during the nine days leading up to the Big Game, from Jan 30th to Feb 7.
San Francisco is definitely a "Foodie" city, but the whole Bay Area from San Jose to Fremont and Oakland have many gems as well. Here is a list of not only Halal, but well known seafood and vegetarian places which make the Bay Area one of the best places in the world for the Halal Eater:
Levi's Stadium (Santa Clara)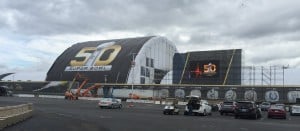 Although there will be plenty of activities in San Francisco such as SuperBowl City (see below for more details), the actual big game will be played about 40 miles south of the City, at Levi's Stadium in Santa Clara, so many visitors will probably be staying close by where all the action will be at.
Some nearby good Halal eats include, the gourmet sub sandwiches at Ike's Lair, Halal Philly Cheese steaks and burgers from Wrap This, Home style Middle Eastern Food at Holyland Restaurant and Traditional Indo-Pakistani cuisine at Kabab & Curry's – all of which are in Santa Clara within a 15 minute drive from Levi's stadium.
Ike's Lair

2235 The Alameda, Santa Clara, CA 95050
Phone: (408) 244-2034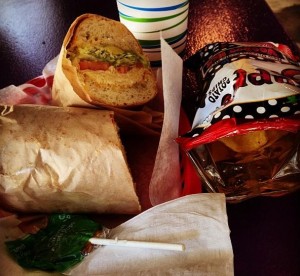 What to order: "The 49er" sandwich includes Halal Chicken with Buffalo Wing Sauce, Cheddar and Honey Mustard. "Your Favorite Sesame Street Character" is a good vegetarian sandwich with Avocado, Cream Cheese, Cucumbers and Pesto.
Notes: Only the Chicken is Halal at Ike's, but there are multiple Halal Chicken sandwiches to choose from as well as Vegetarian and Vegan options. All the sandwiches also come with an Apple Caramel lollipop!
Wrap This

2281 The Alameda, Santa Clara, CA 95050
Phone: (408) 246-9727
What to order: The Philly cheese steak sandwich with a side of curly fries.
Notes: Limited seating inside, but right next door is also "Smoke This" a decent Hookah (flavored tobacco in a water pipe) joint to get your smoke on. The same owners for both places.
Kabab & Curry's

1498 Isabella Street, Santa Clara, CA 95050
Phone: (408) 247-0745
What to order: CTM (Chicken Tikka Masala), Tandoori Chicken (cooked in a clay oven), Naan (fluffy round bread cooked in a clay oven) and Lamb Chops.
Notes: This place get's pretty popular, especially at dinner time, so it's better to order ahead of time, but if you want to dine-in, make sure you give yourself plenty of time as the service is usually slow. This restaurant is also in a residential area, but there is usually parking available on the streets nearby.
Holyland Restaurant & Catering

807 Aldo Avenue, Ste 105, Santa Clara, CA 95054
Phone: (408) 727-3000
What to order: The lunch buffet is good, but if you order ala carte try the Lamb Mansaf which is a big piece of lamb cooked in yogurt with rice.
Notes: This restaurant is located in an industrial area, so it may be difficult to find, but there is a large sign for the restaurant on Aldo street.
The Capital of Silicon Valley (San Jose)
The capital of Silicon Valley, San Jose, is actually larger than San Francisco in terms of area, but it's very spread out and the population is not as concentrated, so it does not really feel like a "big city" although it's the 10th largest city in the country.
San Jose has its own version of the famous NYC Halal Food Carts with the Halal Gyro Express Cart in downtown. Nearby in the older part of San Jose is Gulzaar Halal, which has an interesting mix of Lebanese, Indian and Afghani cuisine. A popular vegetarian food is Falafel and the iconic Falafel Drive-In is a must try. Further down south is Jubba Restaurant with delicious Somalian food and Layla's Bistro with a fusion of Halal Italian and Asian cuisine.
Halal Gyro Express Cart

300 South 2nd Street, San Jose, CA 95113
Phone: (408) 476-8836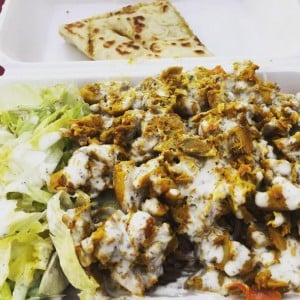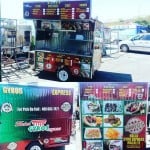 What to order: There is a very simple menu here with either Chicken or Lamb wraps and Chicken over rice and Lamb over rice. Everything is pretty good. You can get a combo platter with both Chicken and Lamb over rice with their own special "white sauce."
Notes: This cart is owned by the same family as the very popular Agha's Gyro Express Cart in downtown San Jose. So the food is pretty much the same at both carts: Delicious.
Gulzaar Halal

1880 W San Carlos St, San Jose, CA 95128
Phone: (408) 292-2786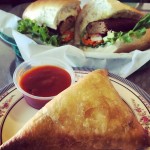 What to order: This placed was originally a Lebanese bakery, so they still have some of those original menu items. The Jebneh is like a Lebanese Cheese pizza which is great. The beef kebab sandwich is one of the best Halal sandwiches in the area, with a fresh baked French roll, spicy beef kebabs and lettuce, carrots with a special sauce. Also try the large and tasty chicken samosas.
Notes: They also serve breakfast here, and nearby is the popular Santana Row (high-end outdoor mall) and Westfield Valley Fair Mall.
Falafel Drive-In

2301 Stevens Creek Boulevard, San Jose, CA 95128
Phone: (408) 294-7886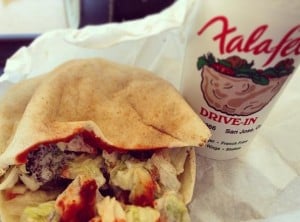 What to order: The most popular item on the menu is "the special" which is a Large Falafel (fried crunchy balls made out of chickpea flour) Sandwich and a Banana milkshake. Make sure to get some extra white (tahini) sauce and red (hot) sauce.
Notes: Although they have a couple of Halal meat items here, it's best to stick to the original falafel sandwich (vegetarian) which has been a staple here since 1966.
Foster's Freeze

698 North 4th street, San Jose, CA 95112
Phone: (408) 292-1505
What to order: Banana Sundae, Brownie Parfait, Chocolate Dipped ice cream cones
Notes:They also have a great Fish Fillet Sandwich here. It has lettuce, tomatoes and is pretty big. Much better than the smaller McDonald's one.
Jubba

5330 Terner Way, San Jose, CA 95136
Phone: (408) 294-7886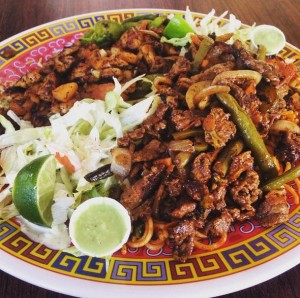 What to order: If you are new to Somalian food, you will be pleasantly surprised at how diverse and good it is. The "Sports Plate" is large enough for at least 2 maybe 3 people and includes your choice of chicken/beef, or goat and rice/spaghetti. Yes they have spaghetti on the menu (It was brought to Somalia by the Italian colonizers) and it's great! The meats are excellently seasoned but not overly spicy. The sambosa (a large samosa with minced chicken) is a good appetizer. For an added treat, try the Somalian tea which is a mix of spicy and sweet cinnamon and black tea.
Notes: The green chutney is very spicy, so beware before you pour it all over your food!
Phillz Coffee

118 Paseo De San Antonio Walk, San Jose, CA 95112
Phone: (408) 971-4212
What to order: Mint Mojito. And if you like tea, try the "Istanbul Treat."
Notes: Unlike other popular coffee spots, the baristas here really know their coffee and teas and can give you recommendations based on your specific tastes.
Layla's Bistro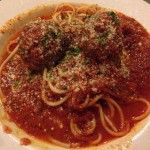 4472 Pearl Avenue, San Jose, CA 95136
Phone: (408) 269-2221
What to order: Extensive menu which includes American, Asian and Italian, but not everything is Halal. One of the best Halal items is the "Chicken Stromboli." The Spaghetti & meatballs is also pretty good. Complimentary garlic bread is a plus.
Raoof's San Jose Bean Pies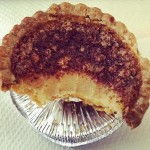 W Santa Clara St & S San Pedro St, San Jose, CA 95113
Phone: (408) 390-7437
What to order: If you have never had a bean pie before you are missing out! Better than pumpkin pie. Br. Raoof sells every Friday from 10am to 2pm in downtown San Jose at the Farmer's Market. His sweet potato pie is very good as well. Get a free sample, you won't be disappointed!
The Eastbay (Fremont, Oakland & Surrounding Areas)
The Eastbay has the largest population of Muslims in the Bay Area, thus there is an abundance of Halal Restaurants with cuisines ranging from all over the world including Afghani, Indo-Pakistani, Chinese, Thai, Middle Eastern as well as American to choose from. Right in between Fremont and San Jose is Milpitas, CA and Tayyibaat Meat & Grill, a popular Halal meat Butcher shop as well as Restaurant as well as Darda Seafood, one of the most popular Halal Chinese restaurants in the Bay Area are both in Milpitas.
Fremont is the home of the largest Afghani population in the United States, and as such some of the best Afghani Restaurants are here. One of the most popular ones is a hole in the wall place called De Afghanan. Also in Fremont is Falafel Corner, which although has Falafel in its name, is more known for its great Halal Burgers & Pizza than anything else. Mirchi Café is a nearby Pakistani-American fusion place with great sandwiches, burgers, pizza and Halal fried chicken.
And you can't forget about the very popular Sala Thai (II) also in Fremont. Going further east towards the hills is Dublin and Pleasanton, which also have their fair share of Halal Restaurants. Rahma Market in Dublin has great rotisserie chicken as well as Halal hot dogs. For fine Halal dining, try Lotus Persian Restaurant in Pleasanton.
One of the hidden Halal gems of the bay area is in Oakland with the New Africa Kitchen – featuring Halal chicken & waffles, beef hot links and fried chicken wings.
Tayyibaat Meat & Grill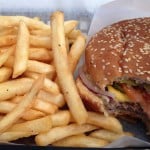 10 S. Abbott Avenue, Milpitas, CA 95035
Phone: (408) 586-9700
What to order: The Jalapeno Burger.
Notes: They also have Afghani style kebabs with rice, but the burgers and wraps are better here.
Darda Seafood

296 Barber Ct, Milpitas, CA 95035
Phone: (408) 433-5199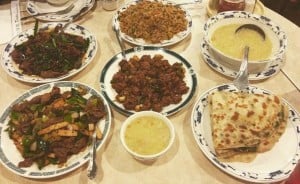 What to order: Known as "Muslim Chinese," the major differences besides having Halal meat are the lamb dishes as well as the breads (both thin green onion pan cake and thick & fluffy sesame bread with green onion). Both are great. The standards are Hot & Sour soup, Sweet & Sour Chicken, Shrimp with Walnuts (in a sweet mayo sauce), Beef with green onions, Chicken with Spicy garlic sauce and Beef short ribs.
Notes: If available, try the fresh watermelon juice.
De Afghanan

37395 Fremont Blvd, Fremont, CA 94536
Phone: (510) 857-1009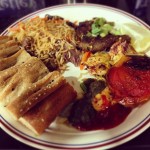 What to order: Literally a hole in the wall, with like 2 tables inside, most people order take out from here (they only take cash as well). Simple menu with beef, chicken or chapli kebabs. The Bolani (crispy potato pancakes) are also very good. You can't go wrong here.
Notes: Right next door is a sit-down restaurant from the same owners, but of course a bit more expensive. Save some money and time and order take out from the original location.
Falafel Corner

43450 Grimmer Blvd, Fremont, CA 94538
Phone: (510) 252-1577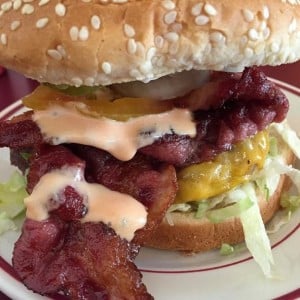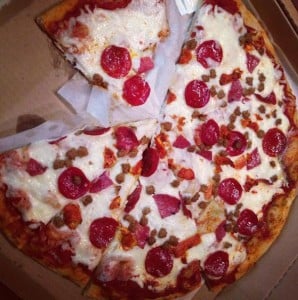 What to order: Although they have a pretty large menu here, the best items are the Meat Lovers Pizza (all Halal of course) and the Bacon (Halal Beef) Cheddar burger.
Notes: The Philly cheese steak sandwich is pretty good as well, but if you haven't had a good Halal burger before, definitely try one here.
Mirchi Cafe

40900 Fremont Blvd, Fremont, CA 94538
Phone: (510) 623-8500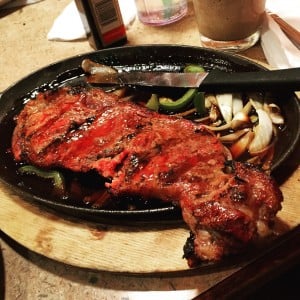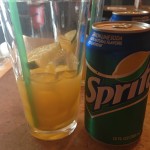 What to order: Pakistani-American Fusion menu. The popular items are the Lahori (Spicy) Burger, Chicken or Beef pepper steak sandwiches and wings. The fried chicken is also pretty good, although it takes over 20 minutes to prepare. But Mirchi Cafe is one of the few places in the Bay Area to get a good Halal steak. Try the Sizzling Black Pepper NY Steak (from Harris Ranch) – make sure to order it Medium Well or Rare (If you order steak "Well Done" then you don't know how to order steak:)!).
Notes: The place gets pretty crowded on the weekends, so make sure to call ahead if you have a large party. Also try out the Indian Cold Coffee (with whip cream and chocolate syrup) and the "Mango Sprite" (small amount of mango juice in a glass and they give you a can of Sprite – so you can mix it yourself).
Sala Thai (II)

44800 S Grimmer Blvd, Fremont, CA 94538
Phone: (510) 445-0088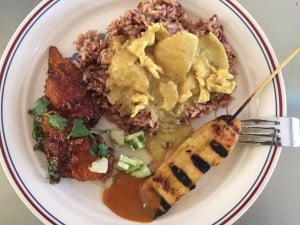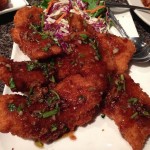 What to order:Traditional Thai cuisine with a wide menu. If you can sit-in here, order the Tom Yum lemongrass soup with prawns. The crispy fried fish with sweet garlic sauce is a must. Pineapple Rice, Yellow Curry with Chicken and Drunken noodles with beef are all great. Top it all off with a Thai Iced Tea.
Notes: The fried chicken wings in garlic sauce are also great, but if you can only pick one, take the Crispy Fried Fish instead. Also Thai spicy is very spicy, so it's recommended to get medium or mild spice in whatever you order.
Rahma Mediterranean Market

7108 Dublin Blvd, Dublin, CA 94568
Phone: (925) 833-2716
What to order: This is mainly a Halal meat butcher shop, but unlike most of them it's very clean. They also served cooked food. The rotisserie chicken is great and they also have Halal deli meat and Halal Hot Dogs.
Lotus Persian Cuisine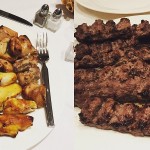 1991 Santa Rita Road, Ste A, Pleasanton, CA 94566
Phone: (925) 931-9600
What to order: A sit down, fine dining restaurant, without the alcohol! Both the beef and chicken kebabs are good here, but try the Koobideh (beef) Kebab for sure. Don't forget the Persian Tea!
New Africa Kitchen

1702 47th Ave, Oakland, CA 94601
Phone: (510) 261-3296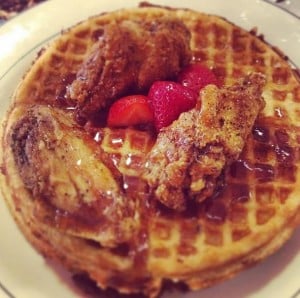 What to order: Part of the Masjid Waritheen complex in East Oakland, this small in-house restaurant is only open on Sunday for brunch and after Friday prayers for lunch. The Halal Chicken & Waffles is definitely a must have. The Halal beef hot links are also pretty good. And don't forget to try some sweet potato pie and sweet tea as well!
Notes: Not a full time restaurant, so make sure to call ahead to make they are open before you go!
SuperBowl City (San Francisco & Surrounding Areas)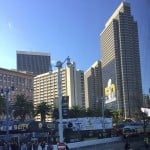 San Francisco is already known as a heaven for foodies, and its wide range of Halal food options is no different. There is a concentration of great Halal food joints in the Tenderloin (known as the "Tandoor-loin" to South Asian Halal eaters for the large number of Indian & Pakistani restaurants) area of the city, but also some great gems in nearby cities.
The well known Bay Area franchise Shalimar, which now has 4 other locations, still runs its original hole-in-the-wall place in the Tenderloin, with the South Asian Fusion joint, Wings Plus, directly across the street. On the way to San Francisco is Mountain View (home of Google) with the popular Zareen's. Close to SFO airport in the commuter town of San Bruno is Café Grillades, which is French-Algerian inspired Halal crepe & gourmet restaurant.
Close to where SuperBowl City (week long event for Superbowl 50) will take place on the Embarcadero is Ziggy's Burgers where you can find great Halal Burgers. Then at the end of your day (or beginning of your night) stop by Mela Tandoori Kitchen for a nice Faluda drink (a South Asian dessert with ice cream) and also some Hookah.
Zareen's

1477 Plymouth Street, Ste C, Mountain View, CA 94043
Phone: (650) 641-0335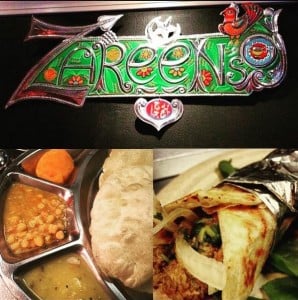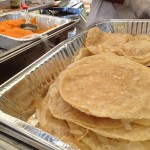 What to order: Paratha roll (thick and fried bread wrapped around chicken or beef), Memoni Kebabs (small round kebabs with ground chicken), Shami Kabab (lentils and meat made into patties) meal and complimentary chai.
Notes: If you go on the weekend try the Halwa Puri (mix of sweet & savory) and Kashmiri Chai (a pink tea topped with crushed pistachios).
Café Grillades

851 Cherry Ave, San Bruno, CA 94066
Phone: (650) 589-3778
What to order: Crepes, Crepes, & more Crepes. Try the "San Franciscan" which has eggs, Halal beef bacon and potatoes. The chicken poulet crepe is also great. Definitely save room a dessert crepe such as the Caramel and Bananas or the Banana & Nutella crepe with a scoop of vanilla ice cream.
Notes: The also make a great gourmet burgers and Panini sandwiches here. If you order something with Turkey, make sure it's Halal as previously it was not, but everything else is.
Shalimar (I)

532 Jones Street, San Francisco, CA 94102
Phone: (415) 928-0333
What to order: Some say this original location of Shalimar, which is deep in the Tenderloin area of San Francisco is the best one, although most of their other locations have the same quality food, with a bit better atmosphere, such as cleaner tables and less flies. If you are lucky enough to find a seat in the small dining area, make sure to order the tandoori chicken (boneless pieces or the whole breast piece with bone) along with the the traditional Punjabi Seekh (Beef) kebabs, Fluffy Garlic Naan (also made in the Tandoor clay oven). The Nihari (beef shank in a soup like sauce) here is also excellent. Complimentary chai is a plus.
Notes: They also have a lot of curry dishes here, many of which are pretty good, but the Tandoori Kababs and BBQ items with Naan are the best.
Wings Plus

533 Jones Street, San Francisco, CA 94102
Phone: (415) 440-7786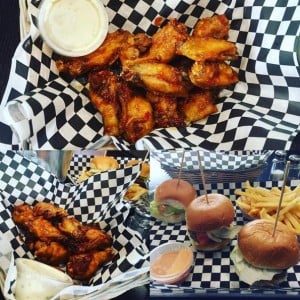 What to order: Sliders & wings. The Garlic Parmesan sauce is good stuff. This place use to be a Pakistani American fusion place, so they still have a few of their original menu items like the Desi bun kabab (non-meat patty, usually made from potato and egg in a hamburger bun), which is a must try.
Notes: Parking on Jones street is pretty difficult, so if you are in a hurry you may want to call and order take-out.
Ziggy's Burgers

21 Drumm Street, San Francisco, CA 94111
Phone: (415) 391-8181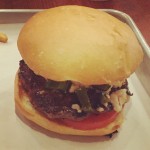 What to order: Ziggy standard with Swiss cheese. South of the Border Burger. They also have a lamb burger and Vegan (Patti made out of black beans) Burger.
Notes: This is in the financial district, so parking is difficult. There is metered parking and parking garages nearby.
Mela Tandoori Kitchen

536 Golden Gate Avenue, San Francisco, CA 94102
Phone: (415) 447-4041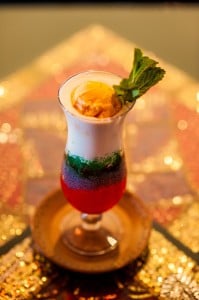 What to order: Spicy Tandoori Chicken Wings (perfect Super Bowl food). The CTM (Chicken Tikka Masala) is great. Garlic Naan. Definitely try the specialty Faluda (Multi-layered ice cream drink, made with rose syrup, coconut jelly, sweet basil seeds, milk and topped with a scoop of mango ice cream) for dessert.
Notes: They also have a Hookah lounge upstairs if you are into that kinda thing, check it out.
San Francisco Specials
Boudin Bakery

160 Jefferson St., Lower Level, San Francisco, CA 94133
Phone: (415) 928-1849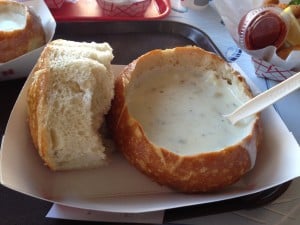 What to order: Sourdough French Bread was invented in San Francisco, so if you havent tried it before, you should definitely give it a shot! The Boudin Bakery at Fisherman's Wharf is popular for their Clam chowder in a sourdough bread bowl. For those who don't like Clam Chowder they also have Tomato Soup and Butternut Squash soup (also in bread bowls).
Notes: The Clam Chowder at Boudin Bakery does Not contain any bacon or wine, which sometimes are included in Claw Chowder, so it's OK for Muslims to eat here.
Ghiradelli Square – Original Chocolate Manufactory

900 North Point Street, San Francisco, CA 94109
Phone: (415) 474-3938
What to order: Chocolate and Ice Cream – what else do you need? Get a hot fudge sundae and go on your diet tomorrow. You're Welcome 🙂
As you can see from this small sampling, there is a great variety of Halal food available throughout the San Francisco Bay Area. Wherever you end up dining at, we are sure you will be very satisfied. For those of you visiting from out of town, we hope you enjoy your visit and have a great time during Super Bowl week in the Bay Area! For any questions or comments please email us at info@halalfest.com
DISCLAIMER: At the time this blog was posted, all of the above mentioned places (those which serve Halal meat), are still Halal to the best of our knowledge. But please make sure to call before you arrive at the location(s) you select, to make sure they still serve Halal meat.