This past weekend, Pope Francis made his highly anticipated and historic visit to the city of Philadelphia. The place where for now, I hang my hat and call home. What can I say, that hasn't been said by many? He's charming. He stops moving vehicles, jumps out and bestows blessings to the children. He's the new voice for a seemingly new church, bringing the hope for the many devout Catholics seeking 'the way, the truth, and the light" towards a path of forgiveness.
His words are finely crafted soundbites that are easily understood. You can't confuse words like these about the refugee crisis, "Is this not what we want for our own children? We must not be taken aback by their numbers, but rather view them as persons, seeing their faces and listening to their stories, trying to respond as best we can to their situation."
Even for the less religious, might have been inspired by this very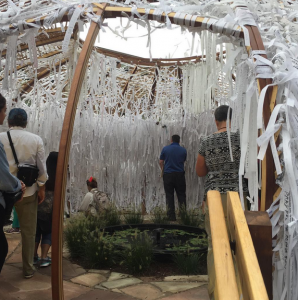 Universalist inspired statement. ""Politics is… an expression of our compelling need to live as one, in order to build as one, the greatest common good."
The Pope on his Rainbow Tour of America, seemed to hit every issue, from the environment, "Our world demands of all government leaders a will which is effective, practical, constant, with concrete steps and immediate measures for preserving and improving the natural environment and thus putting an end as quickly as possible to the phenomenon of social and economic exclusion, with its baneful consequences."
To sexual abuse and trauma at the hands of clergy, "I have in my heart the stories of suffering and the pain of the minors who were sexually abused by priests. This disgrace keeps burdening me, that the people who had the responsibility of caring for these tender ones raped them and caused them great pain. God weeps for the sexual abuse of children."
His words reach widely, and inspire the many. I've heard him compared to everyone from Gandhi to Dr. Martin Luther King, even to Ganesha. Interestingly, I compare him to Eva Peron. A powerful, charismatic, and beloved leader of people, who like Francis came from the people, spoke to the people, and was (and by and large still is) adored by the people. Eva stood as the intermediary between the people and Juan Peron's government, and sold it. She traded on her charisma and this is exactly what Pope Francis does. This is precisely what Pope Benedict could not do. Eva didn't create policy on Peronism, that oddly quasi fascist/socialist government just sold it or more aptly, distracted the Argentine people from it.
People might think the Pope can just say, "Let women be Priests" but thats not how centuries of patriarchy work. Everything has systems and just like our clusterf–k government red tape, I'm sure the Vatican has "systems." That is assuming, and it's a gross assumption at that, the Catholic Church wants radical change to be inclusive and accountable. One might joke if you want inclusive and accountable Christianity you cross the street and attend church with the Episcopalians, or better still Unitarian Universalists. Either way, as afar as Popes are concerned, Francis is the most 'progressive' in appearance and he came to Philadelphia.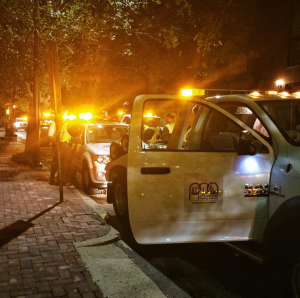 Preparing for the Papal visit, most of Philadelphia and her city of Brother Love had laughed Pope-a-polooza off. We've had jokes, meme's, and naturally welcomed Francis to grab a famous cheese steak, a water ice, and planned than enough Pope related pub crawls to keep Philly drunk until an actual apocalypse.
See here is the deal, the World Meeting of Families is kind of like the Olympics. When selected, your city gets a boon. There is a opportunity for economic advantage with commerce, and Philly is flat broke in many ways. I suppose in theory, I should be grateful, right? Millions of the Faithful united in "prayer and love" for family and children. But this isn't the Olympics, a nonsectarian event that at least in theory unites nations. This is a Head of State, for the Vatican, which is still considered technically 'special' even though it doesn't actually do any governmental policy making, except lead the billions (?) of Catholics. But that aside, as a Head of State, the Secret Service was here in Philly, and among other things the following occurred.
The schools were closed, some Thursday-Monday, the highways and public works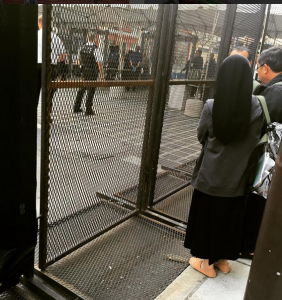 like certain streets, bridges, public transits, highways also restricted access (or closed all together) in and out of the city to certain hours. Special public transit and parking passes were sold in addition to the monthly passes that residents already have. The streets in the "secure zone" were lined with hundreds of potable toilets to accommodate the masses.
Most of Philadelphia was rendered a ghost town for the Papal visit with residents either holding up in their neighborhoods or heading to the shore. The area where the Pope was looked like an interment camp with security check points, high fences, and armed national guards. It's best summed up by Stephen Starr, who owns about a dozen Philadelphia restaurants: "This affected business worse than Hurricane Sandy. The city scared all of our customers away. We have virtually no reservations. This is unnecessary overkill. What should have been a feeling of family and community was turned into a police and military operation." A good friend and fellow yoga teacher tried to bike over one of the bridges to New Jersey but was stopped, frisked, had his bike pump confiscated and then turned around, denied access over the bridge.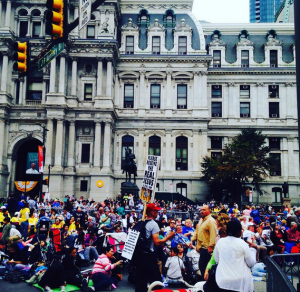 The most glaring impact I noticed was how the "faithful" ignored the poverty. Philadelphia has one of the worse homeless situations I've ever experienced. Many dislocated people live on the Parkway, either on the street or panhandle that area. The Parkway is a high traffic and tourist driven area, which served as a the nexus for the Papal visit. Due to the internment camp style fences and security check-points, the disenfranchised were driven out and instead were forced to the parameter. There was no where to go, except to the curbside. Broad Street Ministries, a Presbyterian congregation with an openly gay minister, opened the sanctuary to sleep an estimated 200 displaced people and Chosen 300 Ministries, a volunteer group of interfaith ministers, who fed the homeless, among others. However, it was glaringly obvious that the cities desire to push out the dirty and indigent to militarize the city, and the fame mongering to "see the Pope" was far more the agenda than to actually see.
Pope Francis is quoted as saying, "In a world where there is so much wealth, so many resources to feed everyone, it is unfathomable that there are so many poor persons. Poverty today is a cry." Personally, I'm reminded of Deuteronomy 15:11, "For there will never cease to be poor in the land. therefore, I command you, 'you shall open wide your hand to your brother, to the needy and to the poor, in your land.'"
---
And so it goes, that like anything it must come to an end. With the Super Moon/Blood Moon rising, how better to end than a free concert for the Pope, emcee'd by Boston's first son, accent and all, Mark Wahlberg, (epic fail Philadelphia, EPIC!!!) with Aretha Franklin singing and not Philadelphian Patti LaBelle or Jill Scott… but Queen Aretha.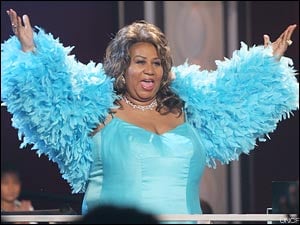 Aretha did for me, what only she could do. She brought everyone to church in a victory rendition of Amazing Grace. She told the story of what it means to be saved by Grace. Which is what the actual message is of the Gospels, as taught by Jesus the teacher in Matthew, Mark, Luke and John. She even added a few lyrics… "it wasn't the money and profits that brought me here, it was the grace in 2010 that brought me back and to now." And then like the Priestess to the God which she serves, she didn't go meet a Pope, she didn't receive some token gift, she didn't bow her head…. No Miss Franklin, exited stage right. Amen and hallelujah.
What do I take away from the Papal visit? That there is another voice in religion that is asking people to question. That those questions are not going to change everything right away, especially a centuries old wisdom tradition. If anyone is pinning their entire faith praxis on one man, it might be time to expand that portfolio. Amen and hallelujah.
There is a lot of poverty, privilege, dis-ease, and greed in the world and the Pope called some of it out while here, and I appreciate that. I'd appreciate it even more, if he offered some actual tools and money from the vaults of the Vatican for local congregations to make that a reality. Amen and hallelujah.
But most importantly, that regardless of what surrounds you, who exists in your periphery. Look at what they actually do, then stand in your truth and autonomy and be like the Queen. And when you've delivered you're truth, exit stage right. Because after all, To aspire to be Priestess Oh the Day is to stand in your power, autonomy, and grace. Amen and hallelujah.