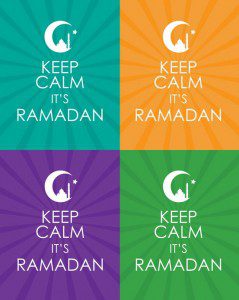 Friends, it's about that time of year again. Are you Ramadan ready? Neither are we, but we're getting there! This is time that Altmuslim usually shares its call-out for Ramadan reflection pieces. The past few Ramadans we've been honored to publish an amazing collection of Ramadan essays, op-eds and reflection posts from known and unknown writers. But this year, we're doing something a little bit different.
Thirty days. Thirty writers.
We have spent the past few months soliciting writers, activists, bloggers, leaders, students, kids, Islamic scholars and everyone in between to join our special Ramadan 2014 30-days-30-writers blog. It's a unique Ramadan blog we are hosting on Altmuslim where 30 different voices will be featured over the course of the holy month – one every day.
Some are your favorite Patheos Muslim bloggers and Altmuslim columnists are on board, including Rabia Chaudry ("Split the Moon"), Irfan Rydhan ("Al Mihrab"), Wajahat Ali ("Spiritual Appetite"), Hind Makki ("Hindtrospective"), Precious Rasheeda Muhammad ("Muslim History Detective"), Laila Alawa (Altmuslim) and many more.
Others are writers, leaders, students and activists from all over, including  Altmuslim founder Shahed Amanullah, Zainab Ismail of Nadoona, Amanda Quraishi, Sabina Khan-Ibarra (Muslimah Montage), Omid Safi ("What Would Muhammad Do"), Hena Zuberi (Muslim Matters), Anwar Khan (Islamic Relief USA) and so many more.
The idea is that we are all striving to own our stories, tell our own narratives. We are one Ummah, but many unique voices with unique faith experiences. We are excited for the shared and distinctive Ramadan experiences that we are about to present to you, and we welcome you to join in by sharing, tweeting and commenting on the daily posts.
We don't know what the writers will be submitting. It could be reflection pieces, something humorous, something critical or something news-driven. Maybe it'll be a poem, a recipe, favorite du'as (prayers) and hadiths or a special khutbah (sermon). We are as excited to see what comes forth as hopefully you are.
We pray the month of Ramadan will be special and spiritually awakening for you, and we pray that this special 30-day-30-writers blog will help foster a greater understanding of how we try and come together as a community balanced with the vastly different experiences we go through in our personal Ramadan striving.
Thirty Days. Thirty Writers. Starting, insha'Allah, on Saturday, June 28.