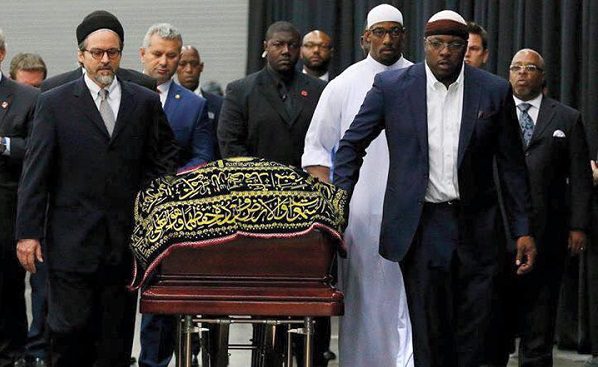 This is Day Eight of the #30Days30Writers 2016 Ramadan series.
Editors note: The following are remarks made by Dalia Mogahed at the Janaza prayers for Muhammad Ali, which are more important to read and reflect on now more than ever — to recognize a man many in the American Muslim community look to as a true, positive representation of Muslims as we mourn the loss of so many from the Pulse nightclub shooting in Orlando, Florida.
By Dalia Mogahed
We are all gathered here today to honor and pray for a man whose name means "praised in the heavens and the earth", praised by God and the people.
Sports Illustrated named him the Sportsman of the Century. TIME magazine included him in a list of the 20 most influential Americans in history:  Muhammad Ali, the People's Champ.
We gather here in Freedom Hall, the location of his first professional fight in Louisville, KY to recognize a man who taught us how to be free.
He called Muhammad his "free name." It symbolized for him a decision to put his principles above popularity, his conscience before conformity and he was willing to pay any price for his beliefs.
He taught us to be free by showing us what it meant to own fortune and glory as a means to serve God, but never to let fortune and glory own you. They were in his hands not in his heart. He was free because his heart belonged to God and to no other master–not money, not fame, not even people's praise. He was a free human being, unshackled by worldly attachments.
He dreamed of becoming the Heavy Weight Champion of the world since he was a child. The gold medal at the Olympics, the Golden Gloves, all just stepping stones to his singular focus of the ultimate title. He worked tirelessly, fought and trained and campaigned harder than anyone. Yet without hesitation, Ali was willing to have his initial fight with Sonny Liston, the current Heavy Weight, canceled rather than disavow his faith or relationship with Malcolm X.
When he finally was able to fight Liston and win the title be had always dreamed of, he sacrificed millions of dollars, risked jail time and endured vicious hate and daily death threats because he refused to go to war. His own family and friends were pressuring him. Under that tremendous weight and pressure to conform, greater than any opponent in the ring, Muhammad was victorious, emerging as a free man who couldn't be bought or guilted into violating his conscience.
He never ran from a fight. He fought every battle he faced with dignity. He didn't leave the country to avoid the draft like many had. He fought a fair fight until the highest court in the land gave him his justice.
He exemplified dignity. As Dr. Jackson wrote, "He challenged us and showed is what it meant to fight and hit hard inside and outside the ring–without bitterness, without malice and without apology."
Ali's understanding of the Oneness of God made him see the oneness of humanity. He was an athlete who was not expected to have an opinion, much less one that so sharply countered the tide. Yet when he saw a picture of a little Vietnamese girl, wide eyed among a row of mangled bodies of Vietnamese killed by American force, his instinctual compassion connected him to this girl. He had to stay out of this war.
So let this day, as we gather here in every color and creed to praise Muhammad Ali, stand as a reminder of God's promise: If you seek to please the people in spite of God, God will make the people displeased with you. But if you seek God's pleasure in spite of the people, God will make the people pleased with you.
Dalia Mogahed is the Director of Research at the Institute for Social Policy and Understanding (ISPU) in Washington, D.C.