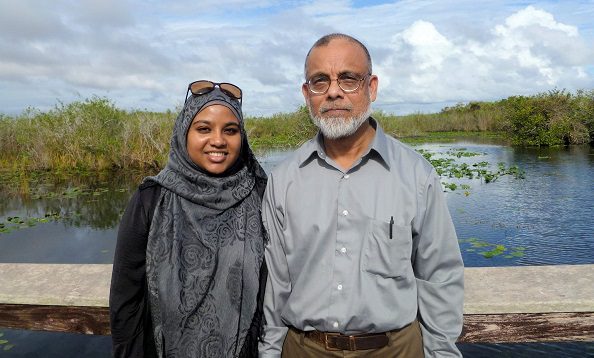 This is Day Two of the #30Days30Writers Ramadan 2016 series.
By Namira Islam
My mother has a reputation for being the life of a party. She is a masterful, vivacious storyteller and sassy in multiple languages. My father was steady, quiet and a bookworm. His brand of humor consisted of dad jokes and teasing. He was witty. But where my mom roasts with her humor, Abbu enjoyed a good quip.
Most of my childhood memories are linked to my mother or stories she would tell us of my father, but there are some memories where Abbu features solo. There was the time he took my sisters and I, three girls under 10, to informally play doubles tennis for the first time. (It went as well as expected, and we never went again.) Or, our groans when he would start testing us on the vocabulary quiz in each month's Reader's Digest. And, the regular trip to Borders Bookstore where he would pay for our stacks of books without blinking an eye, uncharacteristic for a man who was keeping nearly a dozen family members afloat on one engineer's salary.
Every Sunday, we would listen to "CarTalk" and "Wait, Wait, Don't Tell Me" on NPR when he would drive us to and from Islamic school, laughing at the laughter on the radio. Just as Sunday School was my father's domain, so too did Ramadan become linked to him in my mind over the years. It wasn't that my mother didn't have her own special Ramadan joy and habits, but as we grew older, Abbu's excitement over community, family and charity eclipsed even hers.
He loved the pre-dawn family sehri (suhoor) meal, nightly tarawih prayers in the masjid and spending hours during the day poring over the Quran. During the last few years, he would travel across the state over weekends, fundraising for the non-profit organization he founded to educate orphans in Bangladesh to help break the cycle of poverty.
After every event, he would tell us about the money he raised and how many children would be sponsored by the generosity of the Michigan Muslim community.
Last year was the first time that he was unable to fast. The spread of his lung cancer was under control, but the side effects of treatment caused his appetite to falter even when he was supposed to be eating. Damage from brain tumors meant that his vision was reduced, and weight loss brought with it too much weakness to stand in prayer at night.
I had thought the previous nine months of cancer had dealt misery, but this was even more difficult to witness. It felt as if a final light had gone out and that losing Ramadan was the last straw for things the cancer had stripped from him.
My sisters and I had tried to keep cheery throughout his treatments to keep his spirits up, but even we were silenced by the enormity of his loss. I felt him retreating into himself, and on Eid ul-Fitr, I took a selfie of us – what would be the last picture, 10 days before his death.
Each Ramadan, we hear some variation of the phrase, "pray that you live to see another Ramadan." I didn't realize just how essential Ramadan worship was for my father's soul until I saw him have to live without it. This month brings with it the opportunity for so many blessings and the ability to recharge and reconnect in a way that no other time can do.
Through my father's love of Ramadan, I too began loving this month. As I fast this year for the first time without him, I feel abandoned and alone, despite being surrounded by community.
But my Abbu taught me to engage in reflection. And so, as I resist the beginning of Ramadan in not wanting to enter this month without him, I realize the might of the One who controls the passage of time. How can you not surrender in belief when you realize that the hours will pass, the sun will set and the only one to hold any power over this is Allah (SWT)?
There is nothing I can do but submit.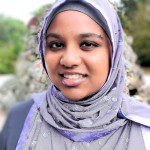 Ramadan has arrived despite how unprepared I feel, just as death will rise to meet each of us one day. None can say when that will be, and the wisdom found in treating each Ramadan as if it was our last is sound and good. However, this Ramadan, while I focus on implementing this advice in my own life, I also feel it more deeply in reflecting upon those around me and what their presence adds to my world.
Some loved ones go on forward without us, but others remain. Embracing this first Ramadan without him in all its glory is the least I can do in honoring and remembering my father's time in this life.
Namira Islam is a Bangladeshi-American lawyer and graphic designer. She is the Co-Founder and Executive Director of the Muslim Anti-Racism Collaborative (MuslimARC), an Islamically-grounded human rights education organization which focuses on racial justice. She resides in Metro Detroit and tweets @namirari.