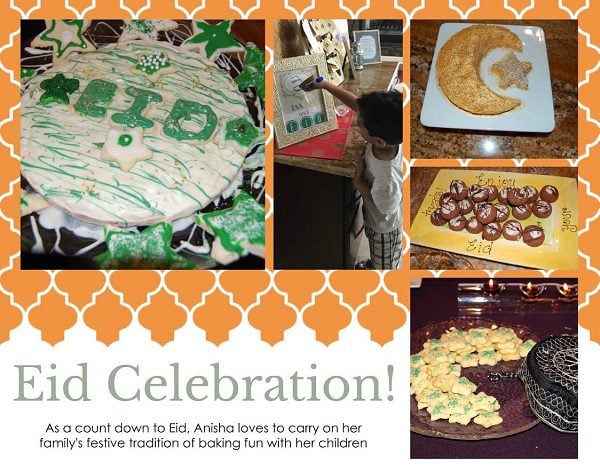 This is Day 30 of the 2017 #30Days30Writers Ramadan series – June 25, 2017. Eid Mubarak! Eid Mabrook! Happy Eid!
By Anisha Ismail Patel
As an adult, when I think of happy childhood memories, festive flashbacks of Ramadan and Eid always come up. I fondly remember praying Tarawih (night prayers in Ramadan) with friends with the occasional snack breaks. I vividly reminisce driving with my dad to distribute flour, oil, rice and other essentials to rural, poverty stricken areas in Malawi, Africa (my birth country).
I recall baking with my mom and then distributing the homemade Eid treats to loved ones. I think back to Eid open houses when our home was filled with laughter and the aroma of incense. I can almost taste the delicious kheer – vermicelli and almond sweet milk that my mom always made every Eid and still makes for us to this day.
Just as my parents and the adults in my life festively lit up Ramadan and Eid for me as a youngster, it warms my heart when I see youth today just so ecstatic about these special holidays — 14-year-old Alya who has been determined on fasting the full month since she was 10, even before it was obligatory on her, remarks that Ramadan is always a special time for her because it is a blessed month of the year.
Sarina, who has completed 10 days of the 17-hour fasts, before her 10th birthday remarked, "Fasting is easy for me. … I feel good inside because I'm fasting for a good reason, and I can also give zakat (charity)." Nurayn who is an avid tennis player participating in competitive games this Ramadan declared that, "even though I am only 12, I push myself, and fast almost everyday. Fasting makes me stronger and by the end of the month I can fast and do activities with no problem."
It is truly inspiring to see the determination and self-restraint exhibited by our youth! As young Noora said, when she thinks of Ramadan, she thinks of "patience."
Ramadan is a serene month of reflection and a time to pause, an activity that our young take to heart. Amara who is now an official teenager at the age of 13, remarked that, "The hunger that I feel when I fast is a constant reminder of what I'm doing and who I'm doing it for. Since I am not eating, I'm able to focus more of my time on my religion and doing good for others. Fasting is important because it shows me how people less fortunate than me feel."
As an educator passionate about cultivating global citizenship, it is phenomenal that these young members of society are developing a strong sense of empathy, a key ingredient to building a peaceful world.
Ramadan and Eid are also times for the community togetherness that is cherished by children. Being surrounded by loving people and smiles does wonders for their social and emotional well being. Zara, who is a caring 11-year-old, said that her favorite part of the holidays was "hanging out with family and friends."
Samara, another tween, said that she loved the tradition of going to her grandma's house to make her famous "Changalolo" cookies! And, Aleena, a cheerful nine-year old, explained with excitement how she loved helping her family host an Eid open house because of all "the people that come and the laughter you hear while eating cookies with family and friends."
Ramadan 2017 has been filled with blessings. However, feelings of grief and fear have also surfaced, with news of so many tragic hate crimes targeting various faiths, races and marginalized groups. As a mother, I want all children to be safe and shielded from the tragedies that hit daily headlines.
Despite the climate, we suppress the lingering sadness and make every effort to help our children build memories and take in the joys of Ramadan and Eid. So whether it's Eid baking to share treats, a henna party with friends, shopping for Eid gifts for those in need or waiting in excitement for out-of-town family and friends to arrive, those youthful festive smiles must always shine bright.
May the Eid 2017 truly shower our world with peace and joy for everyone, especially the children.
Anisha Ismail Patel is dedicated to cultivating global citizenship and makes an impact in the fields of education; and nurturing youth & women in leadership & service. She has fun baking eid cookies with her kiddos and is known to eat quite a bit of chocolate. You can get in touch with her at: