Last week the Tibetan spiritual leader offered talks to three groups of students at his residence in Dharamsala, India. The students came from the U.S., Canada, and 25 students from the Tong Len [Tibetan for 'giving and taking'] charitable trust based in North India.
Rather than pushing traditional Tibetan teachings or verbatim scripture, the Dalai Lama urged students to pursue peace in the coming century. He emphasized the importance of cultivating reason and the basic human capacity for compassion in order to do this.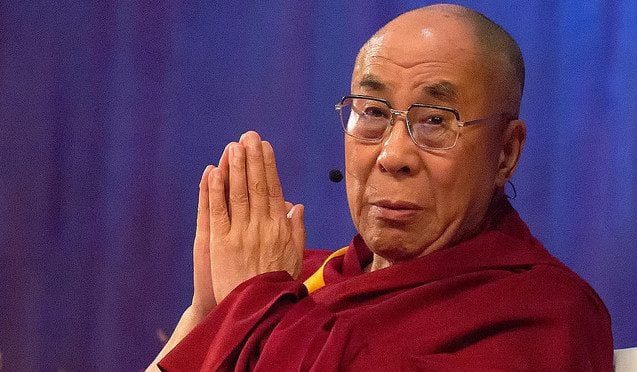 "My generation seems to have created a lot of problems on this planet that your generation will have to work to resolve. You'll have to work to create a more peaceful world. But since basic human nature is compassionate, there is hope. If our basic nature was anger, there would be none."
The Tibet Post reported that: A young man mentioned his work with empathic concern, saying, "We are poor and have known suffering. We don't want others to suffer as we have. We want to create a peaceful, supportive society." Another young man following a B.A. in Commerce course in Kangra said he used to be a beggar and has found his work with 'appreciating kindness' very helpful in calming his feelings of anger.
"Wonderful," His Holiness responded, "you are putting my vision into action. You are showing how we can share the idea of ethics with others, without having to rely on this or that religious tradition, but based on common experience and human values. Everybody appreciates kindness, but unfortunately our modern education system, with its materialistic goals, doesn't have much room for inner values. We need to make people more aware of such inner values on the basis of scientific findings, common sense and common experience."
The Dalai Lama has long been an active advocate for moving beyond traditional values that no longer fit the needs of society. He explored Western culture with great interest even while living in Tibet in his youth and has been active in public dialogues with leading scientists, historians, activists, and others for decades. Two of his recent books have sought to push ethics beyond "this or that religious tradition" and into broader human consciousness, Ethics for the New Millennium (2001) and Beyond Religion: Ethics for a Whole World (2012).
In a discussion with a UK magazine last year, the Dalai Lama went so far as to say that "Ethics is more important than religion. We don't arrive in this world as members of a particular religion. But ethics is innate." He continued, "Yesterday's ideas will get us nowhere. Especially for children, tomorrow's adults, ethics is more important than religion." Clarifying this, he said:
The knowledge and the practice of religion has of course been helpful, but today this is no longer enough, as examples from all over the world show more and more clearly. This is true of all religions, including Christianity and Buddhism. Wars have been waged in the name of religion, "holy wars" even. Religions have been and still are frequently intolerant.

This is why I say that in the 21st century we need a new ethic that transcends all religions. Far more crucial than religion is our elementary human spirituality. It's a predisposition towards love, kindness and affection that we all have within us, whatever religion we belong to. In my view, people can do without religion, but they cannot do without inner values, without ethics.
As a teacher of great importance around the world, the Dalai Lama often wears different hats. When speaking to more traditional crowds, he continues to teach Tibetan and Indian texts and ideas. However, his willingness to stretch traditional bounds bodes well for Buddhism in a world where wandering dusty roads and living in caves and under trees has decreasing appeal and cultural relevance.
Support independent coverage of Buddhism by joining a community of fellow learners/practitioners at Patreon.
'Like' American Buddhist Perspectives on facebook.