I am thrilled to be taking part in this online conference, taking place from July 24-26. I will be drawing from research I have done over the last year and a half on Buddhist economics, drawing from my backgrounds both as a comparative scholar of Buddhist and Western ethics and as an engaged community member and citizen, active in protests and demonstrations as well as community organizing for twenty years.
With gratitude to Ayya Yeshe for making it all happen and to all who present and join.
The Festival of Radical Awakening
The festival of radical awakening is an amazing intersection of social justice, contemporary issues and spirituality. To be spiritual is to see that we are all intimately connected to the earth and each other, happiness and wellbeing are not just personal matters, they are communal ones. For too long wellness and Buddhist spaces have ignored the pressing realities of diversity and justice. Inner wellbeing and awakening has to be matched by an active commitment to justice, the alleviation of poverty, caring for the planet, questioning our privelege, how we can create a beloved community and uplift each other.
REGISTER: www.dhammanet.org/fora
Course suggested fee $50 USD
THIS IS AN ONLINE EVENT
Donations can be made at
https://bodhicitta-monastery.com/make-donation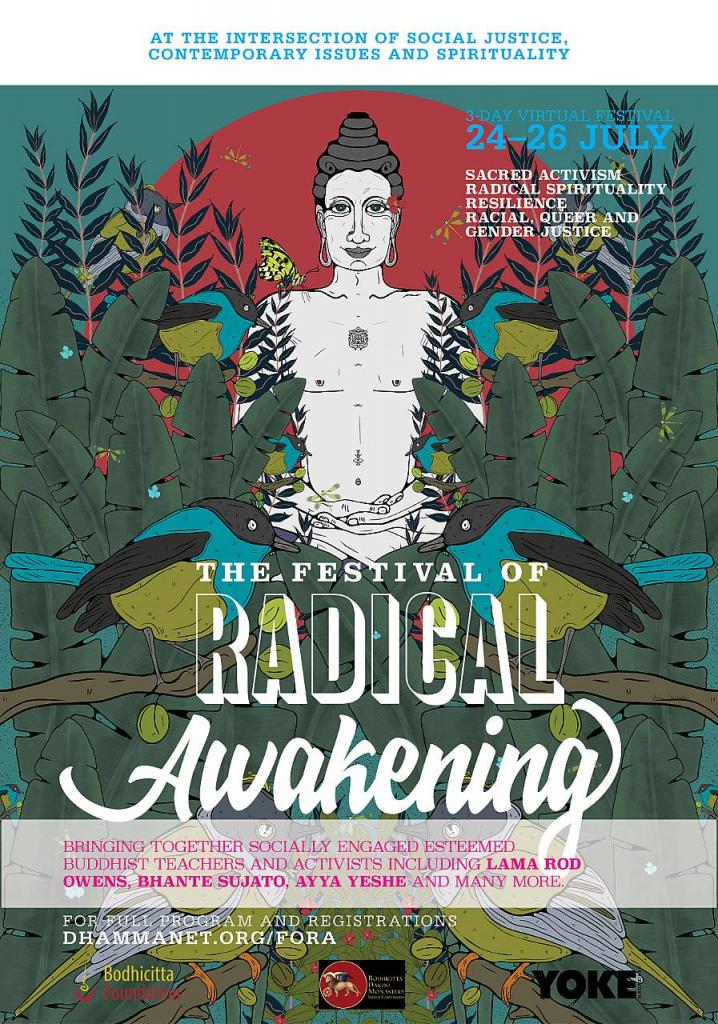 Join our inspiring socially engaged speakers and participate in talks, discussions and solutions.
– Sacred and sustainable activism
– Peace and mindfulness
– Progressive Buddhism and the economy/planet
– Racial and gender equality
– LGBTQIA+ Dharma
– Life hacks
– Buddhist tools to manage addiction
For any queries email Ayya Yeshe: moondakini@hotmail.com
Programme

Day One

Friday, 24th July 7-9pm EST
(Saturday 25th 9-11am Sydney, Aust Time)
The Anatomy of Equality
Bhante Sujato

 
Reimagining a Just Economy

Justin Whitaker

 
Day Two
Saturday 25th July, 7-9pm EST
(Sunday 26th, 9-11am Sydney Aust Time)
The Time to Act Is Now
Rev Myokei Caine-Barrett Shonin

 
Love is Justice and the Personal is Political – Justice, Gender Equality and reclaiming the Sacred Feminine

Ayya Yeshe Bodhicitta

 
Addiction Recovery and Liberation

Vimalasara Valerie Mason – John

 
Day 3
Sunday 5 – 7pm EST
(Monday 7am-9am)
Sustainable Activism and Racial Justice
Lama Rod Owens

Radical Rainbows: Diversity in Dharma LGBTQIA+

Akaliko Bhikkhu

DONATION
Suggested donation for the whole event $50 USD.
We very much need your donation to keep making retreats like this available, but in the tradition of Buddhist generosity, we give teachings with the understanding that people respect them and reciprocate. We do not wish to exclude any economically challenged folks from this event.