There are books that make you think, some because they present you with ideas you never found before, and others because they give the same ideas under a different point of view. The Spiritual Poems of Rumi, translated by Nader Khalili and edited by Wellfleet Press, was part of that second group. It made me rethink some subjects I thought I was adamant about, mostly about spiritual development and connection. Thank a lot to the publisher for sending me a review copy in exchange for an honest review.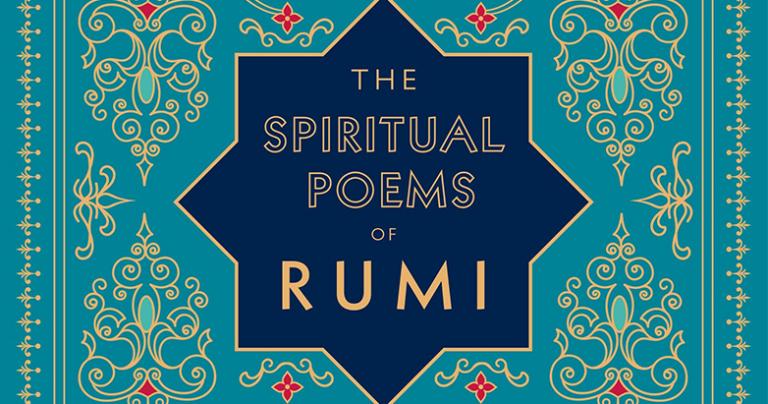 Many of the poems touch upon the feelings of spiritual ecstasy, liberation, forgiveness and solitude, but silence as a tool for spiritual development, as a synonym of spiritual growth and maturity, among others, was a constant idea. I found it time and time again in many of the verses, some of which still rhyme, which is a nice plus for me, but always with different, additional ideas that added more to it and complemented it.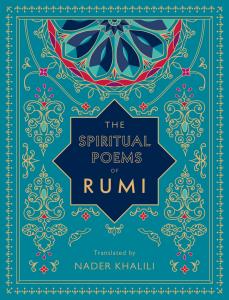 The feelings feeling and emotions expressed are powerful. Several of the poems in this book made me stop and reread them to fully appreciate them. The Spiritual Poems of Rumi is of those book that tell you truths you should have known all along but that, for some reason, are not that clear enough. You get to dwell deeper in your beliefs, in what you consider to be correct and not, while also learning new things about spirituality.
There were a few poems that felt more focused on friendship, making them better suited for the previous book I spoke about. Besides, I understand that, being a collection, the idea is for the books to be a similar to each other as possible, but there was a lot of empty space in this one. Many pages could have had more than one poem, or have one on the same page, since a few long ones were divided to use more space, resulting in pages with little to almost no content.
What is undeniable is the beauty you will find, both in the poems and the design of this book. The Spiritual Poems of Rumi is the most beautiful one in the series for me due to its colors and the geometrical designs seem to fit the ideas and thoughts. Nader Khalili remains as a faithfully honors the beauty of Arabic poetry in this translation, making it another good acquisition for Rumi lovers and those yet to discover him. I would recommend this book to anyone who wants to challenge their basic understandings about spirituality, what it means to be a spiritual person, and that wants a thought-provoking reading.
Print Length: 128 pages
Publisher: Wellfleet (September 15, 2020)
Publication Date: September 15, 2020
Series: Timeless Rumi
ISBN-10: 1577152182
ISBN-13: 978-1577152187
About the Author
Jalal ad-Din Rumi, commonly known just as Rumi, was a Persian Sunni Muslim poet, Islamic scholar, theologian, and Sufi mystic whose works, written in the thirteenth century, are popular throughout the world today.
About the Translator
Translator Nader Khalili (1936­­–2008) was a world-renowned Iranian-American architect, author, humanitarian, and teacher. Khalili was also the founder and director of the California Institute of Earth Art and Architecture (Cal-Earth). Khalili was raised by the poetry of Rumi. As a child, his grandmother would recite Rumi's poetry to lull him to sleep. He later developed a passion for studying and translating Rumi's works. Rumi's poetry also became an intrinsic part of Khalili's architectural career. Inspired by the mystical poetry of Rumi, his architecture was distilled from the timeless principles of this universe and its timeless materials—the elements of earth, air, water, and fire.