The love and devotion our most recent popes have had for the Blessed Virgin Mary are no secret. Here are just some of the many prayers they have composed in her honor. Enjoy!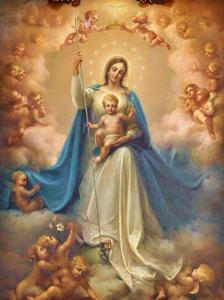 Pope Pius XII (1939-1958)
Prayer To Our Lady of the Assumption
O Immaculate Virgin, Mother of God and Mother of Humanity, we believe with all the fervor of our faith in your triumphal Assumption both in body and in soul into heaven where you are acclaimed as Queen by all the choirs of angels and all the legions of saints; we unite with them to praise and bless the Lord who has exalted you above all other pure creatures and to offer you the tribute of our devotion and our love.
We know that your gaze, which on earth watched over the humble and suffering humanity of Jesus, in heaven is filled with the vision of that humanity glorified and with the vision of uncreated Wisdom, and that the joy of your soul in the direct contemplation of the adorable Trinity causes your heart to throb with overwhelming tenderness; and we, poor sinners whose bodies weigh down the flight of the soul, beg you to purify our hearts so that, while we remain below, we may learn to see God and God alone in the beauties of his creatures.
We trust that your merciful eyes may deign to gaze down upon our miseries and anguish, upon our struggles and our weaknesses; that your countenance may smile upon our joys and our victories; that you may hear the voice of Jesus saying to you of each one of us, as he once said to you of his Beloved Disciple: "Behold your son," and we who call upon you as our Mother, we, like John, take you as the guide, strength and consolation of our mortal life.
We are inspired by the certainty that your eyes, which wept over the earth crimsoned by the blood of Jesus, are yet turned toward this world racked by wars and persecutions, the oppression of the just and the weak. From the shadows of this vale of tears, we seek in your heavenly assistance, tender mercy, comfort for our aching hearts, and help in the trials of Church and country.
We believe finally that in the glory where you reign, clothed with the sun and crowned with stars, you are, after Jesus, the joy and gladness of all the angels and the saints, and from this earth, over which we tread as pilgrims, comforted by our faith in the future resurrection, we look to you our life, our sweetness, our hope; draw us onward with the sweetness of your voice, so that one day, after our exile, you may show us Jesus, the blessed fruit of your womb. O clement, O loving, O sweet Virgin Mary. Amen.
Pope John XXIII  (1958-1963)
Prayer of Love for Mary
Holy Immaculate Mary, help all who are in trouble. Give courage to the faint-hearted, console the sad, heal the infirm, pray for the people, intercede for the clergy, have a special care for nuns; may all feel, all enjoy your kind and powerful assistance, all who now and always render and will render, you honor, and will offer you their petitions. Hear all our prayers, O Mother, and grant them all. We are all your children: Grant the prayers of your children.
Amen forever.
O Mary, your name has been on my lips and in my heart from my early infancy. When I was a child I learned to love you as a Mother, turn to you in danger, and trust your intercession. You see in my heart the desire to know the truth, to practice virtue, to be prudent and just, strong and patient, a brother to all.
O Mary, help me to keep to my purpose of living as a faithful disciple of Jesus, for the building up of the Christian society and the joy of the holy Catholic Church. I greet you, Mother, morning and evening; I pray to you as I go on my way; from you I hope for the inspiration and encouragement that will enable me to fulfill the sacred promises of my earthly vocation, give glory to God, and win eternal salvation. O Mary! Like you in Bethlehem and on Golgotha, I too wish to stay always close to Jesus. He is the eternal King of all ages and all peoples. Amen.
Pope Paul VI (1963-1978)
You Are Our Mother
O Mary,
look upon the church,
look upon the most responsible members
of the Mystical Body of Christ
gathered about you to thank you
and to celebrate you as their Mystical Mother.
O Mary,
bless the great assembly of the hierarchical church,
which also gives birth to brothers and sisters of Christ,
the firstborn among redeemed humankind.
O Mary,
grant that this church of Christ–
in defining itself–will acknowledge you
as its most chosen mother, daughter, and sister,
as well as its incomparable model,
its glory, its joy, and its hope.
We ask you now
that we may be made worthy of honoring you
because of who your are
and because of what you do
in the wondrous and loving plan of salvation.
Grant that we may praise you,
O holy Virgin!
O Mary,
look upon us who are your children,
look upon us who are brothers and sisters,
disciples and apostles and continuation of Jesus.
Make us aware of our vocation and our mission;
may we not be unworthy to take on–
in our priesthood, in our word,
in the offering of our life
for the faithful entrusted to us–
the representation and personification of Christ.
O you who are full of grace,
grant that the priesthood that honors you
may itself also be holy and immaculate.
O Mary,
we pray to you
for our Christian brothers and sisters
who are still separated
from our Catholic family.
See how a glorious group of them
celebrate your cult with fidelity and love.
See also how among another group,
who are so intent on calling themselves Christians,
there now dawns the remembrance
and the veneration of you,O most holy Lady.
Call these children of yours to the one unity
under your motherly and heavenly aid.
O Mary,
look upon all mankind,
this modern world in which
the divine will calls us to live and work.
It is a world that has turned its back
on the light of Christ;
then it fears and bemoans the frightening shadows
that its actions have created on all sides.
May your most human voice,
O most beautiful of virgins,
O most worthy of mothers,
O blessed among women,
invited the world to turn its eyes
toward the life that is the light of man,
toward you who are the precursor-lamp of Christ,
Who is the sole and the highest Light of the world.
Implore for the world
the true understanding of its own existence;
implore for the world
the joy of living as the creation of God
and hence the desire and the capacity
to converse–by prayer– with its Maker,
whose mysterious and blesses image
it reflects within itself.
Implore for the world
the grace to esteem everything as the gift of God
and hence the virtue to work with generosity
and to make use of such gifts wisely and providently.
Implore peace for the world.
Fashion brothers and sisters
out of persons who are so divided.
Guide us to a more ordered and peaceful society.
For those who are suffering–
today there are so many and ever new ones,
afflicted by current misfortunes–
obtain solace;
and for the dead, obtain eternal rest.
Show yourself a mother to us;
this is our prayer,
O clement, O loving, O sweet Virgin Mary!
Amen.
Pope John Paul II (1978-2005)
Prayer to Our Lady of Guadalupe
O Immaculate Virgin, Mother of the true God and Mother of the Church!, who from this place reveal your clemency and your pity to all those who ask for your protection, hear the prayer that we address to you with filial trust, and present it to your Son Jesus, our sole Redeemer.
Mother of Mercy, Teacher of hidden and silent sacrifice, to you, who come to meet us sinners, we dedicate on this day all our being and all our love. We also dedicate to you our life, our work, our joys, our infirmities and our sorrows. Grant peace, justice and prosperity to our peoples; for we entrust to your care all that we have and all that we are, our Lady and Mother. We wish to be entirely yours and to walk with you along the way of complete faithfulness to Jesus Christ in His Church; hold us always with your loving hand.
Virgin of Guadalupe, Mother of the Americas, we pray to you for all the Bishops, that they may lead the faithful along paths of intense Christian life, of love and humble service of God and souls. Contemplate this immense harvest, and intercede with the Lord that He may instill a hunger for holiness in the whole people of God, and grant abundant vocations of priests and religious, strong in the faith and zealous dispensers of God's mysteries.
Grant to our homes the grace of loving and respecting life in its beginnings, with the same love with which you conceived in your womb the life of the Son of God. Blessed Virgin Mary, protect our families, so that they may always be united, and bless the upbringing of our children.
Our hope, look upon us with compassion, teach us to go continually to Jesus and, if we fall, help us to rise again, to return to Him, by means of the confession of our faults and sins in the Sacrament of Penance, which gives peace to the soul.
We beg you to grant us a great love for all the holy Sacraments, which are, as it were, the signs that your Son left us on earth.
Thus, Most Holy Mother, with the peace of God in our conscience, with our hearts free from evil and hatred, we will be able to bring to all true joy and true peace, which come to us from your son, our Lord Jesus Christ, who with God the Father and the Holy Spirit, lives and reigns for ever and ever.
Amen.
Pope Benedict XVI (2005-2013)
Prayer to Our Lady of Sheshan on the Occasion of the World Day of Prayer for the Church in China
Virgin Most Holy, Mother of the Incarnate Word and our Mother,
venerated in the Shrine of Sheshan under the title "Help of Christians,"
the entire Church in China looks to you with devout affection.
We come before you today to implore your protection.
Look upon the People of God and, with a mother's care, guide them
along the paths of truth and love, so that they may always be
a leaven of harmonious coexistence among all citizens.
When you obediently said "yes" in the house of Nazareth,
you allowed God's eternal Son to take flesh in your virginal womb
and thus to begin in history the work of our redemption.
You willingly and generously cooperated in that work,
allowing the sword of pain to pierce your soul,
until the supreme hour of the Cross, when you kept watch on Calvary,
standing beside your Son, who died that we might live.
From that moment, you became, in a new way,
the Mother of all those who receive your Son Jesus in faith
and choose to follow in his footsteps by taking up his Cross.
Mother of hope, in the darkness of Holy Saturday you journeyed
with unfailing trust towards the dawn of Easter.
Grant that your children may discern at all times,
even those that are darkest, the signs of God's loving presence.
Our Lady of Sheshan, sustain all those in China,
who, amid their daily trials, continue to believe, to hope, to love.
May they never be afraid to speak of Jesus to the world,
and of the world to Jesus.
In the statue overlooking the Shrine you lift your Son on high,
offering him to the world with open arms in a gesture of love.
Help Catholics always to be credible witnesses to this love,
ever clinging to the rock of Peter on which the Church is built.
Mother of China and all Asia, pray for us, now and for ever. Amen!
Pope Francis (2013-Present)
Prayer to Mary, Undoer of Knots
Holy Mary, full of God's presence during the day of your life, you accepted with
full humility the Father's will, and the devil was never capable of tying you up with
his confusion.
Once with your Son you interceded for our difficulties, and full of kindness and
patience, you gave us example of how to untie the knots in our life. By remaining
forever Our Mother, you put in order and make more clear the ties that link us to
the Lord.
Holy Mother, Mother of God and our Mother, to you who untie with a motherly
heart the knots of our life, we pray to you to receive in your hands (the name of
the person), and to free him/her of the knots and confusion with which our
enemy attacks.
Through your grace, your intercession and your example deliver us from all evil,
Our Lady, and untie the knots that prevent us from being united with God, so that
we, free from sin and error, may find Him in all things, may have our hearts
placed in Him, and may serve Him always in our brothers and sisters.
Amen.
Image: https://pl.pinterest.com/pin/137852438577445311/