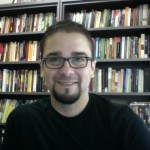 Welcoming a new voice in the study of Latino/a Religion–South Texas' own Felipe Hinojosa is a Tejano and a Mennonite, and a fabulous conversation partner on all things from academia, politics & Latino/a history…He is an Assistant Professor of History at Texas A&M University. He has a forthcoming article titled "¡Medicina Si, Muerte No!: Race, Public Health, and the 'Long War on Poverty' in Mathis, Texas, 1948-1971" to be published in the Winter 2013 issue of the Western Historical Quarterly. His book, Latino Mennonites: Civil Rights, Faith, and Evangelical Culture is under contract with Johns Hopkins University Press and set for release in 2014.
From as far back as I can remember, I was aware that my family's faith traditions were different than those of my friends. I was born and raised in Brownsville, Texas—located on the southernmost tip of Texas—where my family's history dates back to the early twentieth century. But I grew up attending the Mennonite Church, Iglesia Menonita del Cordero, that my parents started in the late 1960s. I know what you are thinking, Latino and Mennonite? First let me be clear, I am not talking about the so-called "Mexican Mennonites" who for the most part live in the Mexican state of Chihuahua where they have been farming since the 1920s and are famous for their "queso Menonita" (Mennonite cheese). That's not us.
My parents first met white Mennonites in Archbold, Ohio, as they worked as migrant farm workers picking tomatoes on Mennonite-owned farms in the late 1950s and 1960s. My grandmother, Manuela Tijerina, liked that Mennonite farmers honored the Lord's day by not working on Sundays and that Mennonite missionaries offered church services in Spanish for migrant farm workers. Since those days, both the Tijerina and Hinojosa sides of my family have been integrally tied to the Mennonite experience. That link strengthened when my parents started a Mennonite Church in Brownsville. The small group of Mexican Americans that gathered those first few Sundays saw the Mennonite Church as more than an ethno-religious group with strong ties to the rural Midwest. Instead, they saw the Mennonite Church as many Latinos do today, as an iglesiaevangélica (evangelical church) with a faith tradition firmly rooted in community, peace, and justice.
That is all fine and dandy, but it certainly did not make my life any easier growing up in a predominately Mexican American community. Most of my friends in school were Catholic, with a number of closet Pentecostals and mainline Protestants sprinkled throughout. Most of my friends called my dad a "priest" instead of a "pastor," which of course always required that I explain the difference between "Christians" and "Catholics." What's the difference you ask? "Christians" were the Protestants and "Catholics" were the Catholics. That's how we broke it down in South Texas. But as soon as I began explaining to my friends that my dad was a "pastor" because we were "Christians," I often stumbled into a discussion about what being a Mennonite was all about. Want to know my baseline argument? "Well, we are just like the Baptists, except we believe in peace." My friends typically lost interest by the time I made my "we are just like the Baptists" argument and we usually moved on to more important things like playing football or basketball.
However muddled my notions of religious identity were (and continue to be), I do not think that mine was an entirely unique experience. Latino Mennonites from Florida to Iowa to Oregon have slowly redefined the narrow ethnic and theological confines of the Mennonite Church. In the 1970s, Latinos called themselves "Meno-Latinos" and "Meno-Latinas" to assert their ethnic and religious loyalties to an overwhelmingly white Mennonite Church. In 1979 they established a "Hispanic Ministries" program on the campus of Goshen College (a Mennonite college in northern Indiana) in order to train Latino pastors in Mennonite theology and history.
Today, Latino Mennonite churches constitute one of the fastest growing segments of Mennonite Church USA. But that's only part of the story. According to a recent study by sociologist Conrad Kanagy, today Mennonite Church USA is more evangelical, more politically involved, more urban, and its Latino and African American membership are more charismatic in their worship styles. In his study Kanagy found that a little over 80 percent of Latinos and African Americans in the Mennonite Church believe in the "charismatic gifts of healing, prophesying and speaking in tongues." It is these evangelical Mennonite churches, as Mennonite scholar J. Nelson Kraybill suggested, "that have been most successful at reaching across ethnic, racial and economic boundaries." In other words, the future of the Mennonite Church is likely to be more diverse and evangelical. Walk into any Latino Mennonite church today, any Iglesia Menonita, and you will quickly see a religious medley of influences, from Pentecostal to mainline Protestant, that do their best to include Mennonite peace theology. Of course, none of this makes it any easier for anyone trying to explain what exactly it means to be Latino and Mennonite. But I hope it at least moves us to broaden how we think about the complex forms and expressions of Latino religious identities in the United States.