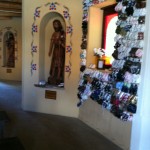 On my way back from my one-year stint at Perkins School of Theology in Dallas, I stopped by El Santuario de Chimayo–the most famous healing shrine in the U.S. http://www.elsantuariodechimayo.us/ Visiting a healing shrine was the last item on my agenda, since I had been talking about healing for weeks at Perkins. The idea that healing is part of the Christian tradition across most denominations, the selective nature of healing–and how healing itself is culturally bound by what we are taught about how healing works. But, in truth, we don't know. We have explanations that our finite minds can conjure, but we can't explain why healing does occur and more problematically, why it does not.
Chimayo is truly a wonderfully sacred place. The church bells rang at 11am calling people to Mass, and a group of us went. Most of us filed into the room to the side of the altar and prepared our containers to scoop up what is considered to be holy dirt. The elderly couple before me were Latinos, the gentleman walked with the aid of a cane and could not stoop down to the dirt, his wife did, scooping the dirt in a container and gently letting the dirt fall on her weathered hand, covered by paper-thin skin, displaying years of work and infirmity–it was touching. I proceeded to scoop as much dirt as I could in my emptied-out travel bag, counting as I went along, two for my uncles, one for my parents, one for my brother, and the rest for my family and assorted friends who may want some. The next room in the church is where people hang up their crutches, braces, and offer letters and offerings at a makeshift altar for their healing. I sat silently in that room for quite awhile, as I did years before at Angelus Temple, viewing similar remnants of illness overcome
The gospel readings for the liturgy of the day resonated with me, John 16, where Jesus tells his followers "I have much more to say to you, more than you can now bear." The Spirit will lead us into that truth–testify. I know that many of my Pentecostal/evangelical brethren often have difficulty with Catholic healing shrines and mediated forms of healing, all I can tell you is that I am comfortable with the uncertainty of not knowing how healing works, what media it works through, and that there are things that I can't bear to hear now but that always amaze me about how God works. I was raised to believe that what Jesus wants is us to emulate him above all else–so spit and mud just might do the trick? So for that matter, will handkerchiefs, cloths of various stripes, water, oil, and shadows–all those work, but anything else, that is not acceptable. Except, when it is. I have seen healing tied to monetary giving, to sufficient amounts of correct behavior, and exemplary belief. I have also seen people's hopes dashed against the cruel reality that for some–healing is not free, it is bought and paid for by properly calibrated belief and practice–outside of that, people are basically out of luck.
My last lecture when I teach on healing is my favorite and the one that causes me most anxiety. It is on why people, lots of people in fact, do not believe in healing, and find the whole idea of supernatural phenomenon impossible. My last lecture is a brief walk through non-belief–especially the idea that even if one were to accept divine healing as possible–the theological question of theodicy should cause such great disturbance, that those that are healed need to reckon with the troubling question: "why me?" That lecture usually satisfies students for a number of reasons, those attuned to critical engagement with their faith like to hear what non-believers' arguments are, and yes, those students who harbor silent doubt usually thank me later because they never imagined hearing this in a seminary. But to be honest, most students are disturbed by that lecture. I usually get one or two students who feel compelled to take back the narrative of healing, rescuing it from crippling doubt. Not surprisingly, a student met me at the front of the class and told me about her daughter's healing.
Her daughter was healed of a undiagnosed seizure disorder that plagued her for months. Doctors had no answer to what caused the seizures or why they stopped? I thanked her for sharing her story and tried to demonstrate my sincere belief that I was thrilled that God healed her daughter—but it did not seem enough for her. I was not sure what she wanted? All I can tell you is that I am used to that reaction and expect it because it always happens. Hearing this litany of unbelief, in the face of her real life narrative of her daughter's healing caused a natural reaction of wanting to fight the narrative of disbelief. It is very similar to many of my Protestant students who often cast doubt and disbelief on Catholic healing. Such healing is simply not possible because it occurs outside the hermeneutical circle they have drawn around how healing works, who gets healed, and why others don't. I have sat and listened to those attempts to re-take the narrative of healing for nearly 20 years.
I walked over to the shrine of Santo Niño de Atoche, who, in short, is the baby Jesus. I sat quietly, trying not to cry. Santo Niño originally began as a pilgrim that visited Spanish prisoners and fed them. He did so much traveling that his shoes wore out, one of the items you bring to the shrine are baby shoes. Since Jesus heals, many of these prayers are for the healing of children. Aside from hundreds of baby shoes, were prayers of thanks from parents for their children who'd been healed and also pleas to Jesus to heal their children of numerous maladies. I sat there for a long time reading the letters, and looking at all those shoes. Especially charming were the baby booties held in a box over one of the areas where people leave pictures of their children. These shoes, once meant for the baby Jesus, were now sacred belongings left behind by both the joyous and the grieving relatives of children.
The baby shoes at the shrine, the thousands of ad libbed crosses that dot the fences of Chimayo, the pictures, the water, the dirt, the oil and the countless prayers all testify to the complexity of healing. My grandfather was healed through the prayers of his devout mom, my aunt prayed for me, using holy water, oil and lighting candles, for my chronic back problems, I have prayed for hundreds of people–through various media and often in a language I don't understand. Did it work? Sometimes. That perhaps is what bothers us all about healing—that it only works sometimes–regardless of the dogmatic costume and doctrinal clarity that is our false refuge about healing. Next week, someone will drop off another pair of baby shoes and they will live in that joy and gratefulness, or they may simply be seeking reassurance, others will continue to grieve and live in that space of not knowing, it is more than we can bear to understand–we ought to use those words as our true refuge.
For Prof. Otto Maduro (1945-2013) whose own healing in this world did not come, but whose joy is now complete.