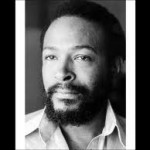 April 2 1984, if I remember correctly, was a cool, crisp Spring morning. waiting for school to begin, students regularly waited in the quad area and just outside the athletic fields on benches waiting for the bell to ring for school to start.
This morning was different though, the night before, Marvin Gaye was killed by his father in Los Angeles, the news made its way through school, and a pall was cast over James A. Garfield Sr. High School in East LA. Marvin, you see, was one of our musical gods.
Marvin, like Smokey, and Diana, and a host of other African American musicians formed the core of our musical lives, even in the 80s, where British & American Punk were still popular on a campus that was over 80 percent Latino/a. There was still that "Disco" table, fans who maintained that this most maligned of musical forms was misunderstood. There were a smattering of other tables: the Rocker/Stoner table–where if you did not look the part and play guitar–well, you should take your lunch somewhere else, there was the New Wave table–different from the Punk table–just look at the hairstyles (Mohawks & irregular spikes vs. Flock of Seagulls). I did not sit at a table, I hung out at the College Center, which probably says more about me than you need to know.
Marvin's death as I read about it and learned more about him and his problems–made his death at the hands of his father all the more tragic. Marvin was a preacher's son. Marvin was a member of the Black-Hebrew Pentecostal church the House of God, where he first sang for the church moms, learned music by playing gospel, and sadly, lived in this bifurcated life of church and home–one filled with music and the ecstatic worship of Pentecostalism and a home life filled with violence and abuse. Never able to get out from under the destructive abuse of his father, having suffered from a variety of mental illnesses, Marvin descended into a self-destructive spiral of drug addiction. By the early 80s's when I started high school, I had lost track of him and his music.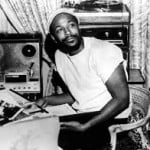 By 1982, Gaye was consuming large quantities of cocaine and troubled by his failed marriages, financial problems, and slipping deeper and deeper into depression. As Gaye's life began its final descent he reverted to his Pentecostal roots and his fascination with sanctifying sex.
In an outtake from an undated concert from the early 80s, Gaye closes his concert with what amounts to a benediction/altar call. Gaye says goodbye to the audience, telling them that this may be his last time on stage, because he might "just start serving the Lord." He continues that his fans should not take him too seriously, but that he has "lots of spirituality," in him. He alternately tells the audience to "go out and make babies," before asking them to pray for his mom, who was sick at the time, and he offers a prayer for anyone in the audience who has family who are sick." Not knowing if Gaye concluded any other concerts like this, it does strike a familiar chord, a narrative of wanting to leave the sinful life behind to serve the Lord, exhorting an audience to pray for healing–only with Gaye, is the classic narrative of the altar call re-fashioned to include a sexual component–blanket approval to engage in sexual activity regardless of religious prohibitions.
And there were religious prohibitions–Marvin's denomination was a small African American church with the normal prohibitions against engagement with the world, its music, fashions, popular culture, and permissive sexuality. Marvin's drive to sanctify sex may have begun early in his life, since by most accounts, Marvin's dad, Marvin, Sr. was a cross-dresser and exhibited "effeminate" characteristics, according to Marvin's mom in various biographies. Marvin's chaotic home life, rigorous religious upbringing, and his need to make sense of the ambivalent sexuality of his father–all contributed to a difficult life with little else available to make sense of it but drugs and excess.
My mother and father introduced me to Motown–there used to be a thing called "45 singles" and Marvin and Tammi were there, Marvin was there by himself, and when I was around 5 years old, I became a big fan of "That's The Way Love Is." I listened to that song over and over, by the time I was in high school, I understood what that song meant, and I had heard enough of Marvin's work that I pretty much figured out it was about love and sex for Marvin.
There were these emphases that I didn't get–sanctification and holy sex? Not being raised Pentecostal, I had no idea what those lyrics meant. Marvin, that beautiful voice, the overt sexuality, the emotional pleading, Marvin was "make-out" music. Most Garfield High students who heard of his death that cool April morning 30 years ago, knew "Let's Get it On," they knew "Sexual Healing," and only the truly initiated like myself remembered the earlier Motown hits and we counted "What's Going On," as one of our first albums. Here he is in one of his most iconic performances at the NBA All-Star Game:
Marvin's violent death, that the father had killed the son, out of some confused tangle of jealousy and hatred, was actually the culmination of decades of abuse–Marvin had been his father's victim for years, used his music to escape his father's grasp, but tragically, was unable to escape the violence. I think part of why my high school was so moved by Marvin's death, was not just because we knew and loved his music, but because many of us, growing up in East LA, knew that domestic violence, drug abuse, and gun violence were not abstractions. They happened all the time, so much so that we were inured to the incredible amounts of violence that invaded our lives on a daily basis–that this violence took down one of our musical heroes, was enough to bring tears to the eyes of even the most hardened ELA teenager.