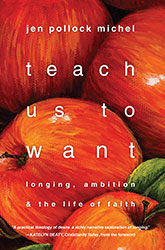 A Reflection on Teach Us To Want by Jen Pollock Michel
I am always delighted and challenged when an author struggles with the question of desire. A superficial reading of sacred texts and theological writings give us at best a mixed message—our desires are God given AND our desires are likely to get us into trouble on our spiritual journey. Depending about location—age, class, denomination, culture, we gravitate to the patchwork of ideas that suits us best. Jen Pollock Michel has stepped up bravely to wrestle with the issue of desire form her own location, and in doing so, she has helped the rest of us try to find our own way.
The book is firmly, but not blindly, grounded in evangelical tradition. Michel is well schooled in Scripture and in orthodox theology, the place where she identifies and participates in the Christian community. With courage she takes on the assumptions that have shaped her own spiritual journey, her own life in the world. With honesty she brings her own living into the task of "befriending her desires," (Philip Sheldrake). Equally important she is clear-eyed about the cultures that those on the journey inhabit—with multiple choices, multiples voices, at warp speed, and in this present moment, a plethora of shrill critics, in and out of the Church.
Her chapters are divided in to what at first may seem to be very traditional categories—Scripture, prayer, petition and confession and others, but the way she approaches, then untangles each one, brings new dimensions to our own understanding of the desire we experience as human beings. She endeared herself to me especially in her clear stance on the Grace of God, overriding many of the obstacles that are tossed up by naysayers and critics. Some might struggle with her commitment to an orthodox theory of the atonement, but again, she stakes her spirit on Grace. Her use of the Lord's Prayer as an ongoing prayer of the heart to shape her desire as it becomes God's desire is practical and comforting.
I am grateful for this addition to the wrestling that all pilgrims are on. I welcome this voice and writer into the conversation.