Today for my "Dispatches" post I want to share a bit about Anabaptist Mennonite Biblical Seminary (AMBS), Elkhart, Indiana, where I work (for one of my jobs) and some of the things going on here. (I'll share about my other job as a teaching pastor some other time.)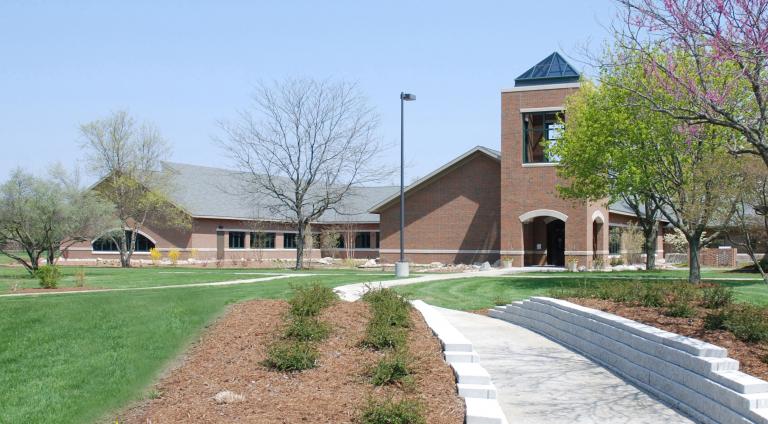 My first time on campus at AMBS was nearly a decade ago when I audited the course Christian Attitudes toward War, Peace, and Revolution, taught by Ted Koontz. Koontz took over the course from John Howard Yoder who had taught it for decades (and whose course lectures were later published). It was in this course and one the following semester taught by Gayle Gerber Koontz that my Anabaptist self-identity began to solidify.
Then in the fall of 2017 I was invited to return to AMBS as sessional faculty to teach this same course after finishing my PhD in theology at Baylor University. Needless to say, it was both an honor and a humbling experience to teach a course with such a distinguished legacy, which includes not only Yoder and Koontz but also my current colleague Janna Hunter-Bowman who invited me to teach it in her place while she did actual peace work in Columbia. (Of course, there's much more to say about teaching a course that was developed by John Howard Yoder, given his troubling legacy, but I'll save that for another time.)
Last fall I was brought on more permanently as managing editor of the Institute of Mennonite Studies (IMS). In this position, my main role is to edit works by Anabaptist-Mennonite scholars about Anabaptist-Mennonite things, including various books and the semi-annual, semi-popular journal Vision: A Journal for Church and Theology. Being on campus more often has allowed me not only to continue teaching on occasion but also to get to know the many great people who work and study here and to follow some of the things they're working on. Below are just a few highlights.
1. Anabaptist studies professor and IMS director writes history of IMS
My colleague, IMS director, and friend Jamie Pitts recently published an encyclopedia article on IMS. Jamie writes:
The Institute of Mennonite Studies (IMS) is the research and publishing wing of Anabaptist Mennonite Biblical Seminary (AMBS), Elkhart, Indiana, USA. Founded in 1958 under the directorship of Cornelius J. Dyck, IMS promotes scholarship in Mennonite and Believers Church theology, history, biblical studies, peace studies, and related fields, primarily through the publication of books and journals and the organization of conferences.
Read the rest in English in GAMEO or translated into German in MennLex.
2. New New Testament prof on why he's grateful
My newest colleague and friend (and congregant!) Drew Strait recently wrote an article on why he's grateful to be in his new position at AMBS. Drew writes:
AMBS is especially ripe to provide hospitality to evangelicals and post-evangelicals who are disenchanted with those parts of their tradition that have downplayed the way of Jesus, especially as it relates to love of neighbor, anti-racism, justice, the full inclusion of women in ministry, and nonviolence. AMBS recently hired two evangelical Anabaptists — David Cramer (Managing Editor, Institute of Mennonite Studies) and myself. Alongside several other colleagues, we are leading out to explore how AMBS can provide hospitality for the growing movement of evangelical Anabaptists in our global network of Mennonite churches.
(Thanks for the shout out, Drew!) Read more at Why I'm grateful to be at AMBS.
3. Theology and ethics prof on singing and social change
My colleague and friend Malinda Berry (yes, all my colleagues are also friends) recently spoke in chapel at nearby Mennonite school Goshen College, her alma mater, on singing and social change. Berry recounted her time as a Goshen College faculty member in the late aughts, during a time when they were debating both whether to continue singing traditional Mennonite four-part a cappella on campus and whether to begin playing the national anthem before athletic events. Berry reflects,
I think that became an incredibly painful time for Goshen College. Isn't it interesting that these two debates seem to be about hospitality and the changing student body here at Goshen College but they were also about music and singing and the kinds of songs that Goshen College values and creates?
Read more at Chapel explores changes in culture and music.
4. AMBS student publishes article in The Jakarta Post
After attending historian John Fea's lecture at AMBS on American evangelical identity politics and the 2016 election, AMBS student Perdian Tumanan wrote an article for The Jakarta Times about similarities he's experienced in his home country of Indonesia. Perdian writes:
Similarly in Indonesia, we have witnessed the increasing use of religious language and symbols and other identity-based issues during election campaigns particularly for the last two years. Pragmatic politicians are gaining control over the anxiety and fears of Indonesians through hoaxes that are easily trusted, quickly spread and are massively divisive. This situation could trigger violence.
Read more at Fears, hoax and the politics of identity.
5. Post from AMBS graduate on mansplaining goes viral
AMBS graduate and Vanderbilt PhD candidate Hilary Jerome Scarsella spent about ten minutes writing a Facebook post after an experience of mansplaining at an airport following a conference. Next thing she knew, the post went viral. (As of this writing, it's now been shared over 28,ooo times, which means it's likely been read hundreds of thousands of times.) Her post was recently republished on the blog Women in Theology and then was written about on the website UpWorthy.
What makes Hilary's story especially compelling to me is that it provides not just a negative example of mansplaining but also a positive example of what it can look like for a man to be an ally for women in the academy. After describing her encounter with the mansplainer, Hilary writes:
Then this brilliant thing happened. My new friend leaned forward as airport guy was about to walk away, and he said, "Dude, you missed an opportunity. You had an expert in theology and trauma sitting in front of you. You say you're interested in these things but you didn't ask her a single question. You didn't try to learn anything at all from her. You know she has advanced degrees and is published but you just tried to show her that you know more about her work than she does. You missed out. Big fail, man."
Read more at Kicking Everyday Sexism's Butt: An Airport Encounter and This viral airport 'mansplaining' story shows what male allyship can look like.
To my fellow Anabaptists in the academy, what's going on where you work? Tell me about it in the comments section below and maybe it will show up in a coming week's dispatch.