Little Amal comes to South Bend
By Andrea Cramer
SOUTH BEND, Indiana—Neighbor to Neighbor, the EM EN Art House, and the  St. Joseph County Public Library invite the Michiana community to gather at the Morris Performing Arts Center plaza (211 N Michigan Ave, South Bend, IN 46601) on September 7, starting at 7:00 p.m., to participate in the interactive event Amal from Afar.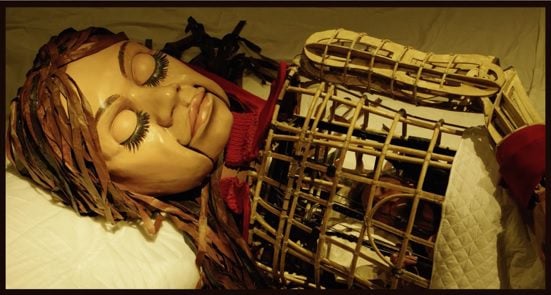 Beginning that evening, Little Amal, a 12-foot puppet of a 10-year-old Syrian refugee child, will tour 35 cities across the United States over the course of two months as a symbol of human rights, especially those of refugees. As she tours the country, she will spread her story of hope as she discovers the beating heart of America: its blended cultures and diverse people.
To commemorate Little Amal's arrival to the United States, South Bend will join communities across the country in hosting "Amal from Afar: Tonight I Am Not Alone," an interactive, virtual, come-and-go event from 7:00 to 9:00 p.m.
The event will include a vigil for Little Amal, an 8-minute video of Amal lying down to sleep played on loop in the plaza, and the opportunity to read to Little Amal bedtime stories to help her fall asleep. Members of the community are invited to bring a favorite bedtime story to read to Amal and each other or simply to come and be present with Amal as she falls asleep.  
Little Amal began her journey in July 2021 at the Syrian border and has since traveled to 15 countries, carrying a message of hope for displaced people everywhere, especially children who have been separated from their families. (Her name, Amal, means "hope" in Arabic.) This is Amal's first visit to the United States, where her two-month journey will take her from Boston to San Diego. 
As Little Amal finishes her first day in the United States on the evening of September 7, she will settle down to sleep on a street in Boston, creating an evocative image of a refugee child sleeping alone on the streets. 
In addition to joining the South Bend vigil for Little Amar on September 7, community members can track Little Amal's progress across the United States and beyond at walkwithamal.org.
Located in South Bend, Indiana, Neighbor to Neighbor is a nonprofit organization that works with refugees, asylum seekers, and other newcomers. By mitigating isolation through relationships, advocacy, and education, Neighbor to Neighbor helps newcomers acclimate to the St. Joe County community.