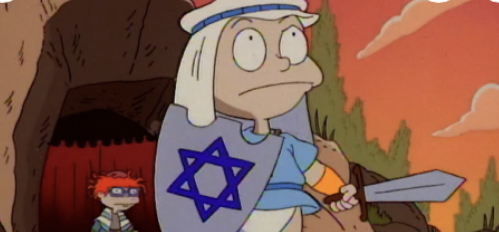 The dichotomy of the popular holiday movie in Jewish culture
As a young Jewish person growing up in the United States, I often found myself yearning for more Jewish representation in the media. In an article titled, The Christmas Story Christmas and How It Broke Me, I explored how there has always been a dominance of Christian media over Jewish. I have found even more inspiration in many Christmas films as I grew up, noting that these iconic films have made up American holiday culture.
It is a fascinating journey to look at religious media and see the patterns of different lore and fables that make up most of holiday films. Santa Claus, Rudolph the Red-Nosed Reindeer, Frosty the Snowman, and countless other stories of faith and fun make up the most memorable stories for the Christian holiday faith. In my article about the Top Christian Movies in 2023, we can see a surge of interest in many types of Christian stories that have transcended their traditional roots.
However, that doesn't mean that there are not great Jewish stories and films out there to explore Jewish culture, religion, and holidays.
Exploring the highest-rated Jewish holiday films
In my experience of watching Jewish media, I feel that though there is a limited quantity available, the quality of the content is very good. I feel that when it comes to family and children's media, there is a wealth of Jewish content that is truly inspiring and invested in sharing a good story. So, in this list of Best Hanukkah Films, I will be sharing the best of family-friendly films that explore Jewish culture and holidays in a variety of ways. After all, the holidays are the best spent with the whole family!
1: An American Tail
In this 1986 animated musical film by Don Bluth, we find ourselves introduced to a Russian-Jewish family of mice. It is the first night of Hanukkah, and the father gives his son Fievel Moskowitz a hat. They are discussing the United States, hoping to eventually immigrate there with the hope that there are no cats.
As the family celebrates this joyous occasion, a calculated arson attack commences as an act of Anti-Semitism by a battery of Cossacks. Life imitates art as the village mice are simultaneously attacked by cats in a mirrored manner by which reflects human cruelty. This richly illustrated and creative film explores identity, family, Jewish persecution, American history, and faith. I highly recommend it to anyone this holiday season.
2: A Rugrats Chanukah
The Rugrats hold a special place in my heart. It was the first time I saw a good representation of a Jewish protagonist from an openly Jewish home. Tommy Pickles is and was a brave, honest and loyal friend who embodied a true sense of community, pride, and compassion. This Nickelodeon special created a unique structure of storytelling in a way all children could enjoy and understand. I feel overall this film embodies a very strong sense of Jewish culture and faith with the elements of the fun and creative mindset of children.
3: Something From Nothing
From Phoebe Gilman's award-winning book, this heartwarming short film creates a unique story about Hanukkah. Exploring hope, love, and faith, the story follows a boy named Joseph, his beloved Grandfather, and his special friend, Mazel the Mouse. I recommend this inspired Jewish film because of its unique and creative storytelling style.
4. Shalom Sesame – Chanukah: The Missing Menorah
This is a fun one! Sesame Street is truly a landmark of children's entertainment that teaches children of all ages about life, love, ABC's and 123's. In this holiday special about Hanukkah, we learn how to make olive oil, spin dreidels and the history of the holiday. It's a tale of missing Menorahs, as Anneliese starts her celebrations for her first Hanukkah in Israel. I always remember Sesame Street with fondness as I continue to share their stories with my own children. Keep this one as a fun addition to your holiday repertoire.
5. Peg & Cat: The Hanukah Problem
PBS Kids takes the mathematical and scientific approach to Hannukah in this special for children. When Peg and Cat invite their friend, Albert Einstein, they have a blast learning about the holiday and why Hanukkah has eight days for the celebration. Making a dreidel out of paper, they sing, dance, and learn their way into a very important holiday.
6. Elena of Avalor – Festival of Lights
This very hopeful and delightful film shows that even when times get tough and you feel the tide going against you, you can always make it with what you have. Perseverance and dedication are the main reasons I feel this Hanukkah special encapsulates a glowing message that all of us can relate to. With the story of a lost family heirloom, the family menorah, we learn about the origins of the holiday and that Latinx Jews are a part of Jewish identity.
7.
Nina's Hanukah Adventure
This special has a meaningful story that truly connects to the root story of Hanukkah and the miracle of the burning candles for eight nights. A storm in Chicago creates a shortage of oil in their community as Nina and her neighbor, Mrs. Goldstein, try to figure out how they will celebrate the holiday with the traditional jelly donuts or latkes. Jennifer, Mrs. Goldstein's hopeful daughter, finds a way to keep up a light of optimism as they look for vegetable oil and olive oil for the rabbi's menorah. This special teaches the origins of Hanukkah and life lessons too!
8. (An oddball choice!) Eight Crazy Nights
Though this Hanukkah film has a PG-13 theme and rating, we can't really talk about Jewish films without discussing the incomparable Adam Sandler. Though this film has wacky elements and toilet humor, it serves as a surprisingly compelling and emotionally satisfying experience that serves as a refreshing look at redemption and grief. I recommend this film solely for its original story and because I love Sandler and his silly humor.
A crazy mix of wholesome and hilarious entertainment that the whole family can enjoy!
I hope you enjoyed this list of top quality and fun Jewish family media, to learn about Hanukkah, Jewish culture, and faith and just to appreciate another religious perspective on life, love, and God.
Have a wonderful and safe holiday season!