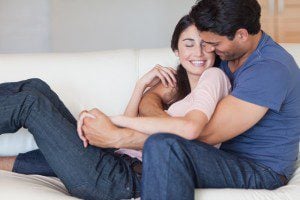 When I was young, there was a book called Men are from Mars, Women are from Venus, and it was flying off the shelves.  As a kid, I thought this was a pretty cool title, but I had no idea what it meant.  Now that I have been married fifteen years, I get it. Husbands and wives aren't the same.  Sometimes, it can even feel like we're from different planets…especially when it comes to what gets us in the mood for sex.
In this blog, I want to address what generally gets women in the mood.  And, it's probably a little different than what you are expecting, Husbands.  Here are 4 ways to get your wife in the mood:
 Open up to your wife through conversations.  
When it comes to sex, a woman's emotional state directly affects her sex drive.  We want to feel close to our husbands before we become intimate with them.  So, we can't argue and hurt each other's feelings one minute only to flip a switch and hop in bed the next.  
For most women, we need to verbally and emotionally make amends before any "make-up sex".  And, it can't be flippant or forced, Husbands.  She needs you to hear what she's saying, AND she wants to hear your response–straight from your heart.  No nods or "uh-huh"s.  Tell her what's on your mind and heart.  Don't hold back.  She wants to connect with you through intimate conversation BEFORE physical intimacy. 
This is counter to how most men operate, but it is essential to keeping a thriving and mutually enjoyable sex life in our marriage.