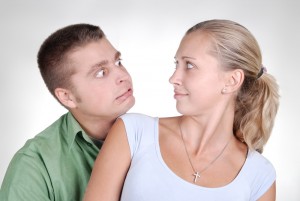 Think back to your wedding day. You couldn't wait to spend each and every single day with your spouse, right? Of course! But, what if one spouse starts to feel smothered? This is a real issue that can cause lots of friction and even resentment towards one another. And, it's something we need to address directly and be willing to talk about it. So, here goes…
The notion of "smothering" our spouse seems like a non-issue, but it is a much bigger problem than most of us want to admit because we don't want to hurt our spouse's feelings. Wanting to spend a lot of time together is a good thing, but it can become a bit too much when the desire isn't reciprocated and feels forced. This "smothering" usually has good intentions behind it like one spouse simply wanting to spend as much time as possible with the other. But, it can cause the "smothered" spouse to retreat when left unchecked.
So, what are some characteristics of "smothering"? Well, here are 3 of them:
You don't need to spend time with any friends or family because you think your spouse fulfills your every need.
This sounds harsh…I know. But, it's a huge misconception among many couples today. Remember that infamous line from the blockbuster hit, "Jerry Maguire"? The notorious line, "You complete me," pulled at our heart strings, and it sounded like the perfect criteria for our forever mate. Right?
Wrong.
There is no human being on this earth that can "complete" us. A spouse is a companion who is meant to "compliment"–not "complete"–us. Our marriage should be the closest and most important relationship that we have besides our relationship with God, but only God can truly fill our deepest need. We can't look to our spouse to be our everything. That is way too much pressure, and it leads to a toxic co-dependency that isn't healthy. We need to foster our relationship with our extended family, our friends, and our neighbors to cultivate a full life. And, your marriage benefits greatly from the support of a strong community.
CLICK CONTINUE TO FIND THE NEXT SIGN: