On Tuesday, Rashida Tlaib, a Palestinian American and Ilhan Omar, a Somali American Muslim made history with their election to the U.S. congress. They are the first Muslim women to do so. It adds to the diversity of America and is a moment that we as Americans should be proud of, except for Islamophobes who are spitting even more venom as some of the excerpts from the alt right outlet Breitbart below would show.
Rashida is a proud Palestinian American and hugely popular in her congressional district in Michigan and equally proud of her broad support from all walks of life, not just the Muslims in her district. Many of her friends and extended family still live in the Palestinian territories. She has fought for the marginalized in her district, regardless of color, religion or race.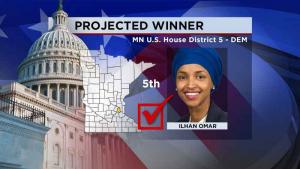 Ilhan migrated to the United States about 20 years ago. She is a woman, a refugee belonging to a minority religion. How much more American can you be? This is fulfillment of the American dream, isn't it? Ilhan also points out to the fact that Muslims represent a tiny minority in her district and she won based on merit and what she stands for.
Rashida and Ilhan represent a move that we hope should continue. More women and more minorities won the election this time than at any other time in history- Muslims, women, people of color, LGBT, children of immigrants, refugees and so on.
America is still viewed as a world leader welcoming all. It is land of opportunity. The freedom to choose and opportunity to vote is indeed seen as a privilege knowing that so many in the world would die to have a chance to elect their representatives in the government. These elected people fully realize that and are appreciative of that opportunity.
The reaction from the alt right was just the opposite, and actually not surprising. They used this as a golden opportunity to fuel more Xenophobia and Islamophobia. Create more fear and hate. Spread more fake news and other the ones who don't look like you- more specifically white males. Here is the headline from the Bretbart
Democrat Rashida Tlaib Dances with Palestinian Flag at Victory Party[1]
In the video, Tlaib delivered a victory speech in which she acknowledged her family watching from abroad in the Palestinian Authority-administered West Bank. She dedicated her victory, in part, to the Palestinian cause: "A lot of my strength comes from being Palestinian," she said.
So what is wrong about being a proud Palestinian American?
What's wrong about being from Palestine? Last I checked, Rashida is from the same land as Jesus. Shouldn't these Jesus-loving Christians be celebrating her election victory? A true Christian should be welcoming her, something I alluded to on my last post on 10 Signs of True Christians.
If the post itself was not inflammatory, the comments from its die-hard fan base were even more alarming. Here are some excerpts.
Nobody ran against her! We as a country basically gave it to her on a platter! I talked about her, and the others last spring! We have to put a strong Christian into these areas and help them win. We must educate the public of their goals to take over our country, and our way of life! We must return to our churches and practice our faith! It isn't to late, but it's close. We are surrounded by people trying to destroy us!

The 1 fault or weakness to the muslim plan is they all live in a tight area….push all others out, and take over. Easy to surround these areas, no matter the size, and cut off their power, then water & food, and eventually smoke them out or eventually all out war shrinking the "circle" one step at a time until all life is gone.

Of course it will because just like the hoard of people coming from the south they breed worse than mice until the infestation overtakes one community after another

Don't bother, what you have here is another brain dead moron who practices the new religion of the left. Social justice. To them it's because she is a Muslim she must be so much better equipped than a white Christian male for the job.
The unfortunate truth is that the fear mongering does work. You continue to paint a picture and tell a lie a thousand time from a thousand people and sure enough folks will start to believe it as truth, stoking fear and initiating a fear-hate-fear cycle, that sometimes results in violence.
America is indeed a land of opportunity. In the immortal words of Dr. Martin Luther King, 'darkness cannot drive out darkness. Only light can do that. Hate cannot drive out hate. Only love can do that.' I hope these elected officials will remember that and not counter hate with hate.
Let's say Amen to that.
[1] https://www.breitbart.com/politics/2018/11/07/democrat-rashida-tlaib-dances-with-palestinian-flag-at-victory-party/