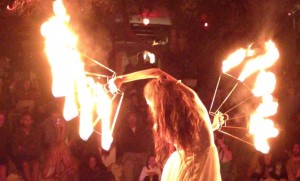 These beautiful words come from Zola Dubnikova.
During my dance class last night in Tel Aviv, the sirens went off. Rockets fell from the sky, but we didn't hear them because we were dancing so deeply.
Jerusalem is on fire my friend told me the other day. In the south, the people are living in bomb shelters – in the South and in Gaza, full war… For me it doesn't seem real on my mountain in the North of Israel. The dance classes after mine were all cancelled because of the alarm… But only after we finished… We were so thankful to dance – even in the chaos of this world – there we found a deep medicine…
Through sweat and tears and full body movement we allow it all to come through – the anger, the sadness, the helplessness, the inertia, the desolation, the fear… I see once again, that in such times, its especially important time to open the channels in the body and to dance, to feel and to release all of this insanity …
The timing of the first class at Temple of Dance Israel, here in Zichron Ya'akov, feels accurate. We dance to feel what is here now, to let in the shadow and the light… We come together and offer a prayer through our bodies. We meet to release the tension that we all feel, the heaviness of the skies, and dance our collective prayer, the prayer of those who are sane on both "sides"… The prayer of the ones who know that there are no sides. And the prayer of the ones who know there are no winners when innocent people die.
To think of the beautiful little children whose fate is at the hands of the ignorant who perpetrate these endless cycles of violence, or the young souls about to take off into life, who could have made a difference, some of whose stories we don't even always hear…
May the skies open for a higher consciousness to rain down upon the middle east. INSHALLAH.