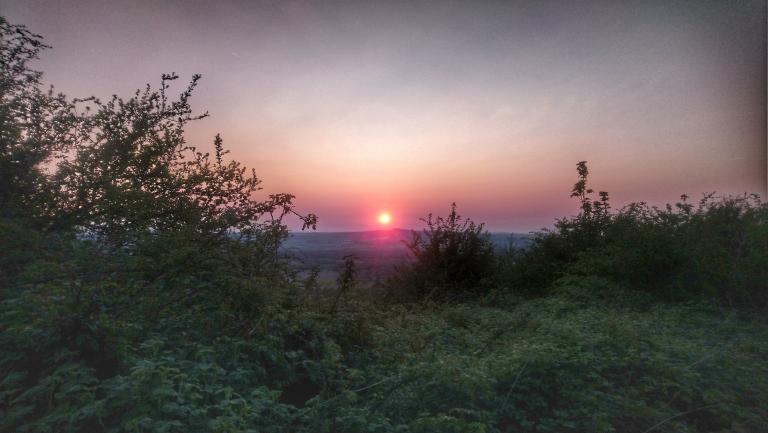 Recently, I was asked to think about Beltaine so I could share what it meant to me at a ritual. To be honest, the naming of the ceremonies of the Wheel of the Year are foreign to me (even though I am just a short hop, skip and jump from Gaelic speaking countries) and I struggle to connect with the names.
Beltaine means very little to me.
But May Day, that's a different matter entirely.
I often ponder on the Wheel of the Year and wonder if it's a convenient framework to slot in regular Pagan celebrations without having much historical basis. I understand there's an energetic matrix you can apply, like the Hero's Journey, to the Wheel, which is useful but I'm not sure my ancestors would have celebrated all these wheel spokes.
There are two festivals that I am certain were part of the natural pagan landscape of Great Britain: Beltaine and Samhain. Or, as I prefer, May Day and Halloween.
Although a dying tradition in the UK, May Day festivals are still held in most locations. When I recall my childhood, I remember going to many a May Day fete with my family. In suburban London in the late 1970s and early 80s, there wasn't much Morris or May pole dancing going on but there were small events held with outside stalls selling homemade cakes and jams, and games for kids of all ages.
So, when I was asked to talk about Beltaine, I tapped into the familiar energy of May Day instead.
While I have always felt the energetic shift at Halloween, I never paid much attention to how there is a similar shift happening around May Day. After spending many months cooped up inside and wrapped up in warm woollies, normally I'd rush eagerly into the season of less clothing and hopefully warmer days.
Pausing to reflect, there's much more going on.
The year is split in half, not neatly sliced into four seasons at the solstices and equinoxes but split in two between May Day and Halloween. It makes more sense to separate the waxing light and waning light into halves but it doesn't feel right – too tidy, too neat. Beltaine, as the Gaelic name hints, begins the light half of the year.
It's a time of gateways when the half-year changes.
Like any changeover shift, there's the invitation of chaos as one set of rules (or energy) departs as another steps in to take its place. Goodbye winter, hello summer. It takes a while for the energy to settle and become established.
Without any clear boundaries in place, the spirit world can be as near to us at May Day as it is at Halloween. The otherworldly energy bubbles to the surface, ready to be noticed before order returns and the gateway to the otherworld becomes more obscure again. For me, May Day brings nostalgia as I remember happy times but also acknowledge many people who celebrated with me in the past are no longer with me in the present. The dead are not far away.
It's the gateway to the summer with warm evenings and outside community events. It's the opening of BBQ season (or in my vegan household, it's salad time!), visits to pub gardens, picnics on the beach, drumming in parks with friends, and warming bare skin under the sun.
It's a gateway to growth and reaping rewards, if you exercise a little patience. The energy is expansive and bright, feasting rather than famine.
Beltaine, May Day or whatever you wish to call is it is the gateway to the light. You can't ignore the early morning and late evening light and for the next six-weeks, it will grow in strength and reach its pinnacle on the solstice. Cherish this time. Bask in the light because soon the days will begin to shorten, subtly at first until daylight is overshadowed by darkness and Halloween beckons once more.