Just so you know, I was given a copy of The Ancestral Oracle of the Celts by Caitlín Matthews to review by Watkins Publishing. However, these are my own impressions about the oracle deck – not influenced at all by a freebie oracle deck! The deck is published on 13th August 2019.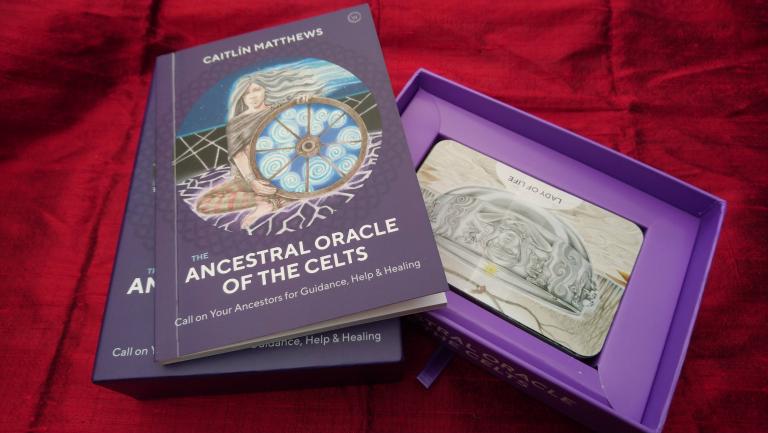 Let's begin.
First, I believe this to be an updated version of an older oracle deck – The Celtic Wisdom Oracle Cards – which I have buried somewhere in my treasure chest of oracles decks. I haven't actually read with that deck as I put it aside, thought I most definitely need to do a reading with it and then forgot. So this is my first proper time looking at The Ancestral Oracle of the Celts or Celtic Wisdom.
The oracle deck is made up of 40 cards and comes with a guidebook, all neatly presented in a tidy box. I have never been disappointed by the quality of cards, book and box from Watkins (I rave about the quality again in my review of The Chakra Wisdom Tarot). You can shuffle the cards without fearing the edges will flake – other publishers don't seem to put as much attention into the reader's experience.
The Ancestral Oracle of the Celts has two groups of cards: 8 cards of the Divine Ancestors and 32 Clan cards. The groups are kept separate when reading so you wouldn't shuffle them together. They're easy to tell apart as the Divine Ancestor cards have landscape imagery whereas the clan cards are portrait. The clan cards give advice and the Divine Ancestors pose questions.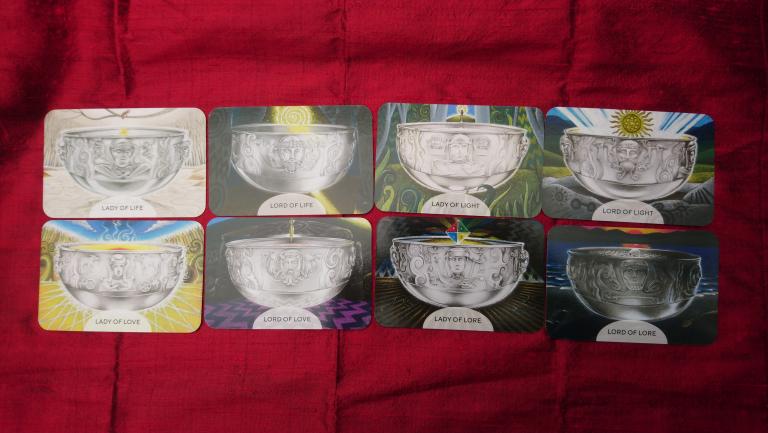 The clan cards are split into four clans: Clan of Truth (hawk), Clan of Honour (boar), Clan of Sovereignty (stag) and Clan of Wisdom (salmon). Each card has its own place on the Sun Circle (wheel of the year) so you can associate it with a direction and sabbat.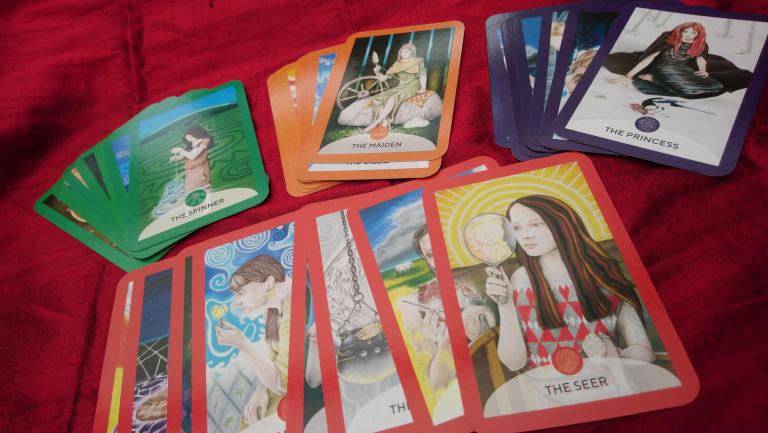 The Clan cards are all archetypes so while they are geared towards ancient Celtic civilisation, you can still gain guidance if your ancestral background is not Celtic. The Clan cards can be read upright (deiseal) or reversed (tuathal), and the little book gives you meanings for each of these positions. You also get a little snippet of family wisdom with each card and a short story based on Celtic legend that supports the interpretation of the card.
Going back to the Divine Ancestor cards, the artwork is inspired by the Gundestrup Cauldron. This first century BCE bowl was found in a Danish bog in 1891. So through this representation, you are touching upon unknown Celtic ancestors or divine elders. I really like that concept. Each of the Divine Ancestor cards has a Celtic god or goddess associated with it.
The accompanying book has an introduction, card meanings and spreads. There's also a section at the back giving you tips on how you can use the cards with your own ancestors.
When reading with the cards, you keep the Divine Ancestor cards and the Clan cards separate. You shuffle each group separately then pick one Divine Ancestor card at random and the remainder of cards for the spread from the Clans. I didn't think I would like having a mixture of portrait and landscape cards because it messes with my slight OCD of having all artwork up the right way but it does work for me. However, if the Divine Ancestor card wasn't always kept separate in a reading, it would freak my mind.
From time to time, I offer free readings with review decks on my Facebook page. I got to test drive this deck with three of my readers and I found it to be a pleasure to work with. As there are only 40 cards, there's no room for waffle and the answers seem to be straight to the point. I'm not too familiar with Celtic mythology or ancestral living but there was enough information in the book to kick start my intuition and flow with the readings.
This is an oracle deck I would use again. I'm a bit sorry I never played around with the older version as I enjoyed reading with this deck particularly as it's a connection to my own ancestors and the land I live on.
If you'd like to get your hands on a copy of this oracle deck, you can order through Amazon.