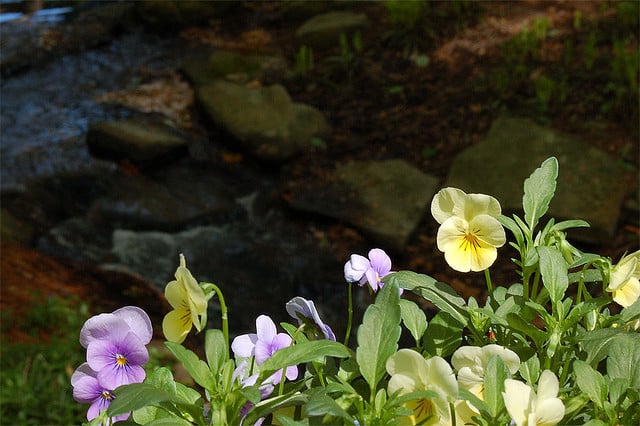 Ah, Spring!  Here in Georgia (strange white stuff falling from the sky notwithstanding…seriously, what is with that?  and it keeps happening!) spring generally starts a rustlin' right after Imbolc, and by the equinox is in full swing.  Birds chirping.  Flowers blooming.  Gardeners planting.  In my climate zone, the average last frost date falls in April, but cool weather crops such as brassicas, lettuce, and other vegetables that will bolt or wilt in the heat of summer can and should be planted now.
Like most Southerners* I love a garden, though for me that love has been a bit fraught and unrequited at times.  But just about four years ago…after many years of optimism followed by failure…I actually got a garden to live.  Since then, things have gone pretty well.  Not everything I plant lives, even now.  Some years I am tempted to just cover the whole plot in okra** and be done with it.  Since I don't live in Bartow County, I should be safe. This year I have recruited my son to help tidy our plots in the community garden, loosen the soil, add compost, and plant some collards, cabbage, and herbs in one of the plots.  Time will tell…
Honestly, Ostara as a ritual holiday has never done much for me, for all that I love me some descent-and-return Goddesses.  But spring does inspire me. This time of year I am inclined to scamper around outside, building a raised bed for my garden plot and a trellis out of bamboo and a gravel surround for my fire pit so we can dance around it without tripping over ivy or catching the back yard on fire.*** Traditionally over the years I have celebrated Ostara as a kid-centric holiday:  ritual during the day, with songs and chants and maybe a simple circle dance, storytelling, a craft project, and perhaps an egg hunt….ie, lots of scampering around outside and probably making a mess.  That's what we're doing this year (we meaning Hellbender Coven) along with a planned group excursion to a local Korean spa, where for $25 you can hang out all day with your buddies in various temperatures of water and varieties of heat, cold, and steam.  I might mention that we've talked about going for a while, but waited until most of us would be able to afford it; likewise, having a child-inclusive ritual means that the parents-with-littles in the group can come without the logistical juggling that generally accompanies any event in the life of a person with children.  Super-intense late-night rituals using close-held liturgy and requiring adult focus and attention are a fine thing; we have those too.  But it's good to integrate the depths of religious experience with the rest of your life, to weave your practice into your days.  Casual ritual with family and friends can be a bridge, and over the years I have fallen into a pattern:  Beltane, Samhain, and Midsummer, plus full moons, are the more intense holidays; Imbolc, Ostara, Lughnasad, and Mabon are more outwardly focused and loose; Yule might go either way (and sometimes both, as we have a fun-filled vigil and a relatively intense midnight or dawn ritual).  New moons, I mostly clean my house.
At Ostara, every year, I'm typically gardening, taking up some new form of exercise, gadding about to all the events that happen in Georgia as soon as the weather turns nice, building or writing or having one of my occasional fits of art.  What's the thematic connection here?  Well, I would say a combination of growth, creation, connection, and daily life.  Food, beauty, family, and friends.  You know, the stuff that makes life worth living.
*I maintain that Southerners are hobbits.  We love food and gardening, are tough when cornered, and we know in elaborate detail exactly who is related to whom.
**Okra, originally from West Africa, grows fast and hardy here, produces abundantly, and looks pretty (it is a relative of the hibiscus).  It does not remotely resemble cannabis.
***Some women like to knit.  I like to build things. When I was pregnant with my son lo these many years ago and the middle trimester nesting urge hit, I built an island for my kitchen.