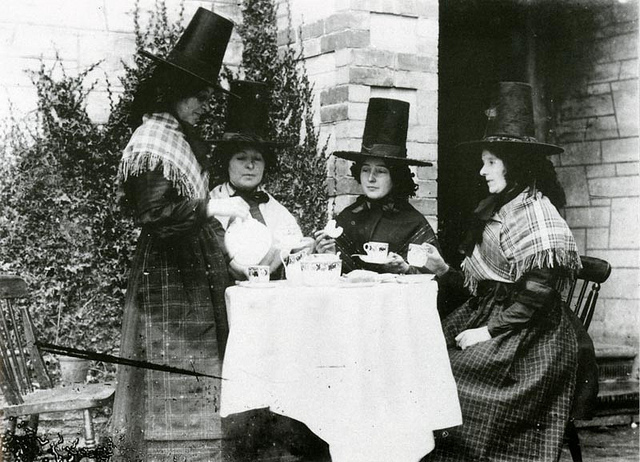 My coven has two English professor types  in it, along with an assortment of other writery academics and creative ne'er-do-wells. It should shock no one that Imbolc for us has become mainly a celebration of poetry (Imbolc—>feast of Brighid—->goddess of poetry—->SHAKESPEARE!  Obviously).  Our ritual is all poetry…the liturgy itself of course, but then in the circle people bring out more.  Poems they have written themselves, poems they just like, sometimes songs, recited from memory or read from a well-worn book.
We also love our food, and have several good and/or inventive cooks. It's a standing joke that while there has been a time or two when the actual ritual part fell a bit by the wayside, the food never does.  We had a weekend retreat several years ago to which we invited some of our far-flung Faery kin, and even though the people from furthest out of town mostly didn't bring food, we had so much that we wound up packing out a considerable amount and pressing bits of this and that on people as they left.  Our own miracle of loaves and fishes, though it was more like the miracle of homemade biscuits and pie.
Naturally, Hellbender genius Joshua Graham came up with the idea of having food as a ritual.  Specifically, a Southern high tea.  With the Queen.  Of Faerie.  If I recall correctly, it was the first ritual he did for us as the main planner and officiant.  People were told to dress up and come prepared with a song, poem, or story.  A chair at the head of the table was reserved for the Queen of the Fae, and decorated accordingly; the table was spread with all manner of tasty goodness.  It was a smashing success.
Since then we have taken to combining the two ideas and having tea with Brighid for Imbolc.  This works best in my observation when it is done as a ritual (though not necessarily one where you cast a circle) rather than a straight-up tea party. Definitely set aside a chair for Brighid and decorate; this is your altar.  Red and white are good colors to use, perhaps prop up a musical instrument or a quill pen or something of that nature.   Do dress up, whatever that means to you; drag is perfectly fine, but tatty cut-offs are not.  Use your best china–I bought a floral pattern set for this, the kind with smallish plates and matching cups.  The menu can of course suit your tastes and talents but ours has included tea cakes, shrimp salad, Scotch eggs, flourless chocolate cake, cheese biscuits, stuffed celery, and sausage balls.   Note that "tea cakes" in this context means the soft cakey-textured cookies we in the South call by that name.  Here's a recipe to get you started:
Southern Tea Cakes
1/2 c butter
1 c sugar (I used Splenda and it turned out fine. Substituting sorghum or molasses is also traditional, but will change the taste)
2 eggs
1/4 c milk
3 cups all-purpose flour
1 T vanilla
1/8 teaspoon cardamom or to taste.  Feel free to experiment with other spices and flavors.
Soften the butter and cream together with the sugar; add the rest of the wet ingredients and mix well.  Add the flour a bit at a time and stir until you have a workable dough.  Roll out and cut into shapes.  Bake in preheated 350 F oven 12-15 minutes or until golden brown
For an invocation, one or more of the versions of the "Sloinntireachd Bhride" or "Geneaology of Bride" found in the Carmina Gadelica by Alexander Carmicheal is always good:
Feast of the Bride, feast of the maiden.
Melodious Bride of the fair palms.
Thou Bride fair charming,
Pleasant to me the breath of thy mouth,
When I would go among strangers
'Thou thyself wert the hearer of my tale.
On the day of Bride of the white hills
The noble queen will come from the knoll,
I will not molest the noble queen,
Nor will the noble queen molest me.
The Day of Bride, the birthday of Spring,
The serpent emerges from the knoll,
'Three-years-olds' is applied to heifers,
Garrons are taken to the fields.
On the Feast Day of beautiful Bride
The flocks are counted on the moor.
The raven goes to prepare the nest,
And again goes the rook.
Happy Imbolc!