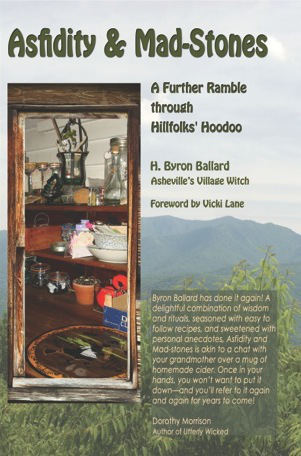 I liked Byron Ballard's first book, Staubs & Ditchwater, though I found it a bit choppy. A good blogger and storyteller who has a way with a turn of phrase and a head full of ideas, Ballard sometimes didn't follow the thread of her thought out deep enough or far enough to weave the larger structure she was attempting. One of the maddening things about the book-writing business is that no matter how many people tell you how different it is from shorter forms, you still have to learn it yourself, through trial and error, generally in public because nobody writes a book just for practice. Not on purpose.
In Asfidity & Madstones however she has hit her stride. She retains all of the charms of her earlier book…the lively personable no-nonsense tone, the familiarity and ease with her subject matter that only comes from long practice, the deep love of the land and culture of her birth and mine that thrums through every page, coupled with a flash of righteous indignation here and there…while creating a vessel both deep and wide, solid, useful, and balanced. The pace of the book is more measured and smooth, like a Tennessee walking horse. If I seem to be full of transportation metaphors today, it's because this is a book that will get you somewhere.
She does not make the mistake of trying to offer a comprehensive guide to Appalachian magic; no such thing is possible. There are as many different ways, and nearly as many words for it, as there are old families practicing what she calls "hillfolks' hoodoo." For example, I use poke for uncrossing and many of the things she uses rue for; my advice to you would be to try both and see what works. The book is likewise not an academic treatise, though she has done plenty of research and presented a paper or two. She offers some theory, and history here and there, and tells you about her practice, illuminating her topic by doing so; in the process she will also teach you a good bit about things in general, if you are paying attention.
Sometimes she is laugh-out-loud funny. Speaking of her use of rue to break her sugar addiction, she says, "It worked for many months, until that Demon Sugar returned to claim my weak pie-loving soul." Then of course she just tried again. I note in passing the value of someone offering practical advice without having to sound like her soul is more evolved than thine. Byron Ballard's soul is just fine, and it loves pie.
Best of all, her stories and receipts and lists and explanations make you want to go out and try what she's talking about. That is, after all, the only way to learn. This book is a friendly guide on your own interesting rambles; pick it up and see where you get to.