When I "left the Church," I'll admit I didn't get far.
I spent a few years not attending services and happily proclaiming my agnosticism/atheism, but during college I was drawn back into religion quite easily. My dad was a pastor, so it was a constant conversation whenever I visited our home and I found I deeply enjoyed religion classes, reveling in learning about the Hebrew Scriptures and the Book of Revelation.
I was one of those "I'm an atheist!" types walking around reading Meeting Jesus Again for the First Time. 
For me, the departure from church wasn't a rejection of spirituality; it was a rejection of institutionalized Christianity. Although it wasn't my language, I was in line with the "spiritual but not religious" moniker that swept our nation for a bit there. I had a deep connection with this ancient tradition and I was just in the process of renegotiating it.
Enter: John Shelby Spong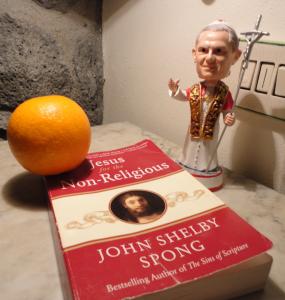 During this time, I stumbled onto John Shelby Spong's Jesus for the Non-Religious. Just based on the name, you can see why it appealed to me. I tore through the book as if on a rampage, scribbling notes all over the margins, reading and re-reading passages. Throughout it were words, phrases, and stories that perfectly articulated my experience, confirmed my doubts, and validated me: I felt seen and increasingly comfortable in this liminal space.
In many ways, Spong was my main deconstruction teacher. Reading his books and watching any video of him I could find gave me language and confirmation that it was okay to leave behind the doctrines of Christianity that no longer worked for me. While my progressive upbringing had sidelined many of these doctrines (original sin, for example), they had never fully dismantled them. For me, Spong dismantled them.
An example was the literal belief of Heaven and Hell. While my progressive upbringing never focused on these places, literal or not, they were also never fully discarded or dis-merited, or even re-envisioned much from a progressive lens.
This left me with confusion. My scientific understanding of the Universe said Heaven and Hell weren't possibly real…but they were still being mentioned without full explanation in sermons, hymns, and in the regular interactions of church members.
When I came across this video from John Shelby Spong, my entire world shifted.
Deconstruction and Reconstruction
As I reflect now on Spong's influence in my life, I can think of three key stages I went through with him:
Deconstruction:

examining and letting go of the belief systems that didn't work for me. (Reading

Jesus and the Non-Religious

was key for me during this time.)

Being Comfortable with Liminal Space:

accepting that mystery and not-knowing was okay in the spiritual life.

Preparing for Reconstruction:

being open to new possibilities and not throwing out

everything

about my tradition. (

Eternal Life

helped me to see a new, if unknown, way forward with my spirituality.)
What John Shelby Spong started would be continued by Richard Rohr in my life. Whereas Spong helped me tear apart my experience, validating my theological questions and helping me to understand at a deeper level, Rohr would later help me to pick up the pieces that most mattered.
I was able to meet Spong briefly in the early 2010s while he was in Seattle and I remember being awe-struck by his kindness. He was frail and one of his eyes appeared cloudy, but he would look each of the people in front of him directly in their eyes: he would see their inherent dignity. And as a young person, possibly the youngest in the crowd that night, it was a true experience of feeling seen. This was a man who had helped me understand myself and make sense of my life experience; he was a shepherd for my soul at a time when I didn't know where to go.
Thank you for seeing me, John. And for helping me to see myself.
During February, I'll be exploring my own story with Progressive Christianity, with religion, and with my constantly evolving spirituality. It is a story from the gymnasium to the sanctuary, beyond the walls of institutionalized religion (and sometimes back again), always falling deeper into my own experience and relationship with the Divine. If you'd like to read it in order, you'll find them on the blog's home page.