Full Moon: Her magic and correspondences
About 15 days after the after the new moon the full moon first appears. At this point the moon is on the opposite side of the earth from the sun so she rises around sunset and sets around dawn.
The sun shines fully on her face and tides are at their extremes again. Some may sense the pull of the sun from one direction and the moon from the opposite and their energy and will feel a bit scattered.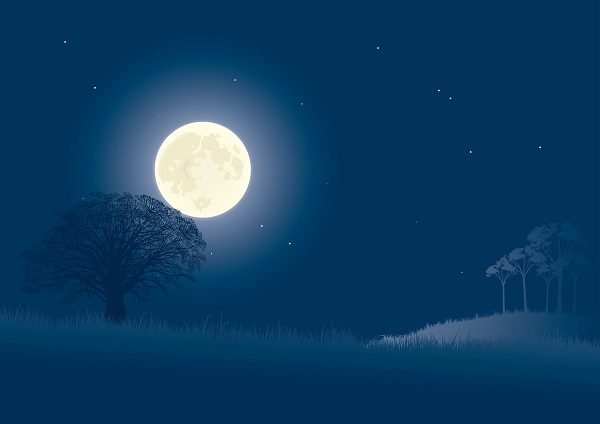 Get on and do it
Hold a party or an event, but be aware that the energy level is likely to be high and anything troublesome is likely to surface. Cook and stock up the freezer. Pay special attention to your creative ventures and your dreams.
Perform a ritual http://www.patheos.com/blogs/beneaththemoon/2016/09/full-moon-ritual/
Cook food specific to the full moon phase http://www.patheos.com/blogs/beneaththemoon/2017/04/cooking-moon-cycle/
This is a good time to try out forms of divination such as scrying or tarot. Reflect about your goals, feelings and matters that have to do with relationship and family. The full moon is also good for transformations, psychic abilities, strength, love, power and fertility.
The Full moon is an excellent time to cleanse, purify and charge your crystals, I don't put all of mine out though – see my blog post http://www.patheos.com/blogs/beneaththemoon/2016/07/i-will-not-be-putting-all-my-crystals-under-the-moon/ .
Lay them out so that the moon light can hit them; if you can do so safely leave them outside, if not find a window sill that catches the moon light. Don't just stop at crystals though, your magical tools will also benefit from soaking up the power of the moonlight.
As the Full Moon just passes, the time arrives to put the finishing touches on what you have been doing and to get ready for the quieter time to come. Enjoy beauty and art, listen to music. If you have argued with someone but do not feel the issues are really vital, make up now.
If you live near the sea the full moon is a wonderful time to visit the shoreline and (if safe to do so) build a small fire, collect small pieces of driftwood to build your fire and as you lay each piece onto the fire add a wish, once the fire is burning nicely cast offerings into the flames as gifts to the Moon Goddess such as herbs, flowers and leaves. Sit and watch as the fire burns. If you don't live near the sea you could turn this into a visualisation for a full moon meditation.
Full moon colours
Blue, white, yellow and orange
Full Moon herbs, oils & incense ingredients
Frankincense, sandalwood, rose, cedar, juniper berry, hyssop, myrtle, orange, rosewood, tangerine, tea tree, yarrow and sage
Full Moon Crystals
Moonstone, selenite, quartz, black tourmaline, obsidian, amber, rose quartz and opal
Full Moon Oil Recipe
6 drops gardenia essential oil
4 drops lotus essential oil
2 drops jasmine essential oil
Add to a base oil such as sweet almond or grape seed (about 15mls of carrier oil should be about right).
Full Moon Balm (for pulse points)
6 drops sandalwood essential oil
3 drops lemon essential oil
2 drops palma rose essential oil
1/4 cup grated beeswax
1/4 cup vegetable oil
Melt oil and wax together, cool slightly then stir in essential oils. Store in an airtight pot.
Full Moon Incense (loose mix to burn on charcoal disc)
2 parts sandalwood
2 parts frankincense resin
1/4 part dried rose petals
1/2 part orris root
6 drops sandalwood oil
Moon Magic bath salts
1 cup sea salt
8 drops sandalwood essential oil
8 drops lotus essential oil
Mix together and store in an airtight container, sprinkle a couple of tablespoons of the mixture in you bath.
From Pagan Portals Moon Magic by Rachel Patterson