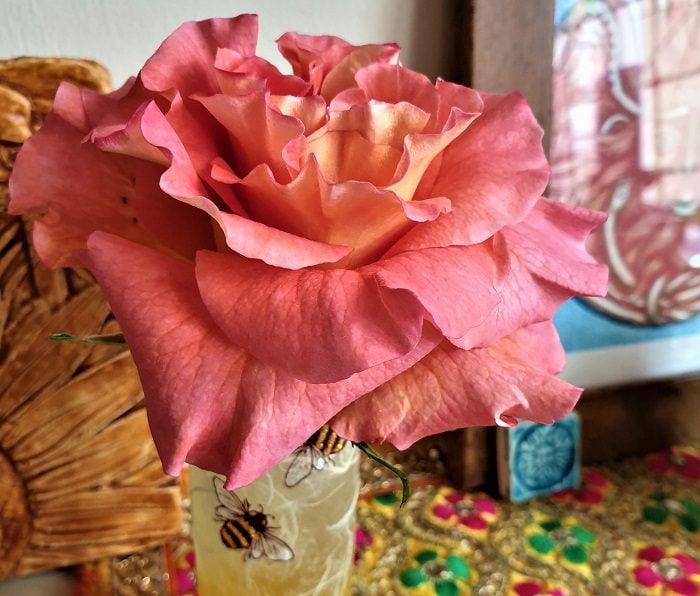 Sun phases for magic
Just like the moon, the sun has phases which can be used to tie in with your magical workings to add an extra boost of power.  The sun measures time, where it sits in the sky denotes what time of the day it is, and a sun dial would be quite useless without the sun to cast a shadow!  I also think that point between night and day and vice versa, that moment of hand over is quite special.
Sunrise – Basically when the sun wakes up and peers over the horizon.  This phase is all about new beginnings, changes, health, employment, renewal, resurrection and finding the right direction. It can also be very cleansing.
The morning – This is when the sun is growing in strength, so it brings the magical power for growth, positive energy, resolutions, courage, harmony, happiness, strength, activity, building projects and plans, prosperity and expansion of ideas.
High noon – When the sun reaches its peak in the sky at midday – work magic for health, physical energy, wisdom and knowledge. It is also a good time to pop your tools or crystals out that need charging.  (Note: some crystals can fade in strong sunlight so check first before putting them out).
The afternoon – The sun is heading back down, and the energy now is good for working on business matters, communication, clarity, travel, exploring and anything professional.
Sunset – As the sun takes itself off down below the horizon, work magic for removing depression, stress and confusion, letting go, releasing or finding out the truth of a situation.
Magical properties of the sun:
If you want to work with the overall magic of the sun these are some of the intents that it can help lend its energy to:
Success
Empowerment
Ambition
Enlightenment
Goals
Generosity
Spirituality
Male energy
Health
Vitality
The Gods
Joy
Freedom
Leadership
Matters of the heart
Creativity
Friendship
Growth
Personal fulfilment
Self confidence
Wealth
Individuality
Pride
Energy
Power
Sun altar
I always say that an altar is very personal, it has to be for you to be able to connect with the energy.  Mine (much to my husband's dismay I have several around the house) all start out clean and neat, but I find I add things to them as time passes.  You will know what needs to be put on your altar.  If you aren't sure then start with a guide or suggestions from others (books, friends, internet etc) but keep it simple and then live with it for a bit.  You will find that you are drawn to add other items to it.
My suggestions for a sun altar, you don't have to use all or even any of these, in fact if you put everything listed on there it would be pretty crowded, sometimes less is more.
Altar cloth; which could be a head scarf, a table cloth, napkin or bandana, it doesn't have to be an expensive item.  I like to use yellow and orange colours.
Sun symbols – well that's a given really, you can get all sorts of items, ornaments and bric a brac in sun shapes.
Flowers – fresh, dried or imitation, go for sunny yellows, oranges and reds but any bright flowers will sit nicely.
Fruit – oranges and lemons look fabulous on an altar, you could even dry some slices to decorate with.
Crystals – go with whatever you are drawn to but if you need some guidance there is a list of sun crystals in this book.
Candles – there probably aren't many altars that don't have candles on!  Go with sunny or fiery colours.
Any spells you are working on can be popped on your sun altar to give them a boost of solar energy.
Flame symbols to represent fire.
Triskelion or phoenix images.
Coloured ribbons.
Circles and discs in yellow, brass, copper or gold colours.
Equal armed crosses or the swastika.
God's eyes (see craft section on how to make one).
Oak leaves and any fresh greenery.
The Sun or Chariot tarot card.
Antlers and horns work well to bring in the masculine energy of the sun.
A wand, again for the masculine energy.
Flower wreaths, I often use my flower circlets on an altar.
Bees – not real ones obviously, how would you stop them from buzzing about?
Honey – a little dish or pot full.
If you are working with a solstice or equinox you can add in symbols and correspondences that tie in with the energy of the season.
Extract from Pagan Portals Sun Magic by Rachel Patterson
An introduction to working with Sun magic, and how to live in harmony with the solar year and to utilise all the magical powers it provides.
A book filled with the basics of the sun cycle, the representations and correspondences, what magic to work and when. A look at the solar year, sun deities, sun spells, meditations, specific sun rituals, sun recipes and more..