Working Magic – Direction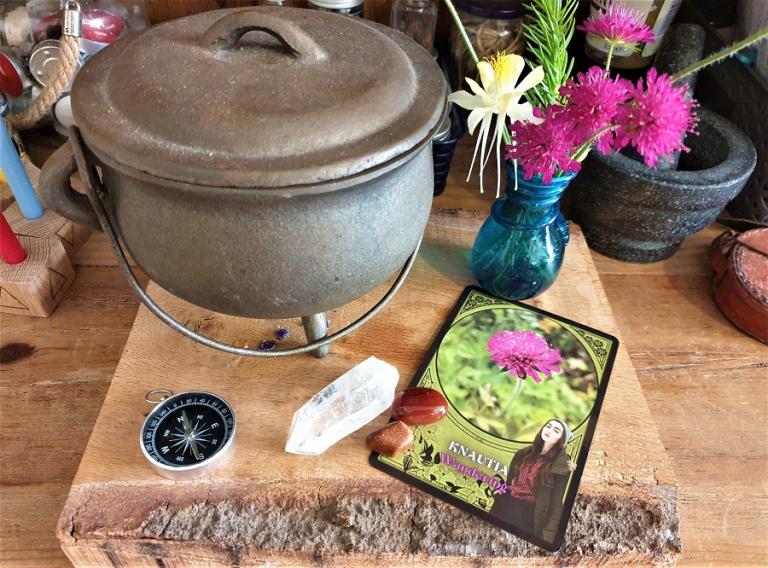 Drawing an oracle card from the Flower Magic Oracle deck gave me a focus for working some magic. This week's card is knautia, the meaning of which is – wandering (as in not having a direction). So, I have given the meaning of the card below along with some other correspondences.
If you watch the recording of the live video chat I did, you will also see me working some magic. I use some of the herbs and crystals mentioned below along with the oracle card for focus to create a spell.
KNAUTIA WISDOM
Wandering aimlessly through life can suit some people, not having any plans or ideas about directions to take but it doesn't work for everyone. It can be pleasant to take time out and do nothing, it can be very good for the soul to go off on an adventure not know where or how. So, if you need to take a moment to just 'be' then do it. However, wandering with no purpose can lead you to confusion. You will need to decide…do you want to just let the universe do its thing and wander with no guidance, no purpose or direction? If you do, then you will have to change your mindset to cope with the unexpected. If your life wandering and floundering about has left you feeling adrift then it is time to do something about it. You can still wander with purpose, your life doesn't have to be a strict adherence to the rules, but a little direction is usually wise. Think about where you want to be.
KNAUTIA MAGIC
The flower heads can be dried and used in incense blends and sachets for magic to stop pets (or humans) from wandering off. It can also be used in magical workings to create new adventures and open pathways for you. Knautia flowers are good ingredients for spell workings to help you socialise and interact more easily in group situations and to aid in creating new friendships, partnerships or business relations.
KNAUTIA STORY
The common names for the knautia are 'widow flower', 'Macedonian scabious' and 'field scabious'. Flowers from the species were used during the bubonic plague to treat skin sores. The flower heads grow on long spindly stalks that wind and wander in and out of other plants in the garden.
Herbs, Plants and Food for
Decisions
Lemon
Focus
Cinnamon, turkey, Frankincense, Pansy, Pine
Clarity
Bergamot, Betony, Cardamom, Clove, Columbine (Aquilegia), Dill, Horehound, Juniper, Knotweed, Lavender, Mustard, Rue, Self Heal, Walnut
Crystals for
Structure
Fluorite
Focus
Amethyst, howlite, jasper, labradorite, malachite, obsidian (black), pyrite, quartz, quartz (smoky), sugilite, tiger's eye
Decisions
Aventurine (green), celestite, fluorite, hematite, kyanite, labradorite, lapis lazuli, larimar, lepidolite, petrified wood, pyrite, quartz, quartz (smoky), rhodonite, selenite, sodalite, sunstone, turquoise, unakite
Direction
Carnelian, goldstone
Tarot Cards for
Decisions: Justice, The Hermit, The Star, The Lovers, The Hanged Man, The Devil, Judgement, Two of Pentacles, Two of Swords, Seven of Swords, King of Swords, Seven of Cups.
Goals: The Emperor, The Chariot, Strength.
Correspondences from:
A Kitchen Witch's World of Magical Herbs and Plants
A Kitchen Witch's World of Magical Food
Kitchen Witchcraft: Crystal Magic
All by Rachel Patterson – www.rachelpatterson.co.uk