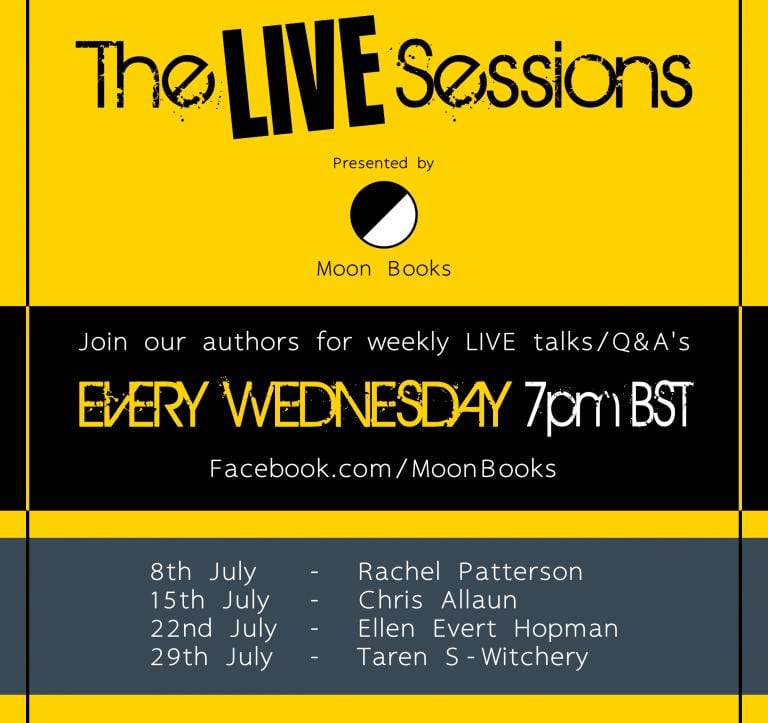 The publisher Moon Books, part of the John Hunt Publishing Group is running a series of free live online chats/Q&A sessions throughout the next few months.
Every Wednesday evening, usually 7pm UK British Summer Time (some USA authors may appear at a different times).
I am honoured to be kicking off the first session Wednesday 8th July 2020 – 7pm British Summer Time.
Each week will feature a different Moon Books author, they will go live direct from the Moon Books facebook page with a talk/chat and also take any questions.
Join in the fun!
The July schedule is up:
Bio from the Moon Books website: Rachel Patterson. I am a witch…have been for a very long time, not the green skinned warty kind obviously…the real sort but I am also a working wife and mother who has also been lucky enough to write and have published a book or three. I love to learn, I love to study and I have done so from books, online resources schools and wonderful mentors over the years and still continues to learn each and every day but I have learnt the most from actually getting outside and doing it. I like to laugh…and eat cake…and my hair changes every week…
I often give talks to pagan groups and co-run open rituals and workshops run by the Kitchen Witch Coven. I am High Priestess of the Kitchen Witch Coven and an Elder at the online Kitchen Witch School of Natural Witchcraft. A regular columnist with Fate & Fortune magazine, it is also my pleasure to contribute articles to several magazines such as Pagan Dawn, The Magical Times and Witchcraft & Wicca. You will also find my regular ramblings on the Patheos Pagan, Moon Books, Witches & Pagans, and my own personal blogs. My craft is a combination of old religion witchcraft, Wicca, wild witchcraft, kitchen witchery, green witchery and folk magic. My heart is that of a Kitchen Witch.
Allaun's bio from the Moon Books website: Chris Allaun has been studying witchcraft, magick, and paganism since 1992. He is one of the founders and an ordained minister with The Fellowship of the Phoenix. He has been an initiate of Traditional Witchcraft since 2002 and the OTO since 2004. He also carries the chanupa, the sacred pipe, and studies that path of the Red Road. He teaches classes and workshops on magick, healing, shamanism, and necromancy. He has been teaching and writing for many years. Chris is the author of Underworld: Shamanism, Myth, and Magick, Deeper Into The Underworld: Death, Ancestors, and Magical Rites, and Upperworld: Shamanism and Magick of the Celestial Realms. He continues to study and teach the magickal arts to those who seek to balance the three worlds in their own lives. Chris Allaun can be found on Facebook: Chris Allaun: Author. Teacher. Healer
He has been interviewed on many podcast including: Lunatic Mondays, Chicago Pagan Podcast, The Brew Podcast, Walking The Unnamed Path. He has also been on Magick Radio several times.
Ellen's bio from the Moon Books website: Ellen Evert Hopman is the author of a number of books and has been a teacher of Herbalism since 1983 and of Druidism since 1990. She has presented on Druidism, herbal lore, tree lore, Paganism and magic at conferences, festivals, and events in Northern Ireland, Ireland, Scotland, Canada, and in the United States. She has participated in numerous radio and television programs including National Public Radio's "Vox Pop" and the Gary Null show in New York. She presented a weekly "herb report" for WRSI radio out of Greenfield, MA for over a year and was a featured subject in a documentary about Druids on A&E Television's; "The Unexplained" (Secret Societies, February 1999). She is a Master Herbalist and professional member of the American Herbalists Guild (AHG) and lay Homeopath who holds an M.Ed. in Mental Health Counseling. She is a founding member of The Order of the White Oak (Ord Na Darach Gile, ) and its former Co-Chief, a Bard of the Gorsedd of Caer Abiri, and a Druidess of the Druid Clan of Dana. She is currently ArchDruid of Tribe of the Oak, an international Druid teaching Order based in New England, USA. She was Vice President of The Henge of Keltria, an international Druid Fellowship, for nine years and has been at times a member of The Order of Bards, Ovates and Druids and Ár nDraíocht Féin: A Druid Fellowship (ADF).
Taren's bio from the Moon Books website: Taren S stood in her first magickal circle in the backwoods of North Carolina when she was seventeen years old. For over a decade she worked at a Haitian Voodoo Doctor's botanica (magick shop) as a spiritual counselor and professional tarot card reader in the South Carolina Lowcountry region. Furthering her magickal and spiritual path she was initiated as a Mama Bridget within American Voodoo/Hoodoo. She currently lives in San Diego, California with her husband, three dogs and a black cat with an attitude.
Moon Books
Hop on over to the Moon Books facebook page https://www.facebook.com/MoonBooks
More to follow in August and September, keep an eye on the Moon Books facebook page for further dates/details.