Curative Magic: A Witch's Guide to Self-Discovery, Care, & Healing
To be published 1st September 2020 by Llewellyn
I am very excited for my latest book to be published, although I have several books published with Moon Books (um…I think we are up to 18 so far) .  This will be my first book published by Llewellyn.  And in the official blurb I am referred to as 'renowned'…I am still not sure if that is a good thing or a bad thing…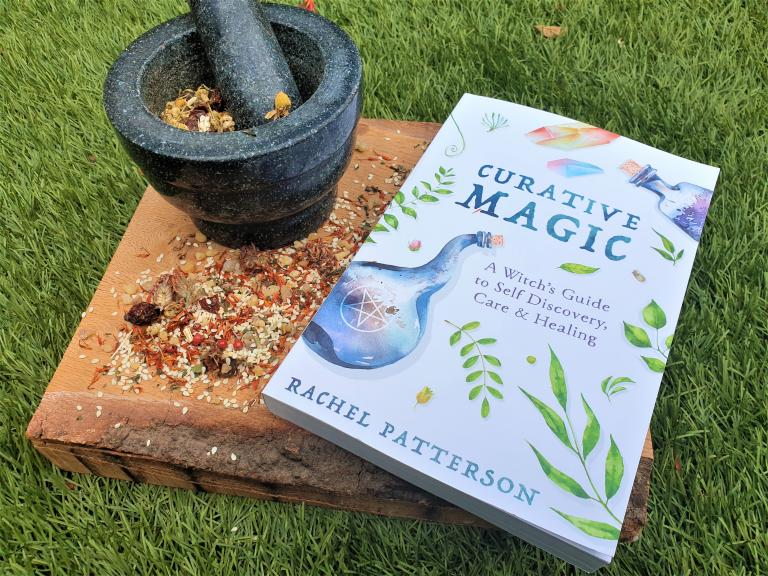 The official blurb:
​Tap into the power of nature and learn how to unleash your inner magic to navigate modern-day life and the issues the universe throws at you. Curative Magic shows you how to work with the tools that witchcraft provides, including spells, rituals, and herbs as well as meditation and recipes.
​Nature is incredibly clever–plants, herbs, crystals, and other natural materials can improve spells, provide guidance, enhance your personal health, and help you work through life's challenges. Kitchen witch and author Rachel Patterson shares her own experiences, personal rituals, recipes, and remedies to help you manage depression, anxiety, insomnia, ailments, and many other common issues we confront.
Natural Magic for Healing in Heart, Spirit & Soul
Join renowned Kitchen Witch Rachel Patterson as she shares hundreds of her own personal spells, recipes, and remedies for natural healing. Learn how to release emotional blocks and use the powerful energies of nature to support self-care for ailments and challenging life experiences such as:
• Guilt • Worry • Grief • Low Self-Esteem • Obstacles & Blockages • Sleep Issues • Menses & Menopause • Transitions & Changes • Anxiety • Stress • Depression • Panic Attacks • Fear
For each topic, you will discover helpful spells and crafts, as well as affirmations, colour magic, crystals, herbs, foods, incense and essential oil blends, rituals, meditations, and magic bundles. You will also find dozens of recipes for enchanting treats and natural bath products:
• Body Oil • Bath Salts • Bath Melts • Pulse Point Balm • Body Powder • Bath Bombs • Body Butter • Body Scrub • Bath Infusion • Foot Bath • Perfume Blends • Cheese and Rosemary Muffins • Porridge Any "Witch" Way • Ginger Plum Cake • Cheesy Garlic Bread • Shortbread • Lemon and Poppy Seed Cupcakes • Fruit Tea Cake
With additional hands-on tips for working with spirit guides and deities as well as chakras, moon phases, and the elements, this book shares everything you need for effective magical remedies.
​

Endorsements:

​"Rachel Patterson takes her readers on a practical, no fuss, empathetic journey through common mental health conditions, difficult emotions, and experiences we're all likely to experience. This witch's guide to mind, body, and soul is packed to bursting with recipes, meditations, spells, and rituals. Read this book, from one of the best; sit with it and allow the magic to soothe your soul."

Samantha Leaver, author of Pagan Portals: Hellenic Paganism

​♥♥♥

​"This is a much needed book for witches who live busy stressful lifestyles, living between the mundane and magical worlds. Packed full of valuable information and

witchy tips to guide the discerning witch in their day to day lives."

Barbara Meiklejohn-Free, Highland Seer and author of Scottish Witchcraft

 

A little interview about Curative Magic I did with Llewellyn – click here