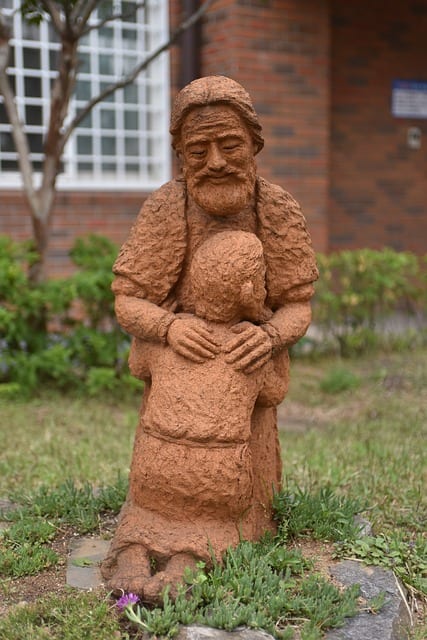 One day, a Pharisee named Simon invited Jesus to dine with him (Luke 7:36-50). When Jesus entered his home, he encountered a "sinful" woman who "stood behind him at his feet weeping and began to bathe his feet with her tears. Then she wiped them with her hair, kissed them, and anointed them with the ointment".
Simon couldn't understand why Jesus would allow a sinner to touch him in this manner.
Jesus proceeded to tell a parable about two debtors. One owed a lot and one owed a little, but both of their debts were ultimately forgiven. Simon rightly came to the conclusion that the one who owed the most was the most grateful for the creditor's mercy. Jesus looked at the woman and spoke to Simon:
"Do you see this woman? When I entered your house, you did not give me water for my feet, but she has bathed them with her tears and wiped them with her hair. You did not give me a kiss, but she has not ceased kissing my feet since the time I entered. You did not anoint my head with oil, but she anointed my feet with ointment." (Luke 7:44-46)
I wish I could tell you otherwise, but I identify more with Simon than with the grateful woman. How is it that I'm not overflowing with gratitude every single minute of every day for all that Jesus has done for me? I'm not really sure, but I do know that this story makes me want to do better. Maybe you feel the same way.
Let's pray together…
Lord Jesus, I can't believe how ungrateful I can be at times. Instead of thanking you constantly and offering up the small crosses in my life, I spend a lot of time complaining. You suffered tremendously out of love for me. Instead of being grateful, however, I somehow manage to ignore your pain and focus on myself. I want to be more like this woman, but I need your help. Grant me the grace to love you more. Help me to remember that I console you whenever I'm kind to others or refrain from complaining. Thank you, Lord. I really do appreciate all you've done for me. Amen.