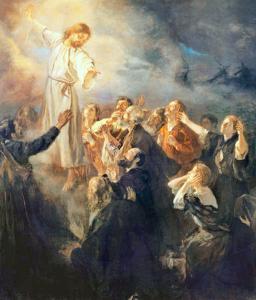 "Go into the whole world and proclaim the gospel to every creature."
– Mark 16:15
This key verse of the Gospel for the Ascension of the Lord was also the theme for Pope Francis in a recent address he gave to about 150,000 representatives of the Neocatechumenal Way. Some reports of this event suggest that much of the address was a subtle rebuke to a group that has not always been exemplary in the way it goes about evangelization. But this is a constant theme of Pope Francis: challenging us to rethink how we present the Gospel, because the hope of the New Evangelization has been thus far unfulfilled.
The Ascension marks the point where God turns over the great work of redemption in the world to us as His agents. The Body of Christ is found in the world 
first
 in us, the communion of believers. Only then can it be found in the Eucharist, for no one can receive the True Body without first having been taught and welcomed into this communion of persons. If we care about fulfilling the Gospel mandate to bring Christ to the world and the world to Christ, we do well to listen to and reflect on these words from Pope Francis.
---