If you've been joining us in preparing for Total Consecration to Jesus through Mary on the Solemnity of the Annunciation (March 25), we're about halfway through now. Or perhaps you have just embarked on a course of ascetic practices for Lent, and may be joining in our Lenten Patristics Journey. Maybe you aren't actively pursuing any means of drawing closer to the Holy Spirit, perhaps because you're skeptical that it will "work," or that it is worth the effort. In any case, it is important for us to pause and consider the critical importance of intention in this quest.
The Holy Spirit will not allow Himself to be used. While the second Person of the Trinity allowed Himself to be abused in order to demonstrate the infinite depth of God's mercy and forgiveness, God never acts like a genie at our beck and call. When we seek the indwelling of the Holy Spirit, we must be inviting God to use us, with no expectation that we can use Him in return.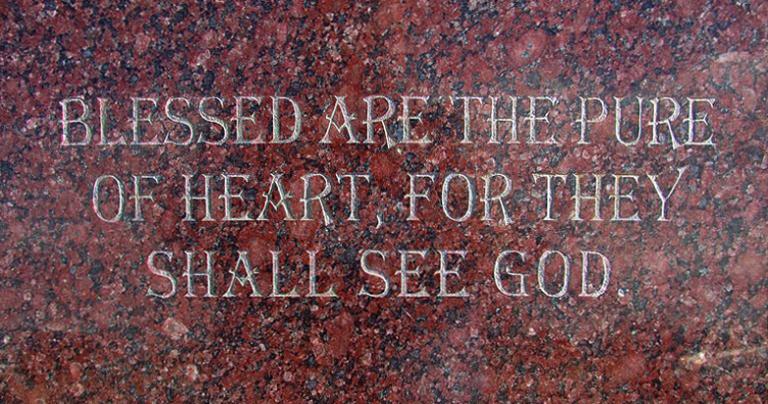 The Perils of Piety and "Merit"
We are seeking to be conformed more fully to the image of God, to become sharers in His divine nature, and cooperators in His salvific work. But we should never expect that the theosis may at any point become so complete that we can say to Him, "It is finished. I can take it from here." Though His children by adoption and no longer slaves, we will always be His children, and the perfect parent-child relationship is never reversed in its roles. Or to use the imagery of Maximilian Kolbe's version of Marian Consecration, we are instruments. The Holy Spirit, with the intercession of Mary, may make beautiful works by blowing through us if we are well-disposed, but we never can change from instrument into player.
St. Louis de Montfort describes the works to be accomplished by Total Consecration as "emptying ourselves of self-love, filling ourselves with God, and attaining perfection." (True Devotion, 82) But if we understand "attaining perfection" to be about saving ourselves and expecting reward in this life or the next, then we have not accomplished the first step of emptying ourselves to make room for the Holy Spirit. De Montfort specifically identifies concern for the state of "merit" of our own souls as arising from self-love, and instead commends the "fervent and generous soul who values God's interests more than his own. He gives God all he has without reserve till he can give no more. He desires only that the glory and the kingdom of Jesus may come through his Mother, and he does all he can to bring this about." (Id. 133)
If de Montfort's injunction against "self-love" seems too harsh, perhaps a better way of understanding this self-emptying for the modern mind is to simply embrace the truth that we have no "merit" at all. Every good that we do arises from the gracious gifts of God. We need not, indeed should not, hate ourselves, but we should humbly "check our privilege" and recognize we are not entitled to anything for "being good." It is only right and just to let go of any claims of right to hold on to and use God's gifts to us. Self-emptying is offering everything back to God, to put all that we are and have at His disposal.
There is no room for self-interest in true devotion. De Montfort warns about several different types of "false" devotion to Mary, including "self-interested devotees who turn to her only to win a court-case, to escape some danger, to be cured of some ailment, or have some similar need satisfied. Except when in need they never think of her. Such people are acceptable neither to God nor to his Mother." (Id. 103) He also gives us a dire warning about false devotions:
Now more than ever there are false devotions to her which can easily be mistaken for true ones. The devil, like a counterfeiter and crafty, experienced deceiver, has already misled and ruined many Christians by means of fraudulent devotions to our Lady. Day by day he uses his diabolical experience to lead many more to their doom, fooling them, lulling them to sleep in sin and assuring them that a few prayers, even badly said, and a few exterior practices, inspired by himself, are authentic devotions. A counterfeiter usually makes coins only of gold and silver, rarely of other metals, because these latter would not be worth the trouble. Similarly, the devil leaves other devotions alone and counterfeits mostly those directed to Jesus and Mary, for example, devotion to the Holy Eucharist and to the Blessed Virgin, because these are to other devotions what gold and silver are to other metals.
Id. 90
Sanctity and Purity of Heart
As in my review of Total Consecration I offered some cautions about the limitations of de Montfort's early 18th-century perspective, I think it's also necessary to offer some gentle criticism of Fr. Michael Gaitley's book, despite my general recommendation of it. In cheerleading for Total Consecration, Fr. Gaitley does tend to emphasize the attainment of personal holiness, and the method as the "short, easy, secure, and perfect way to become a saint." He promises a "gloriously new day, a new dawn, a brand new morning in one's spiritual journey," hence the title of his book, 33 Days to Morning Glory. While supernatural renewal is indeed the goal and the result of emptying ourselves and letting the Holy Spirit fill us with proper intention, sometimes the new day dawns in the courtyard of Caiaphas, and we must be prepared for the dark and painful day that lies ahead. Moreover, the proper intention is not to secure our own sanctity, but salvation for the world. I think Fr. Gaitley buries the lede on these points, and I fear his more prominent emphasis on achieving personal sanctity and heavenly blessings may undermine the very goal of the book, if it is read without right intention.
Fr. Gaitley himself does define purity of intention: "A person practices purity of intention when he directs his thoughts, words, and actions not to himself or another creature but to a divine purpose or mission, and ultimately to God." (Day 8) Whatever spiritual food and exercise we employ to seek to be possessed by the Holy Spirit, this purity of intention must be kept in the forefront. If our mission is not universal reconciliation and salvation, it is not actually divine or directed ultimately to God, no matter how piously adorned.
Have you hesitated to try Total Consecration or seek a closer relationships with the Holy Spirit because pious people you know who claim to have such devotion, or claim to have charismatic gifts, are unpleasant and an anti-witness to the power of the Spirit? You are far from alone in encountering such people; many pursue the Spirit with an impure heart and end up acting this way. But do not despair for that reason of the mission to allow the Holy Spirit to renew the Church through your cooperation! The very fact that you see the corruption in others is the first step in cultivating the purity of heart necessary to make your own journey more fruitful.
Sins Against the Holy Spirit
The problem of people seeking the Holy Spirit with wrong intention has dogged the Church from the very beginning, and has been clearly rebuked. Acts 8:9-22 recounts an example:
Now a certain man named Simon had previously practiced magic in the city and amazed the people of Samaria, saying that he was someone great. All of them, from the least to the greatest, listened to him eagerly, saying, "This man is the power of God that is called Great." And they listened eagerly to him because for a long time he had amazed them with his magic. But when they believed Philip, who was proclaiming the good news about the kingdom of God and the name of Jesus Christ, they were baptized, both men and women. Even Simon himself believed. After being baptized, he stayed constantly with Philip and was amazed when he saw the signs and great miracles that took place.

Now when the apostles at Jerusalem heard that Samaria had accepted the word of God, they sent Peter and John to them. The two went down and prayed for them that they might receive the Holy Spirit (for as yet the Spirit had not come upon any of them; they had only been baptized in the name of the Lord Jesus). Then Peter and John laid their hands on them, and they received the Holy Spirit. Now when Simon saw that the Spirit was given through the laying on of the apostles' hands, he offered them money, saying, "Give me also this power so that anyone on whom I lay my hands may receive the Holy Spirit." But Peter said to him, "May your silver perish with you, because you thought you could obtain God's gift with money! You have no part or share in this, for your heart is not right before God. Repent therefore of this wickedness of yours, and pray to the Lord that, if possible, the intent of your heart may be forgiven you."
Let us repent of all impure intent in seeking the Holy Spirit, including:
The intent to receive material blessings;

The intent to receive spiritual consolations;

The intent to avoid Purgatory;

The intent to receive human acclaim;

The intent to make money from preaching or teaching;

The intent to gain healing powers;

The intent to fit in with pious friends;

The intent to become an "influencer" or convince people to listen to you;

The intent to gain power over the behavior or conscience of others;

The intent to gain control over Church resources;

The intent to direct "battles" against "God's enemies."
It is intents such as these, not the hope of universal salvation and intent to promote it, that are "presumptuous." Whether we seek personal gain or simply to separate ourselves out as "better" than others, we presume to put God's gifts at our disposal and claim their "merit" as a scarce resource at our disposal. There is no scarcity to the abundance of God, but neither is there any tolerance for misappropriating His Holy Spirit. (Cf. Mark 3:29, Luke 12:10) He will not dignify such self-seeking petitions to be filled with the Spirit. The indwelling of the Holy Spirit never means that we possess the Spirit, but rather that we are possessed by Him.
Grant, O merciful Father,
that your Divine Spirit may enlighten, inflame and purify us,
that He may penetrate us with His heavenly dew

and make us fruitful in good works,
through Our Lord Jesus Christ, your Son,
Who with You, in the unity of the same Spirit,
lives and reigns forever and ever.
(From the Litany of the Holy Spirit)