In the spring of 2013, Ben Witherington III discovered hundreds of pages of biblical commentary by Lightfoot in the Durham Cathedral Library. While incomplete, these commentaries represent a goldmine for historians and biblical scholars, as well as for the many people who have found Lightfoot's work both informative and edifying, deeply learned and pastorally sensitive. Among those many pages were two sets of lecture notes on the Acts of the Apostles. Together they amount to a richly detailed, albeit unfinished, commentary on Acts 1-21. The project of writing a commentary on Acts had long been on Lightfoot's mind, and in the 1880s he wrote an article about the book for the second British edition of William Smith's Dictionary of the Bible. Thankfully, that is not all he left behind. Now on display for all to see, these commentary notes reveal a scholar well ahead of his time, one of the great minds of his or any generation. Well over a century later, The Acts of the Apostles remains a relevant and significant resource for the church today.

With his usual flair and reader-friendly style, Ben Witherington III brings us a fresh and distinctive guide to interpreting the Bible. Ideal for courses in Biblical Interpretation, Hermeneutics, and Introduction to the Bible, Reading and Understanding the Bible is unique in that it carefully examines the various genres of literature in the Bible while also explaining how to interpret each within its proper context. Taking a faith-friendly approach to historically based interpretation, it shows students how to read the Bible with a keen awareness of the many and profound differences between the modern world and ancient biblical cultures. It explains how ancient societies worked, how documents were created, who preserved them and why, the patriarchal nature of all ancient cultures, and, most importantly, how these cultural characteristics should affect our reading of the Bible.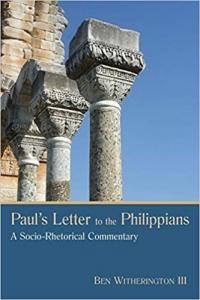 Skeptical of the trend among many biblical scholars to analyze Paul's short, affectionate letter to the Philippians in light of Greco-Roman letter-writing conventions, Ben Witherington instead looks at Philippians as a masterful piece of long-distance oratory ― an extension of Paul's oral speech, dictated to a scribe and meant to be read aloud to its recipients. Witherington examines Philippians in light of Greco-Roman rhetorical conventions, identifying Paul's purpose, highlighting his main points and his persuasive strategies, and considering how his original audience would have heard and received Paul's message.
The impact Jesus had on numerous lives during his earthly ministry is obvious from the Gospel records themselves. But what we do not have is personal testimonies by those persons whom Jesus helped, healed, befriended, or recruited as disciples. In this creative exploration of what sort of testimonies those original encounters might have produced, Ben Witherington paints a picture for us of what the well known and the less well known eyewitnesses might have said had they been asked. Drawing on his extensive knowledge of the historical context in which Jesus operated, Witherington brings these men and women out of the shadows and into the light of day.