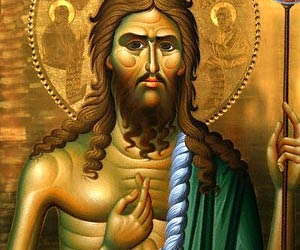 Contents of this Article
Introduction
History of icons
Divergence in Art and Practice
Iconoclasm in the 8

th

and 9

th

Century
The Emergence of the Modern Era
Lutherans and icons
Reform Churches and Icons
Anglicans and Icons
The Radical

Reformaton

and icons
Icons in the "Modern" Catholic church
Icons in the "Modern" Eastern church
Bearing the image of God in a Post-Modern World
Veneration of icons was less central to worship and liturgy in the west, and the depiction of religious images was less restrictive. Although the western church used many of the same themes and settings for its art the way it looked evolved a great deal more. Instead of seeing icons as primarily windows into heavenly realities, western religious art was allowed to become more realistic and reflected the culture and technique of the culture around it.
This difference can be clearly seen in the art produced in the modern and post-modern periods. While Byzantine traditions produce icons today that looks almost identical to the art produced one thousand years ago, we can see in the works of western artists a great deal of development over time. Byzantine icons remain two dimensional and depict the human form less realistically, but more theological. Western art has depth, vanishing points, photo realism, and places a greater emphasis on the historical moment as apposed to the heavenly reality. When a western artist paints a scene he is interested in recreation, an Eastern artist is concerned with transfiguration.
"Of old, God the incorporeal and uncircumscribed was never depicted. Now, however, when God is seen clothed in flesh, and conversing with men, I make an image of the God whom I see. I do not worship matter, I worship the God of matter, who became matter for my sake, and deigned to inhabit matter, who worked out my salvation through matter. I will not cease from honouring that matter which works my salvation. I venerate it, though not as God."8
"the true adornment of the churches is godly, useful, and clear doctrine, the devout use of the Sacraments, ardent prayer, and the like. Candles, golden vessels [tapers, altar-cloths, images), and similar adornments are becoming, but they are not the adornment that properly belongs to the Church. But if the adversaries make worship consist in such matters, and not in the preaching of the Gospel, in faith, and the conflicts of faith, they are to be numbered among those whom Daniel describes as worshiping their God with gold and silver"10
"If the authority of the ancient church moves us in any way, we will recall that for about five hundred years, during which religion was still flourishing, and a pure doctrine thriving, Christian Churches were commonly empty of images. Thus, it was when the purity of the ministry had somewhat degenerated that they were first introduced for the adornment of churches."12
While time went on it became clear that there were two strong forces vying for power in English religion. One group wanted a return to Catholicism, and the other side wanted a more radical reformation. Whenever the former power gained control in the Church the traditional practice of using images in worship became imperiled.