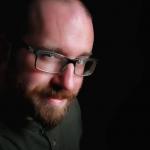 A seasoned entrepreneur, innovator and educator; Billy Kangas is a leader. You can find him working at the intersection of faith and service at both the local and national level. He has led churches, non-profits, start-ups, and ministries. He has written, spoken and taught widely issues related to faith, justice, and mission. He has a pastoral approach and a community first ideology.
He works as Director of Community Engagement at The Hope Clinic, an interdenominational Christian ministry in South-East Michigan. They provide medical care, dental care, groceries, meals, basic needs support, baby care products, and more all at no cost to their clients.
His academic research focuses on how prayer, ritual, worship and liturgy impact community life and social action. He is currently working as a director at the Hope Clinic and completing a dissertation on the Charismatic Renewal.
Billy has been a member of the Catholic Church since Easter of 2013. You can learn more about his journey from protestant ministry into the Catholic Church here and see his interview about it on the journey home here. He currently resides in Ypsilanti Michigan with his wife and four boys.
You can follow him on Twitter and on LinkedIn