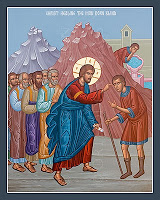 A few years ago I was sitting in my car on a summer evening. I had the window rolled down and was listening to the radio enjoying the cooling summer air. Suddenly a man came up to window and asked me a question. "Are you saved?" he inquired. I must admit I was a little startled. I felt I had become the victim of drive by evangelism.  This was not the first time I had been asked a question like this, and it was not the last. I am sure you have probably has a similar experience at one point or another in your life. Sometime the proselytizer will turn it around and ask me another question, "if you died tonight, are you positive you'd go to Heaven?" Whenever I am asked these questions I generally ask them what exactly they mean by are you saved. The most common answer has been "have you accepted Jesus Christ as your own personal Lord and Savior." 


In the interest of full disclosure, I have to tell you that I have often been the stranger who has asked you this question. I have knocked on doors of people I have never met, stood on milk crates with megaphones, passed out Bible tracks, and held up signs. I have tried to "evangelize" people in every way I could think of. I have argued, yelled, typed, painted, bumper stickered, and dramatically performed the question "are you saved?" I was on a mission to make sure everyone could answer this question with a definitive, "YES!" As I read the scriptures, however, I began to be convicted that I myself had no idea what that question meant.


Salvation in the Bible
The scriptures do not offer a simple explanation to the question, "are you saved?" Spouses may save each other (1 Cor 7:16). Paul saves some (Romans 11:14, 1 Cor 9:22). Timothy can save those who hear him (1 Timothy 4:16). Baptism saves us (1 Peter 3:21). The word, implanted in us, will save our souls (James 1:21). Prayers of the presbyters save the sick (James 5:15). Jude commands his readers to save others (Jude 1:23). Those who turn sinners from error save them (James 5:20). Women are saved through childbirth  (1 Tim 2:15). Salvation is much bigger than a simple yes or no question.
Now don't get me wrong I am in no way trying to say that we can be saved without Jesus. In fact I believe God, in Christ, has
already
, on the Cross, saved everyone and everything. That's the Gospel, plain and simple. What all these passages about salvation teach us is, that Jesus' salvation is something that comes to us in many ways. The words for salvation in Greek and Hebrew have a connotation that salvation is in part a process of healing, and rescue. In fact our English word "save" comes from a Latin word
salve,
which can mean "in good health". 
A

lot of Christians think of salvation as, "you get to go to heaven." However salvation means much more than that. It means Christ heals us, we have wholeness, health, spiritual life, we are free to be authentic, and are made into the image of Christ himself. When we are saved, we are rescued from ignorance, madness, darkness, death, confusion, brokenness, sin, death, and the Devil. Our salvation is not simply a juridical declaration, but a reconstitution of everything into the

shalom

of God.
When and where are you saved?
When I am asked are you saved, I don't have an easy answer. I have been saved in Baptism when I was joined to Christ in his death and resurrection. I am being saved everyday as I am transformed more and more into the icon of Christ, cooperating with the spirit of God in working out, in my own body, and live that healing and freedom won for me in Christ. Finally I hope to be saved at the last judgment when everything is made new, the salvation won by Jesus on the cross is actualized in all of creation, and the harvest of resurrection, of which Christ is the first fruits, is brought into the house of God.
Understanding salvation in this way means that we can no longer see ourselves as passive recipients of a pronouncement, but rather active participants in a palpable substantially. We are called to save people. This is why the Bible records, Paul saving people and Timothy saving people. Presbetors and laity are called save people. Water saves people, and birthing saves people. Turning people from sin saves, and giving away your wealth saves. Here we find the life of the Kingdom of God.
When Jesus describes the kingdom of God he does not talk about juridical declarations on passive recipients. Rather Jesus tells us of workers in vineyards, virgins who light lamps, servants given talents to invest, men who sell all they have to obtain a treasure, builders of towers, and kings who plan for battle. All of these stories involve people who are active, not passive. It seems that the kingdom Jesus is talking about is found though verbs more than though adjectives.
Saved From Sin, Saved For God
Another way to say this is that we are not just saved
from
something, but that we are saved
for
something. Jesus calls us to pray that God's will would be done on earth as it is in heaven. We are called to be ministers of this in-breaking heavenly rule. The question is, "are we living in that rule?" Like I said before, I believe God, in Christ, has already, on the Cross, saved everyone and everything. The
everyone
and
everything
of that statement means that, in one sense, the strongest atheist, the harshest despot, the greatest sinner, and the most perverse criminal are all saved already. God saved them, along with the rest of creation, on the cross. However in the ways that they, as well as you and I, are engaged in perverse and sinful actions and attitudes, salvation has not yet come. We are saved
for
something: a new way of life in the Kingdom of God.
The Way of Love
If there is anything the Bible tells us we are saved
for
it's love, after all God
is
love (1 John 4:8). The way of love is laid out beautifully by Paul in 1 Corinthians 13. There we find that love is something very active, and difficult. Love is patient, and kind. It does not envy, or boast, it is not proud. It does not dishonor others, it is not self-seeking, or easily angered, it keeps no record of wrongs. It does not delight in evil but rejoices with the truth.  It always protects, trusts, hopes, and perseveres. It never fails. Paul tells us that anything that we do without love is like an loud and ugly sound. I don't do much street preaching anymore, I found that I was mostly making a lot of racket, but not bringing any real salvation. I also have stopped passing out tracts and going door to door, for much of the same reasons. I do however still have one bumper sticker on my car. I got it from my brothers church, and really liked what it read. It's a two white words, on a black background that read, "love wins."